Features
Aquaman Comics Reading Order
Ready to learn all about the true king of Atlantis? We've got a guide to Aquaman comics for you.
After so many years of being laughed at, marginalized, and misunderstood, Aquaman is finally getting his due. With the Aquaman movie finally here, it's hard to imagine a time when the King of Atlantis wasn't an A-list member of DC's heroic pantheon. But between the disrespect our poor soggy king has suffered on TV shows like Entourage and in parodies like Robot Chicken, it can be truly said that Aquaman is the Rodney Dangerfield of the superhero set: he gets no respect.
Until now that is! With Jason Momoa starring in Aquaman's first live action solo outing, Arthur Curry is ready to take his rightful place as a kick-ass fan-favorite. But comic book fans have known for decades that Aquaman is indeed a great superhero. Since the 1940s, Aquaman has been a constant star of DC Comics. In fact, along with Superman, Batman, Wonder Woman, and Green Arrow, Aquaman is one of the few DC superheroes who has remained in continuous publication since the 1940s. And yes, there have been some bad Aquaman comics over the years, but there have also been plenty of great ones. To the rest of the world, Aquaman might have been a joke, but to comic fans, he was always worthy of kingly respect.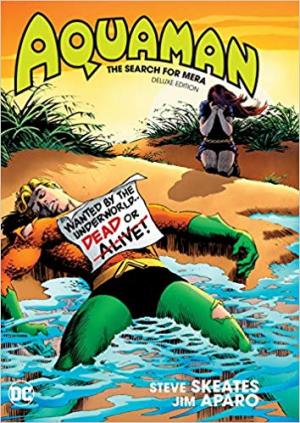 The Search for Mera
by Steve Skeates and Jim Aparo (1968-1969)
"The Search for Mera" is nestled right in between the era of the Filmation Aquaman cartoon that inspired the sugary cereal-addled brains of so many young DC fans of the '60s and the Super Friends era of the 1970s. You see, Aquaman was an almost constant Saturday morning presence in the 60s-80s. But alas, many of those 'toons were not kind to Arthur Curry, often highlighting the Sea King's limited power set and some of the sillier elements of the hero's history (we're looking at you Tusky the Walrus).
read more: Aquaman Movie Review
But embedded between these animated portrayals of Aquaman was this comic book highlight. "The Search for Mera" saw Aquaman embark on his greatest quest after his wife disappears. The desperate search takes him across the oceans, into the clutches of Black Manta, to the surface world, and beyond. Writer Steve Skeates defines Aquaman and his extended family as Jim Aparo delivers some of the greatest interior artwork the character has ever had. This tale proved Aquaman could be a great protagonist in an intense, modern action tale in an era of cartoon camp.
buy Aquaman: The Search for Mera on Amazon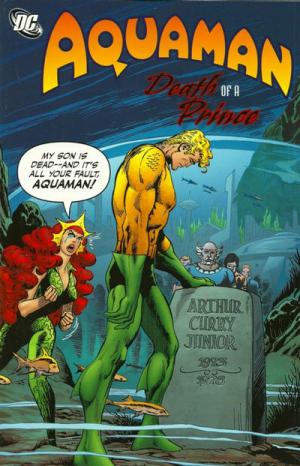 Death of a Prince
by David Michelinie and Jim Aparo (1977-1978)
I mean, who kills a baby? What in the honest hell? Aquaman was a silly character they said. Aquaman is campy, what with the walrus and riding seahorses and the drumming octopus, they said. Aquababy is stupid, they said. Well, in this classic tale, Black Manta freakin' kills freakin' Aquababy. So put that in your conch shell and smoke it.
read more – Aquaman: How the King of Atlantis Got His Throne
Over at Marvel, people were still shocked over the death of Gwen Stacy in Amazing Spider-Man. David Michelinie was all like, "Hold my beer!" and to top it off, "Death of a Prince" is a damn good story as well. Black Manta kidnaps the infant Prince of Atlantis and forces Aquaman to fight Aqualad. If Aquaman doesn't kill his sidekick, Manta will kill Aquababy. Aquaman indeed fights Aqualad to create a ruse in order to stage a rescue. But it's too late, the cute lil' fish prince drowns. In an air bubble. A wedge is driven between Aqualad and Aquaman and Mera and Arthur are left mourning their infant son. This story arc changed the world of Aquaman forever and instantly transformed Black Manta into one of the most repellant villains in the DCU.
buy Aquaman: Death of a Prince on Amazon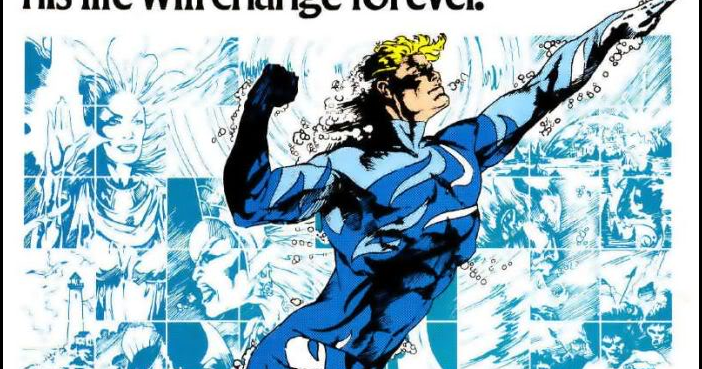 Aquaman Vol. 2 #1-4
by Neil Pozner and Craig Hamilton (1986)
This was Aquaman's first time in the spotlight after Crisis on Infinite Earths. With absolutely lush art from the great Craig Hamilton, this 1986 mini-series put Aquaman on the trajectory of a high fantasy type character. Foregoing the usual superhero tropes, Pozner and Hamilton present a tale of adventure, betrayal, and magic, fleshing  out Aquaman's origin while connecting DC's Atlantis to the ancient Atlantis presented in the pages of DC's Arion, Lord of Atlantis, giving the whole thing a pulpy, old school fantasy feel that would drive the character for decades to come.
read more: Complete DCEU Movies Schedule
The series also presents a new look at Aquaman's evil brother Ocean Master, but most fans will recognize this series for the intro of a new costume, an ocean camo bit of hyper designed awesomeness that was sadly short lived. I mean, don't disrespect the orange and green, but there's something to be said for the sleek beauty of this regal suit.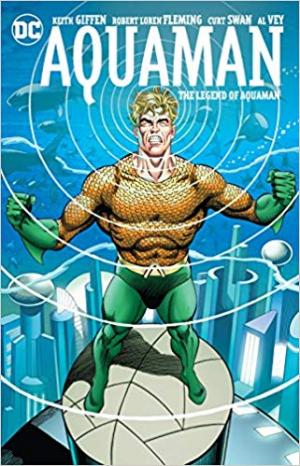 The Legend of Aquaman
by Keith Giffen, Robert Loren Fleming, and Curt Swan (1989)
After the epic blue camo Aquaman had run his course, writers Keith Giffen and Robert Loren Fleming along with the single greatest Superman artist of all time (and I'll fight you if you disagree) Curt Swan brought back the classic look Aquaman in this fun reimagining of the character's origin.
read more – Aquaman Villains Explained: Who is Ocean Master?
This special revealed that Aquaman's iconic orange and green outfit was actually a prison uniform and also ironically reveals where the name Aquaman came from. This is a fun read, but really, the draw here is the Swan artwork as the artist returns to the classics and shows why Aquaman and his world are always so compelling.
buy The Legend of Aquaman on Amazon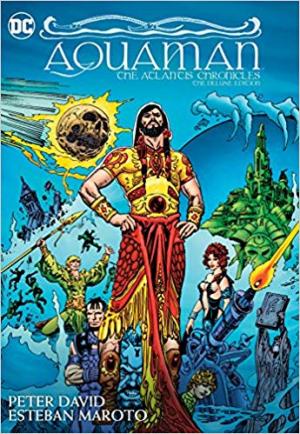 The Atlantis Chronicles
by Peter David and Esteban Maroto (1990)
And now we get to the Peter David era. We'll talk about what the legendary writer Peter David did for Aquaman in a moment, but before David got busy crafting one of the greatest eras of Aquaman ever, the scribe delved deep into the past of Atlantis.
read more – Aquaman Villains Explained: Who is Black Manta?
Before Atlantis Chronicles, the legend of DC's Atlantis was disjointed at best. There was an Atlantis made up of merpeople as presented in the Superman family of books, there was Aquaman's Atlantis, and there was a myriad number of Atlantises (Atlanti?) chronicled in books like Sea Devils and Arion. Somehow, in Atlantis Chronicles, David was able to unify all these distinct sunken kingdoms into a cohesive history so fascinating that it would make Tolkien giddy, all the while laying a foundation for the mythos that would drive his Aquaman forward for years to come. 
buy The Atlantis Chronicles on Amazon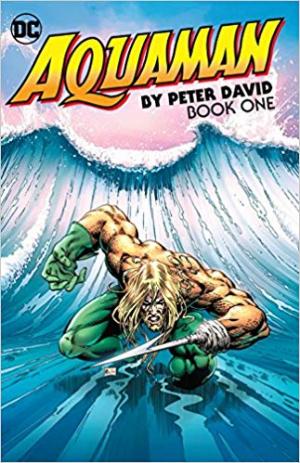 The Peter David Years
with Martin Egelund and Jim Calafiore
Many fans consider Peter David's Aquaman the high point of the Sea King's publishing history. In Aquaman: Time and Tide we get yet another take on Aquaman's origin, infusing the oft told tale with the trademark Peter David humor and pathos. After Time and Tide, David really got rolling and did the unthinkable. Just a few issues into his classic run, Aquaman had his hand devoured by piranha. Soon after, Aquaman forged a harpoon for a hand, grew his hair and beard out, and basically became undersea Conan which is all sorts of awesome.
read more – Aquaman: The 1984 Fan Film
These stories are peppered with the mythology created for Atlantis Chronicles while finding unique directions for Mera and Aqualad. David added to Aquaman's supporting cast with Aquaman's long lost son Koryak and the forgotten DC heroine Dolphin. In this run, Aquaman fights Lobo, visits Hell, invades Japan, and presents a tour of the undersea realms of the DCU. This is not only the best run in the character's long history, it was also one of DC's best books of the tail end of the twentieth century.
And you just know there's going to be a harpoon hand in Jason Momoa's cinematic future as Aquaman.
read Aquaman by Peter David on Amazon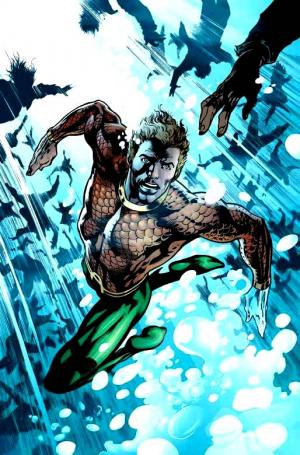 Sub Diego
by Will Pfeifer and Patrick Gleason (2004)
The first real high point of Aquaman in the new century begins with the sinking of San Diego. In American Tidal, Aquaman becomes to the redubbed Sub Diego what Batman is to Gotham City. You see, not only did San Diego sink, the residents were transformed into water breathers and Aquaman must become the city's protector while solving the mystery of who was behind the sinking of the home of the Padres and Comic Con.
This storyline also introduces a new Aquagirl and is basically a six issue treatise on what makes Aquaman and his world so special.
read Aquaman: Sub Diego on Amazon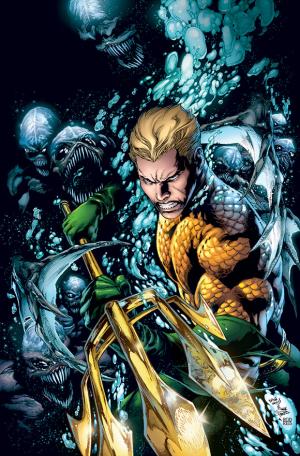 The New 52
with Ivan Reis, Pere Pérez, Pete Woods, and Paul Pelletier (2011-2014)
"The Trench," "The Others," "Throne of Atlantis," Death of a King." These four stories have become the stuff of Aqua-legend thanks to Geoff Johns, and you'll see elements of all four of them in the Aquaman movie. Even through all the awesome Aqua-tales listed above, in 2011, Aquaman was still considered something of a joke. Through a deep examination of what makes Aquaman so great, Johns put that nonsense to rest forever with a thoughtful group of tales with one foot in the pond of reality and one in the pond of adventure fantasy to present an Aquaman for a new age.
read more – Justice League: Complete DC Comics Easter Eggs Guide
While many of the New 52 titles quickly went belly up, Aquaman endured. During his time on Aquaman, Johns added many elements to the Atlantis mythos and presented a tale that put the tired old Aqua-jokes a much needed burial at sea. 
buy Aquaman Vol. 1: The Trench on Amazon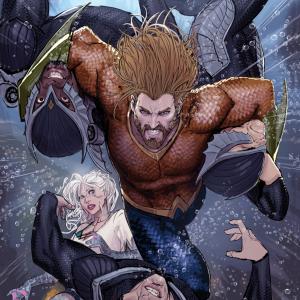 Rebirth
by Dan Abnett, Brad Walker, Phillipe Briones, and more (2016 – 2018)
Taking what Geoff Johns built and turning that sucker up to the next level, Dan Abnett has continued the golden age of Aquaman. Intrigue, betrayal, mayhem, and more action than you can shake a tuna at; Abnett has Song of Ice and Fire-d the world of Aquaman and brought palace intrigue to Atlantis.
read more: Every DCEU Easter Egg in the Aquaman Movie
Abnett recently wrapped his top notch run on Aquaman, a run that saw Arthur give up the throne to find his place as a hero on both the surface and in the sea, having handed the reins to the brilliant Kelly Sue DeConnick, who will take Aquaman to greater heights…or depths.