News
Exclusive Clip From Alejandro Jodorowsky's Psychomagic, A Healing Art Predicts the Present
Alejandro Jodorowsky explains how he uses the Tarot to channel pain in this clip from the transformative Psychomagic, A Healing Art.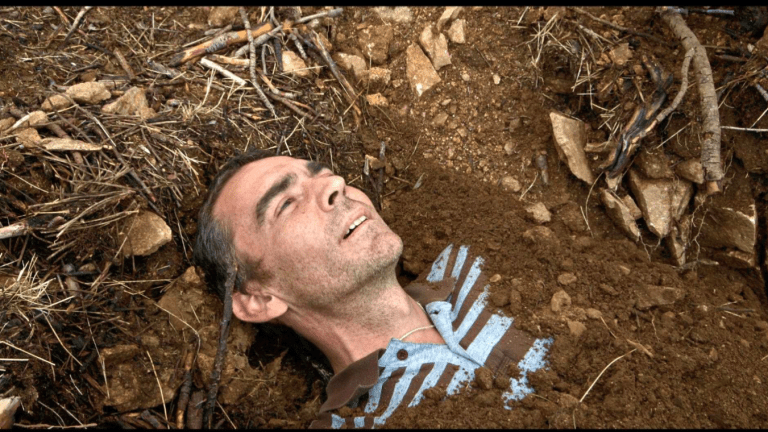 "When I decided to invent an art to heal, I jumped out of my prison as if out of an ivory tower, and entered the pain of the world," Alejandro Jodorowsky begins in this never-before-seen clip from his upcoming documentary Psychomagic, A Healing Art. The film which will be released on Alamo on Demand Aug. 7, explores the director's theory of trauma therapy, using performance art to offset psychic suffering real world acts of confrontation.
The 91-year old father of the "midnight movie," is not only behind the camera but also featured as the subject in Psychomagic, A Healing Art. "I used a humble set of Tarot cards as an instrument," he says in the clip. "I did not read the future but the present. When I began to read the present of people, the problems of family fell onto me."
From there taught reason to speak the language of dreams. "When people in psychoanalysis have a problem, they are told with words, 'We are going to look for the trauma that provoked this infirmity,'" he says in the clip. The filmmaker invented Psychomagic for the people who find their trauma has not been solved after the months or years of therapy. "Dali said he wanted to bring dreams into reality," Jodorowsky says, and explains how he followed "the anti-surrealistic way," teaching the unconscious to "speak the language of reality."
Jodorowsky expands from this personal revelation to the larger trauma of society itself. Psychomagic, A Healing Art contemporaneously breaks the wall between reality and performance. In it, the director explains and demonstrates Psychomagic's principles, how it is practiced, and how it is applied. The healing concepts he uses are personal, but universal and the film continues themes Jodorowsky has explored since he began making movies. The documentary is intercut with scenes from his most famous, and infamous, films.
You can watch the Psychomagic, A Healing Art trailer here:
The master cult filmmaker is the child of Russian emigrants who had been exiled to Chile. Jodorowsky began his career with the feature Fando y Lis, which caused a riot when it premiered in Acapulco, Mexico in 1967. He followed this with the "psychedelic western" epic El Topo (1970), which played midnights at the Elgin Theater in New York for years. He followed this up with The Holy Mountain (1973). Funded in part by John Lennon, the film rocked the 1973 Cannes Film Festival with its sacrilegious imagery and also established Jodorowsky as an auteur of Surrealist Cinema. The script, notes, storyboards, and concept art of Jodorowsky's unmade adaptation of Frank Herbert's 1965 science fiction novel Dune influenced Star Wars, Flash Gordon, the Terminator series, The Fifth Element, and Alien.
Psychomagic, A Healing Art  will premiere on Aug. 7 on Alamo On Demand.