News
Aladdin 2019: Live Action Movie Cast, Trailer, Release Date, and Story News
Disney is quickly building the live action Aladdin, and its poster really does look like it's taking us to a whole new world.
As you're probably aware, Disney is in the midst of remaking many of their animated classics as live action movies. Beauty and the Beast was a notable recent success at the box office, and 2016's Jon Favreau-directed The Jungle Book was an absolute delight (and has a sequel in the works). There are others in the works, including Mulan and Favreau's version of The Lion King, but let's not forget about Guy Ritchie's Aladdin.
Aladdin Trailer
There's no shortage of trailers and TV spots for Aladdin by now. However, Disney just released this brief clip, which – besides showcasing a necessary discussion about the importance of wish phrasing – gives you a peek at the interplay between Mena Massoud's Aladdin and Will Smith's Genie.
We finally have a full trailer for Disney's live-action Aladdin movie!
A new TV spot features a few seconds of new footage!
And here's another TV spot:
Here's the earlier footage…
The reactions well…they speak for themselves.
Here's the first teaser, which is a pretty thorough introduction into the Aladdin live-action universe. This looks to match the aesthetic of the animated feature even more than one would have expected.
Aladdin Movie Release Date
Aladdin will be released on May 24, 2019.
Aladdin Movie Cast
Alan Tudyk will lend his voice to portray the iconic role of parrot Iago, as just revealed by late casting news via THR. Of course, the role of the evil avian pet of Jafar (played in this film by Marwan Kenzari,) originated in Disney's 1992 animated Aladdin, famously bearing the shrill shrieks of comedian Gilbert Gottfried. Iago's name was inspired by the fourth-wall-breaking schemer of Shakespeare's Othello.
Tudyk, who will always be remembered as a "leaf in the wind" as Firefly's ace pilot, Hoban Washburne, can be currently seen – in abstract form – on DC Universe's Doom Patrol as villain Mr. Nobody, and is set to star in Syfy's Dark Horse comics adaptation series, Resident Alien. However, what might have nabbed him this Iago role is his prior work with Disney, providing his voice for the scene-stealing droid, K-2SO, in 2016's Rogue One: A Star Wars Story.
The confirmed cast of Aladdin consists of:
Mena Massoud plays Aladdin himself in what will be the first major film role for the newcomer. Massoud apparently beat out well known candidates like Dev Patel and Riz Ahmed, as well as relative unknowns like Achraf Koutet and George Kosturos who were part of "several rounds" of testing in London for Aladdin.
Naomi Scott, a 24-year-old London-born actress, will play Princess Jasmine. Scott's name should be familiar to anyone who saw the recent Power Rangers reboot film, in which she played Kimberly Hart/Pink Ranger. She also appeared in the fact-based 2015 drama The 33 and may also be remembered for her role on Fox's extravagantly exorbitant 2011 time-travel/dinosaurs TV series Terra Nova. Moreover, her existing credits under the Disney umbrella include the 2009 Disney Channel UK series Life Bites and the 2011 Disney TV movie Lemonade Mouth.
Will Smith will play the Genie, which immediately gives this version of Aladdin the requisite star power. Smith recently bowed out of a role in Tim Burton's live action Dumbo adaptation for the studio and his role as Genie was revealed at a D23 Expo. Good luck, Mr. Smith. You've got some serious shoes to fill, since he was voiced to perfection by Robin Williams in the 1992 animated original.
Marwan Kenzari has been cast as the villainous Jafar. While the Dutch actor appeared The Mummy, Ben-Hur, ensemble drama The Promise and joins a star-stacked cast in director Kenneth Branagh's Murder on the Orient Express, the mustachioed, manipulative maker of machinations will be his biggest role yet. In the original animated hit, Jafar was rarely without his equally scheming pet parrot, Iago (Gilbert Gottfried), who will be voiced in this film by Alan Tudyk.
Numan Acar will play Hakim, the right-hand man of the sinister Jafar (Marwan Kenzari) and leader of his guards. While Hakim was a minor character in the 1992 animated feature, its straight-to-video follow-ups and TV series, expect Acar's live-action iteration to have a greater impact. Acar, a Turkish actor, was a prominent cast member of 2016 films The Great Wall and The Promise and the 2015 Point Break remake. He also fielded TV runs on Prison Break (2017 revival) and Homeland. He's also booked to appear in Amazon's upcoming Jack Ryan TV series, which stars John Krasinski as the newest iteration of Tom Clancy's signature terrorist hunter.
Nasim Pedrad will play Mara, the loyal handmaiden and friend of Naomi Scott's Princess Jasmine. The character is a completely original addition, created specifically for the movie. Pedrad is known from her 5-year run on SNL, a run on ER before that, with post-SNL television runs on Mulaney, Scream Queens and New Girl. Her voice can be heard in animated films such as 2013's Despicable Me 2 and 2012's The Lorax.
Billy Magnussen will play one of the suitors of Princess Jasmine. He has played a prince of a sort before in Disney's film version of Into the Woods, and he recently did superb work on Netflix's bizarre Maniac.
Iranian-American actor Navid Negahban will be playing the Sultan in Disney's live-action Aladdin remake. In an interview with Den of Geek, he elaborated on what to expect from the character and how director Guy Ritchie is approaching the project. Negahban said:
I think the character has layers which we didn't see in the animated version. The set was incredible. The actors are fascinating. It was truly a joy working with Guy (Ritchie) because he's so excited. He's like a kid – acting everything out. Also he was truly trying so hard to stay respectful and truthful to the culture. And that, I take my hat off to, you know? Lots of respect. He was very precise. He wanted to be respectful to the story. But, not just because of Disney, not just because it was a remake of an animation. It was because he thought that these characters deserve respect.
Negahban has previously appeared on Legion as "The Shadow King" and Homeland as Abu Nazir.
Aladdin Story
Here is the first full synopsis of Aladdin, and it looks like they're creating… a whole new world?
A thrilling and vibrant live-action adaptation of Disney's animated classic, "Aladdin" is the exciting tale of the charming street rat Aladdin, the courageous and self-determined Princess Jasmine and the Genie who may be the key to their future. Directed by Guy Ritchie ("Sherlock Holmes," "The Man from U.N.C.L.E."), who brings his singular flair for fast-paced, visceral action to the fictitious port city of Agrabah, "Aladdin" is written by John August ("Dark Shadows," "Big Fish") and Ritchie, based on Disney's "Aladdin." The film stars Will Smith ("Ali," "Men in Black") as the larger-than-life Genie; Mena Massoud ("Tom Clancy's Jack Ryan") as the charming scoundrel Aladdin; Naomi Scott ("Power Rangers") as Jasmine, the beautiful, self-determined princess; Marwan Kenzari ("Murder on the Orient Express") as Jafar, the powerful sorcerer; Navid Negahban ("Legion") as the Sultan concerned with his daughter's future; Nasim Pedrad ("Saturday Night Live") as Dalia, Princess Jasmine's free-spirited best friend and confidante; Billy Magnussen ("Into the Woods") as the handsome and arrogant suitor Prince Anders; and Numan Acar ("The Great Wall") as Hakim, Jafar's right-hand man and captain of the guards.
Aladdin Movie Photos
You can catch a glimpse of the photos in our gallery!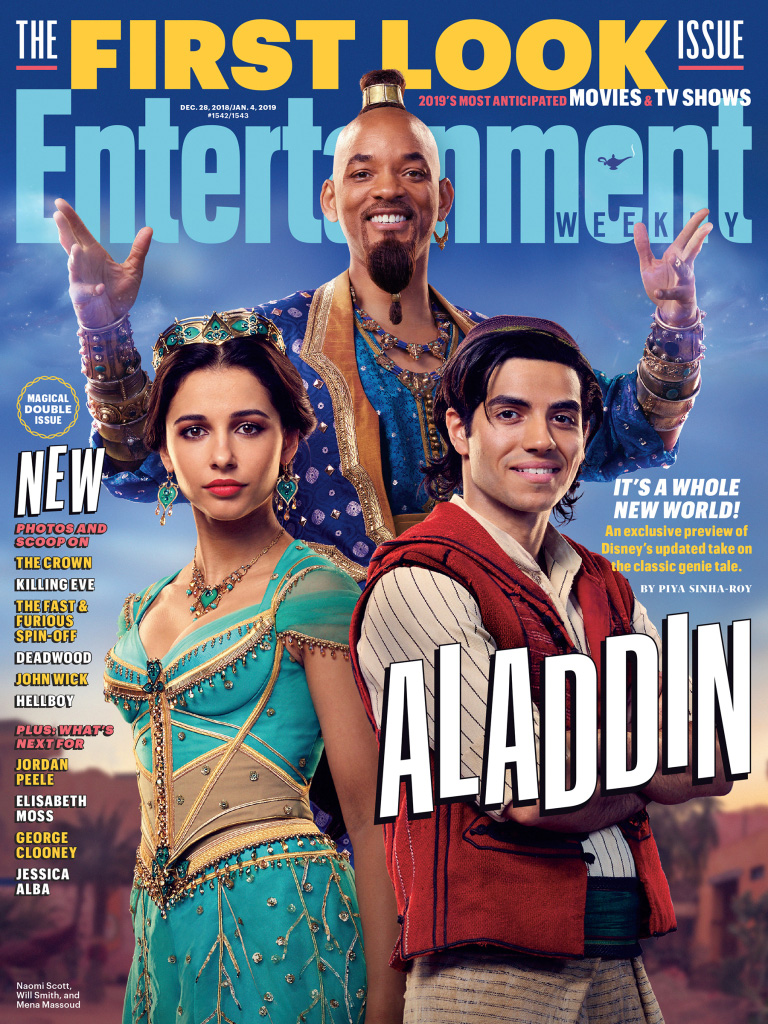 EW also provided a brief behind-the-scenes video that reminds you of the pure spectacle that awaits.
Aladdin Movie Poster
Check out the first poster for Disney's Aladdin remake. It shows a slightly redesigned but very familiar looking lamp (as well as color scheme).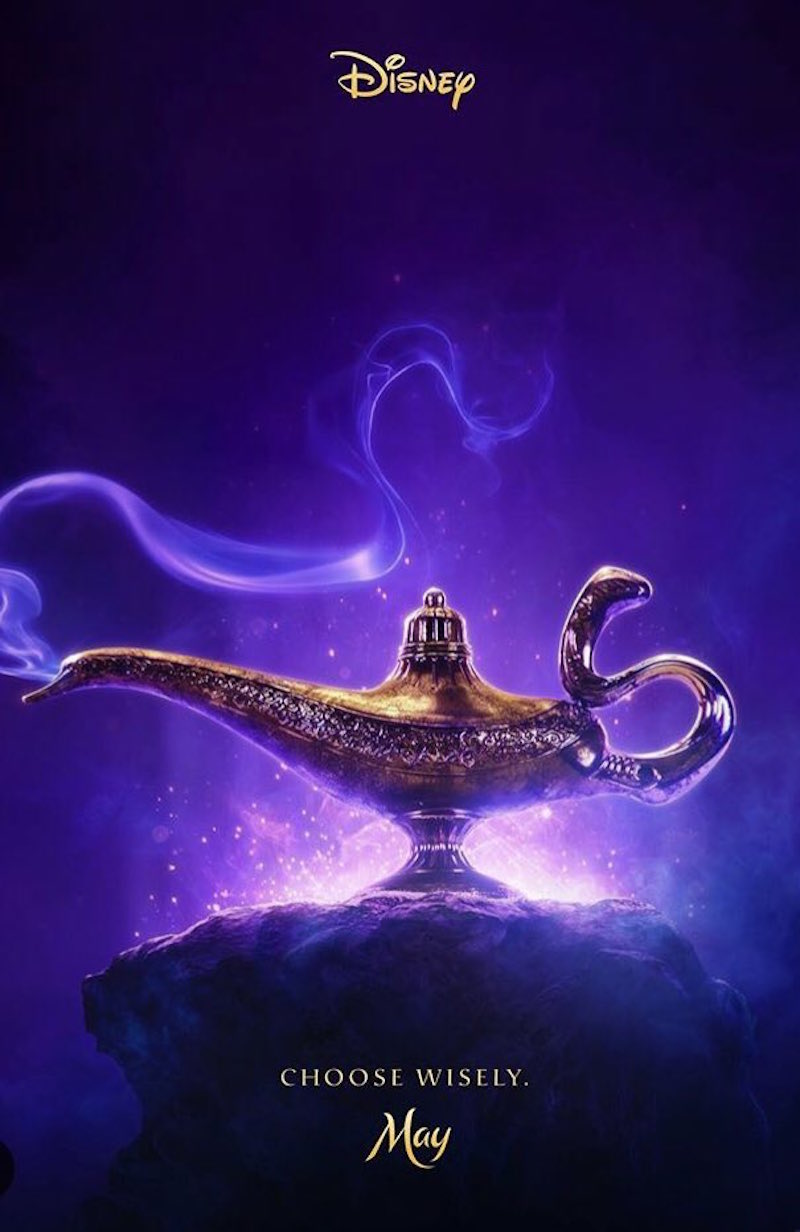 Joseph Baxter is a contributor for Den of Geek and Syfy Wire. You can find his work here. Follow him on Twitter @josbaxter.