Reviews
A Haunting in Venice Review: Branagh Makes a Horror of Hercule Poirot
Kenneth Branagh and Hercule Poirot find Gothic shadows agree with the locked room murder mystery.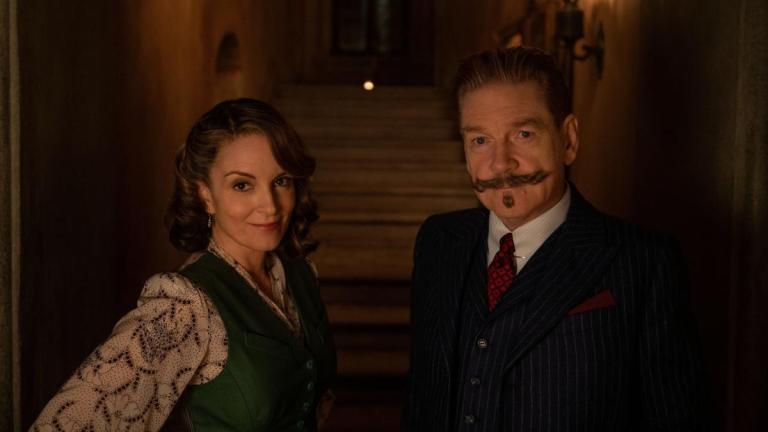 Hercule Poirot does not have the same step he used to. But, much to his clear intent, neither does Kenneth Branagh. While barely 18 months have passed since we last saw Branagh and his fabulous Belgian mustache in Death on the Nile, that second turn as Poirot for the director/actor was so delayed due to COVID and industry politics that it outlived 20th Century Fox by nearly three years. In the interim, Branagh moved on to other things and other distractions, including an Oscar he picked up for Belfast.
So, like his onscreen detective, Branagh has had a great deal of time to meditate on choices made—and those yet to be pursued. This may be one of the reasons A Haunting in Venice is such a different beast from its predecessors. Like the filmmaker's previous whodunit efforts, Nile and 2017's Murder on the Orient Express, Venice is an Agatha Christie adaptation with a splashy ensemble cast and an exotic locale that gets stained by a case of murder. Yet whereas those earlier films pulled from some of the Grand Dame of Mystery's most famous and oft-adapted works, Branagh's third dance with Poirot draws upon a book that's never seen the big screen. This seems to have liberated the often melodramatic Branagh to happily do less.
Where Orient Express and Nile were bombastic and overdrawn in their approaches—sometimes quite literally due to a reliance on CGI and elaborate sets which stood in for exotic settings—A Haunting in Venice is dialed back and reserved. Those films relied on spectacle to wow modern audiences. On his third outing, though, Branagh favors mood and atmosphere. It's a departure, and one that benefits from the bold choice to set this film in Italy's floating city (the Christie book it's based on, Hallowe'en Party, never leaves England). Actually filming in Venice proves to be production value enough too. If you've been in those canals after sundown, you know they contain ghosts aplenty…
Which brings us to the film's biggest change of pace. By its very title, this particular mystery teases horror. It's a ghost story that invites Branagh to dabble in the cinema Gothic. All extreme canted camera angles and shadowy candlelit confessions, Poirot's Venice could be mistaken for the 19th century's if not for the fact everyone's talking about the Second World War. Nonetheless, the scariest thing is how Branagh's Poirot has changed in the elapsed years.
Set in 1947 and about 10 years since the last movie, A Haunting in Venice opens with Poirot retired and remote. Spending his days dining on eggs and a lifetime of despair, Branagh's Hercule has become a haunted man, no matter how much he insists he's a skeptic toward the supernatural. It's that last point which attracts the attention of old friend Ariadne Oliver (Tina Fey), a novelist and colleague who got rich adapting Hercule's investigations into murder mystery books of her own (she's apparently an autobiographical character for Christie). And on this particular Halloween morning, she's come to the Belgian sleuth's Venetian home with a challenge: Debunk a medium (Michelle Yeoh) who has left Ariadne stumped.
The opportunity comes quickly that evening, as Yeoh's Joyce Reynolds and her assistant (Emma Laird) have been hired by a retired opera singer (Kelly Reilly) to conjure the spirit of a teenage daughter who recently died by apparent suicide… suicide or a ghostly push, if you were to indulge the rumors about their haunted palazzo. Thus on Halloween night, a grieving mother will summon the daughter in a seance that also includes the deceased girl's jilted fiancé (Kyle Allen), the doctor who pronounced her dead (Jamie Dornan), the doting housekeeper (Camille Cottin) who claims to misses her, and even a precocious child who insists he too can speak to the dead (Jude Hill). But as buried secrets are revived, the lines between natural and supernatural causes of death blur, and even Poirot is left to ponder the metaphysical as a fresh corpse appears within their midst.
As with Branagh's previous Christie adaptations, A Haunting in Venice benefits exponentially from a starry cast. No doubt the producers were giddy upon realizing they'd inadvertently cast Yeoh in first post-Oscar-winning role. As a psychic of ambiguous ability, Yeoh provides an alluring indifference. She's asked to bring a familiar regality to the part. But this makes her professed humility about simply being a "secretary" to the dead all the more suspicious.
The real standout among the suspects is Fey though. I am not personally familiar with the literary character of Ariadne Oliver, but the comedic actress underplays the role with a flat, heavy American accent and faintly screwball cadence that suggests the character is herself a performer—one who makes a deft counterpoint to Branagh's most somber Poirot to date. For it is Branagh and returning screenwriter Michael Green's commitment to their melancholic detective that makes these movies oddly endearing, even despite the films' sometimes glaring faults.
Back when Murder on the Orient Express was released, Branagh's florid interpretation of the gumshoe seemed an odd choice. As opposed to how Rian Johnson recently reinvented the cinematic whodunit with a lighthearted joie de vivre that would've seemed befitting Christie, Branagh treats the classic locked room murder setup with the ponderousness of Othello. Six years ago, I was left wondering if these murders should be such heavy deeds.
Three films in, however, this same peculiar instinct to demand audiences treat Poirot's exploits with all the tragic importance of opera has become a disarming eccentricity. The investment in Poirot's lonely despair of being a genius with a sixth sense for murder is as pronounced as the mustache on the actor's face, and Branagh wears it better these days in a Gothic setting where melodramatic proclamations about life after death are as of the element as candy apples are at a Halloween party.
The atmosphere is, indeed, dripping as the film takes a measured pace, even at a brisk 100 minutes. With that said, the actual attempts to veer more overtly into the realm of full-scale horror are awkward and a bit clumsy. When it comes to planting a jump scare, Branagh's directorial hand remains as thick as it did in Mary Shelley's Frankenstein, and a reliance on occasionally hyperactive editing does not disguise the fact that the movie's supernatural elements are a bit tame, even by PG-13 standards.
Despite the marketing, you will not mistake A Haunting in Venice as an actual horror flick. This is very much a whodunit that in spite of an invitingly spooky aesthetic becomes as straightforward and unchallenging as Branagh's previous two Poirot joints. As a consequence, it may also be the slightest purely by virtue of diminishing returns, with the director (like his author) relying on the same formula—and in this case with a solution that seems obvious.
But Branagh's fiercely passionate insistence that Poirot is one of the great roles remains. It gives A Haunting in Venice a curious, and at times inexplicable, spell. I might be skeptical about its faith in the character, but it's hard to regret attending a seance with him.
A Murder in Venice is in theaters Friday, Sept. 15.