News
7500 Trailer Prepares for an Emergency Landing
Joseph Gordon-Levitt braces for turbulence as the first 7500 trailer locks out terrorists.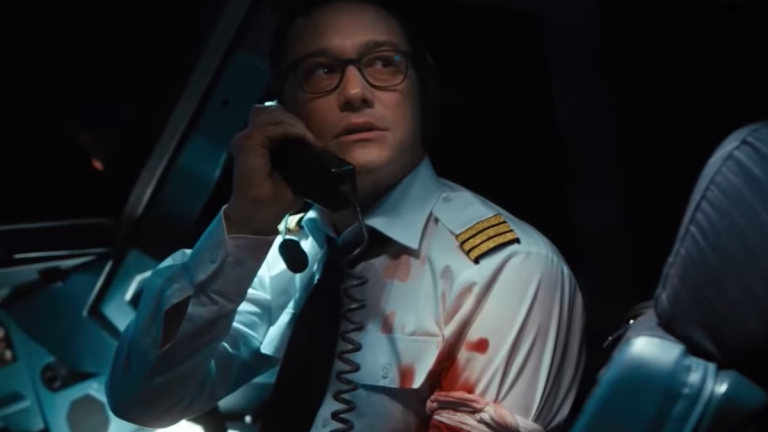 Airline pilots have a code to report hijackings, but there is no codified response to what might happen on board. The first 7500 trailer shows terrorists can be unpredictable and deadly, regardless of their weapons. Written and directed by Patrick Vollrath, the film stars Joseph Gordon-Levitt as a co-pilot who has to take the wheel after an unexpected burst of turbulence strikes the cabin.
"It looks like a routine day at work for Tobias, a soft-spoken young American co-pilot on a flight from Berlin to Paris as he runs through the preflight checklist with Michael, the pilot, and chats with Gökce, his flight-attendant girlfriend," reads the official synopsis. "But shortly after takeoff, terrorists armed with makeshift knives suddenly storm the cockpit, seriously wounding Michael and slashing Tobias' arm. Temporarily managing to fend off the attackers, a terrified Tobias contacts ground control to plan an emergency landing. But when the hijackers kill a passenger and threaten to murder more innocent people if he doesn't let them back into the cockpit, this ordinary man faces an excruciating test."
The title comes from the code, not the aircraft, like Shimizu Takashi's 2014 aerial suspense film, Flight 7500. Most plane hijacking movies focus on the rescuer. Think Wesley Snipes in Passenger 57, or Bruce Willis from Die Hard 2. 7500 focuses on the one person who can't be an action hero because the bravest thing he can do is stay in the cockpit, locked away for his own safety.
"We were born ready," we hear in the trailer. "Thank you for your trust in us." Gordon-Levitt's Tobias runs through the preflight checklist with Michael (Carlo Kitzlinger). He wipes off the lipstick from a quick kiss with his flight attendant girlfriend Gökce (Aylin Tezel), little knowing he will soon be pushing her onto a marauding force of terrorists.
7500 was shot aboard the front third of a real Airbus with flight instruments designed by production designer Thorsten Sabel. The film, which also stars Omid Memar, and Murathan debuted at Switzerland's Locarno Film Festival in August 2019.
Most recently, Gordon-Levitt did the voice of Slowen Lo in Rian Johnson's Star Wars: The Last Jedi, and the voice of Detective Hardrock in Johnson's Knives Out. German filmmaker Vollrath is best known for his short-film Everything Will Be Okay, which was nominated for the Best Live Action Short Film Oscar at the Academy Awards.
7500 will be available to stream on Amazon Prime Video on June 19, 2020.