News
20 comedians turned actors
The world of comedy has spawned some huge cinematic talents. And here are 20 comedians who successfully made the movie leap...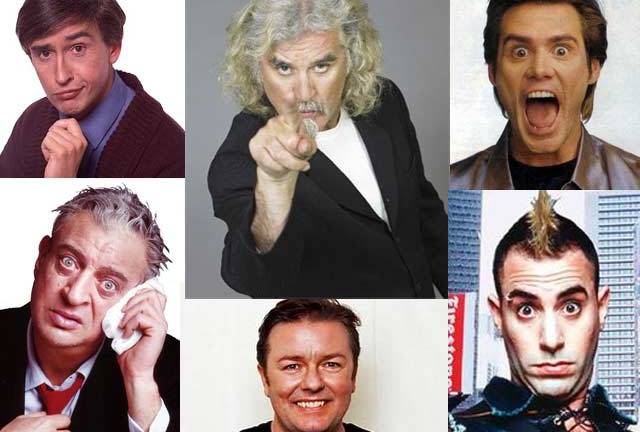 Everybody loves a comic, but clowning around isn't always the basis of a long and respected career. Many of the most talented funny-people have transcended their initial pigeon-holes on stage, radio or television to become big stars in the film industry, sometimes gaining respect and recognition in more serious, challenging roles. Here are 20 of the more notable comedians-turned-actors. In this case, comedy is a broad church – including stand-up, sketch shows and improvisational and other comedy groups – but on flip-side, we're focusing on proven cinematic success. The list is long, so there are many who didn't make the cut – but feel free to give us a good grilling in the comments.
Dan Aykroyd
At times, Dan Aykroyd can come off as a big disappointment. Think about it: one of the original powerhouses behind Saturday Night Live, who easily graduated into co-writing and co-starring in utter classics like Blues Brothers and Ghostbusters, the former a landmark mixture of music and comedy, the latter one of the highest grossing summer films of the 1980s. Since then, his work has been scattershot at best. His best moments from the last 20 years have been in straight acting, with appearances in My Girl, Chaplin, Driving Miss Daisy (for which he got a Supporting Actor Oscar nomination), and Grosse Point Blank.
Two wild and crazy guys: Czech brothers
Grosse Point Blank
Woody Allen
This list is mostly dedicated to actors, but Woody Allen's career change was much more radical. Starting off as a (very young) gag writer for various television comics, he became a stand-up, building his profile in the 1960s with a mass of impeccably-written narratives and punchy one-liners. By the end of the decade, he was writing plays for Broadway and contributing funny pieces to the New Yorker. Scripting for film was inevitable, but who would have guessed he would become one of the most recognisable personalities, or interesting filmmakers of American cinema history? He's won 3 Academy Awards, with 21 nominations in total, for Best Screenplay, Director and Actor. His stand-up material is still incredibly distinctive, and timeless in its humour — and traces of it can be found in even his best film work, such as the direct-to-camera intro to Annie Hall.
The Moose
Annie Hall opening
Cambridge Footlights 1980-1981 (Penny Dwyer, Stephen Fry, Hugh Laurie, Paul Shearer, Tony Slattery, Emma Thompson)
The first Perrier Award, which was given to the most promising talent at the Edinburgh Fringe Festival, went to a group of Cambridge students from the Footlights comedy group. Although the Footlights has been home to many stellar comedians, this 1981 iteration is incredibly notable from this standpoint. At its heart were Stephen Fry and Hugh Laurie, both of whom would go on to great success together and apart, on the silver screen or otherwise; the former is now a National Treasure (whatever that means) and the latter is every American's favourite grouchy doctor in House. But surpassing both in pure cinematic achievement is Emma Thompson, who went on to distinction as a dramatic actress and screenwriter, winning two Academy Awards – one for acting in Howards End, the other for adapting Sense And Sensibility.
Shakespeare masterclass (Fry And Laurie)
First part of the Footlights show
Emma Thompson in Remains Of The Day
Jim Carrey
Before he found international superstardom as the rubbery-faced, physically-virtuosic star of The Mask and Ace Ventura: Pet Detective, Jim Carrey had a stand-up career and a stint on American sketch show In Living Color. Mixing relatively bland observational humour with his undeniable talent for contorting his body, you can plainly see the roots of his 90s successes in these routines. In the last ten years, he has made moves into more serious acting, with Golden Globe-winning turns in The Truman Show and Man On The Moon.
Stand-up video
Eternal Sunshine Of The Spotless Mind trailer
Sacha Baron Cohen
Sacha Baron Cohen, like Mike Myers, has grown his stature with close ties to a small group of self-created characters. Ali G, Borat and Bruno all had their debuts on the small screen, on the Paramount Comedy Channel, the 11 O' Clock Show and Cohen's solo Ali G spin-off programmes. They showcased his immense talent for straight-faced silliness and probing, cutting satire, which, in the case of Borat, benefited well from the bigger budget and scope that cinema offered, resulting in an Academy Award nomination for Best Adapted Screenplay and a Golden Globe win for Best Actor. Parallel to developing his characters, Cohen has become one of the more recognisable British comedians in America, and has made forays into Hollywood, with roles in Madagascar, Talladega Nights and Sweeney Todd.
Sweeney Todd
Noam Chomsky + Ali G
Billy Connolly
On his first appearance on Michael Parkinson's talk-show, Billy Connolly was described as a Scottish Lenny Bruce. His brash, bold stand-up style, coupled with a big personality, has made him one of the most successful and progressive British comics in the last 30 years. His film appearances have mostly been more dramatic, supporting roles, but he often makes an lasting impression. He gained BAFTA and SAG nominations for his performance in Mrs. Brown with Judi Dench, but can also be seen in The Last Samurai, The X-Files: I Want To Believe and The Boondock Saints.
Life in the 60s
In Mrs Brown with Gerard Butler
Steve Coogan
Starting off as a writer and cast member for the On The Hour / The Day Today satirical news sketch shows, Steve Coogan created characters like Alan Partridge, Paul Calf and Duncan Thicket, leading to various character-based stand-up tours in the 1990s. He eventually graduated into cinema, starring in cult flicks such as 24 Hour Party People, A Cock And Bull Story and Coffee And Cigarettes, as well as more mainstream comedies like Around The World In 80 Days and Night At The Museum.
The Day Today speeding
Observational comedy: Duncan Thicket
24 Hour Party People trailer
Rodney Dangerfield
To many, Rodney Dangerfield is the king of American stand-up comedy. With his hard-done-to persona, and his quick-fire delivery of self-deprecating one-liners, he made a big name for himself performing on talk shows such as The Tonight Show. In the 1980s, he became a box office star in his own right, after appearing alongside Bill Murray and Chevy Chase in Caddyshack. He went on to co-write and star in a few other movies in that decade, but to many he will be remembered for his against-type, self-referencing turn as an abusive father in Natural Born Killers.
Stand-up on The Tonight Show
Ricky Gervais
Although his first successful stand-up performances came in 2001, the same year The Office first hit UK television screens, Ricky Gervais had been a figure in the comedy circuit for a couple of years beforehand, cropping up on The 11 O' Clock Show and writing for a handful of sketch programmes. His success with The Office, Extras and his stand-up has made him one of the more visible and respected UK comedians, and has led to a still-flowering career in Hollywood, with Gervais recently appearing in Stardust, Night At The Museum and Ghost Town.
Ghost Town trailer
In Stardust
Whoopi Goldberg
When offered the role as Celie Harris in The Color Purple by Steven Spielberg, Whoopi Goldberg was worried that it would be too serious a job for her; Goldberg's career had started on stage, performing one person pseudo-plays, improv and stand-up. Nevertheless, her role in The Color Purple garnered her praise and recognition. She would go on to win an Academy Award for her performance in Ghost, and is now immortalised for many a geek for her stint on Star Trek: The Next Generation as Enterprise bar-tender Guinan. Currently, she has retired from acting, preferring to be part of the team of matriarchs that preside over the US in day-time talk show The View.
Bat joke
Guinan clip
Eddie Izzard
Popular both in the UK and the USA for his cross-dressing, stream-of-consciousness stand-up performances, Eddie Izzard has made no secret of his ambitions as an actor. Starting out on stage, he has made forays into both independent and Hollywood cinema; this has resulted in a varied filmography, with appearances in big flicks like Ocean's Twelve, The Avengers and Valkyrie sitting alongside more art house roles in Todd Haynes' Velvet Goldmine, Peter Bogdanovich's The Cat's Meow (where Izzard played Charlie Chaplin) and Alex Cox's Revengers Tragedy.
Being bilingual
Cat's Meow
Velvet Goldmine
Steve Martin
In the late 1970s, Steve Martin was one of the most popular stand-up comedians in America. With his finely-crafted absurd, silly humour, he won great fame and recognition, including two Grammy Awards for his LPs Let's Get Small and A Wild And Crazy Guy. After branching out into writing and starring in film, he retired from performing stand-up in 1981. What came next was a career that, in the most part, has veered between two poles of sometimes self-written gold (Dead Men Don't Wear Plaid, L.A. Story, Roxanne, Shopgirl) and mainstream pleasantness (many family film remakes – Sgt. Bilko, Father Of The Bride, The Pink Panther). It is important to remember that comedy and acting are only two of Martin's many talents, being a prolific writer and shredariffic banjo player when he's not on our screens.
Dead Men Don't Wear Plaid
On the banjo
Eddie Murphy
It's hard to think of it now, after his seemingly-endless flow of turgid silly comedies, but Eddie Murphy used to be an wild and controversial stand-up comedian, as well as a regular cast member of Saturday Night Live in the early 1980s. His Delirious performance in the 1983 was successful, and quite provocative, if incredibly insensitive at times. He found more success and fame as an actor, appearing in hit comedies such as Beverly Hills Cop, 48 Hrs. and Den of Geek favourite, Trading Places. He hit a huge slump in the 1990s, and still mostly appears in tripe like Norbit, but received an Academy Award nomination for his performance as James "Thunder" Early in Dreamgirls.
Slaves stand-up from Delirious
Trading Places
Bill Murray
In the 1980s and early 1990s, Bill Murray was the benchmark for blockbusting comedy films. After an anarchic start on The National Lampoon Radio Hour and Saturday Night Live, he went on to secure hit after hit with Stripes, Ghostbusters, Scrooged and Groundhog Day. His dry, laconic form of quick-wittedness has made him a memorable personality, especially when seen in action in interviews (such as early appearances on David Letterman). However, he always had ambitions for more dramatic roles – something he has explored with more success in the last 10 years, starring in tragicomedies and arty hits like Rushmore, Broken Flowers and Lost In Translation (for which he got an Oscar nomination).
1979 Live From Second City
Bill Murray on Letterman
Groundhog Day
Mike Myers
Mike Myers' fame, fortune and high regard rests on his zeitgeist-grabbing comic creations Wayne Campbell and Austin Powers. Both the Wayne's World and Austin Powers series are highly informed by Myer's work in sketch-based and improvisational comedy, harking back to his time as a member of the Comedy Store Players in London (paired up with notable comics like Josie Lawrence, Sandi Toksvig and Paul Merton), as well as his stint on Saturday Night Live in the USA and "It's Only Rock And Roll" in Canada. Add Shrek into the mix, and Myers has had continued success with a relatively small set of roles, although he has branched out at times, with straight roles such as club owner Steve Rebell in 54, and a part in the upcoming Tarantino flick Inglorious Basterds.
Wayne's Power Minute
Mike Myers on Sean Connery
Simon Pegg
It's probably safe to say that Simon Pegg has hit the big time as an actor in his own right, starring in the geekiest of summer geek films in Star Trek, as well as appearing in the upcoming Steven Spielberg adaptation of Tintin. There are many who have traced his career right from his more humble beginnings on the Paramount Comedy channel, and his work on the sketch show Big Train. His big successes so far as actor and writer have been produced in conjunction with director Edgar Wright both on the small screen (Spaced) and in the cinema (Hot Fuzz, Shaun Of The Dead).
Big Train Spoons
Shark story from Boys Who Do Comedy
Richard Pryor
Although mainly remembered as a stand-up comedian, Richard Pryor held down a lucrative and successful career as an actor. After a string of tours and comedy records, which all added to his hugely influential legacy, Pryor became more active in the cinema world in the 1980s – appearing in a handful of double-act comedy films with Gene Wilder, as well as taking up the role as hapless hacker Gus Gorman in Superman III.
Stand-up
Sesame Street
Superman III trailer
Peter Sellers
Peter Sellers has the interesting position of being differently regarded depending on your age or generation. Grandparents and other pre-television types will no doubt remember him as one of the stars of The Goon Show, a skit-based radio programme where Sellers and his cohorts would go through outrageous vocal routines and impressions. However, hit the '60s, and he makes a big leap into films, starring in two Stanley Kubrick works that cemented his international status – playing 3 distinct characters (and getting an Oscar nomination) in Doctor Strangelove and Clare Quilty in Lolita. Just as impressive, if less timeless, were his performances as Inspector Clouseau in the Pink Panther movies – showcasing a flair for physical farce. His final film role, in Hal Ashby's 1979 film Being There, showed immense depth and capacity for drama, for which he received another Oscar nomination.
Trail Of The Pink Panther end credits montage
Hard Day's Night (Olivier)
Lolita
Lily Tomlin
Lily Tomlin is probably more famous now as an actress, having starred in the Robert Altman films Nashville (receiving an Oscar nomination), Short Cuts and A Prairie Home Companion, as well as appearing in the quirky David O. Russell film I Heart Huckabees. However, she started off her career as a comedian, appearing on American television in sketch shows such as Laugh-In, and creating strange straight-faced skits like the following Pac-Man Addiction PSA video.
Pac-Man Addiction PSA video
I Heart Huckabees trailer
Robin Williams
With or without cocaine, Robin Williams is still a force to be reckoned with on stage. A big personality as a stand-up, he easily translated onto the small screen in Mork And Mindy, and on film in the live-action cartoon Popeye, and many blockbuster 90s family comedies such as Mrs Doubtfire, Hook and Jumanji. However, his training at the prestigious Julliard school of drama was an ace up his sleeve, and his performances in Awakenings, Insomnia and One Hour Photo proved he had great dramatic depth and virtuosity. His crowning achievement was winning an Academy Award in 1997 for his supporting role in Good Will Hunting, but he also received nominations for his roles in Good Morning Vietnam, Dead Poet's Society and Terry Gilliam's The Fisher King.
Stand-up
On Sesame Street
The Fisher King
Honourable mentions:
Charlie Chaplin Julie Walters Victoria Wood Janeane Garofalo Jerry Seinfeld Harold Ramis Alexei Sayle Chris Rock Tim Allen Will Ferrell Steve Carell Jamie Foxx John Belushi Christopher Guest Tina Fey Ben Stiller John Candy Billy Crystal George Carlin Bill Cosby Takeshi Kitano Robbie Coltrane Peter Cook & Dudley Moore Rowan Atkinson Lee Evans Sandra Bernhard