News
Zelda Game and Watch Pre-Order: Release Date, Games, Price, and Where to Buy
The new Zelda Game and Watch is coming this holiday! Here's when it's out, how much it costs, and where and how to pre-order.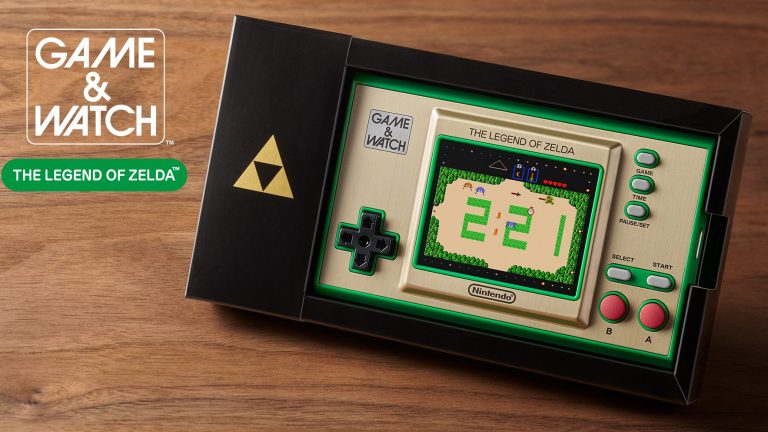 While Nintendo fans won't be getting that Legend of Zelda: Breath of the Wild sequel in time for the 35th anniversary of the iconic fantasy series, the publisher is celebrating the huge milestone in a different way: a new Game & Watch handheld pre-loaded three classic Zelda games. Following up on the success of the Super Mario Bros. version of the classic handheld line, the Zelda Game and Watch is hitting store stores on Dec. 11 and will cost $49.99.
You can check out the cool design of the device in the photo above!
If you want to be the first to get the Zelda Game and Watch, you'll want to make sure to get your pre-order in ASAP as soon as the handheld goes on sale. As you all know, Nintendo products tend to sell out before they even hit shelves! And as the Xbox Series X/S and PlayStation 5 pre-order periods showed us, you won't just be competing with other Nintendo fans. You'll also have to try to get a Game and Watch before all of the scalpers do. Just ask the many gamers still trying to buy a PS5 all these months after the next-gen console's release: beating the scalpers won't be easy!
But we've got you covered. Below, you'll find links to the online retailers where you'll have the best chance of securing your pre-order before the Zelda Game and Watch is inevitably out of stock!
Zelda Game and Watch Pre-Order
Zelda Game and Watch pre-orders are live now at Best Buy and GameStop, and should be opening up at other online retailers shortly! Your best path to securing your pre-order is at one of the following stores:
Nintendo Store
Amazon
Best Buy
GameStop
Sam's Club
Target
Walmart
It's also a good idea to follow online gaming deal watchdogs like @Wario64 on Twitter! Wario64 constantly updates his followers when consoles and games are back in stock at retailers. Following this user was how I was able to pre-order my next-gen consoles on day 1 of the pre-order period!
Zelda Game and Watch Games
There are three Zelda games pre-loaded on the new Game and Watch, three titles that track the origin and evolution of the series on the NES and Game Boy:
The Legend of Zelda (1987): "Discover Hyrule and send Ganon packing in the original 1986 game that started it all."
The Legend of Zelda II: The Adventure of Link (1988): "Explore dungeons with side-scrolling gameplay and a sprawling overworld in this sequel from 1988."
The Legend of Zelda: Link's Awakening (1993): "Wake the sleeping Wind Fish in the original 1993 Game Boy version of the first full-sized Legend of Zelda game for a handheld system."
The Game and Watch also features a Link version of the game Vermin as well as an interactive digital clock and timer.
We'll keep you updated as we learn more about the Zelda Game and Watch. Good luck getting your pre-orders!