Features
Will Poulter on Witchcraft and the Horror of Choose-Your-Own-Adventure Game Little Hope
Star of Midsommar, Bandersnatch and upcoming game Little Hope, Will Poulter talks us through his first motion capture role.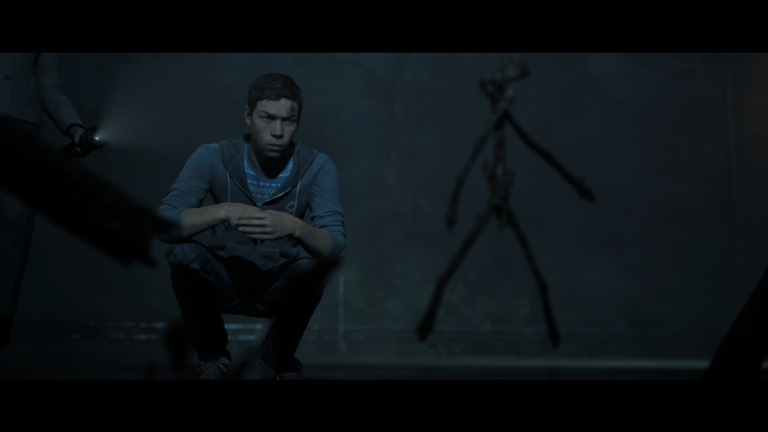 Having already wetted his genre appetite in horror auteur Ari Aster's Midsommar last year, British actor Will Poulter is set to give his first video game performance later this autumn. Little Hope acts as the second entry into Supermassive Games' Dark Pictures planned series of anthology tales, following up Man of Medan's sunken exploits by centring on a group of teens who are quickly forced to navigate and survive the eponymous ghost town.
Pitched primarily as an "interactive drama" blended with survival horror elements, Little Hope again offers players the chance to make multiple decisions that will directly affect and influence the outcome of the story. This is something Poulter already knows a thing or two about, given his participation in 2018's 'choose-your-own-adventure' episode of Black Mirror, Bandersnatch, on Netflix.
However, whereas that project saw Poulter portray a geeky and reserved coder, his role as college student Andrew here sees the actor swept up in a more traditional horror scenario – all set against the backdrop of a fictional New England town with a questionable involvement in the 17th century witch trials. It's the type of binge-worthy fare you'd expect any TV addict to consume in a weekend.
That said, ahead of Little Hope's release later this year on PC, Xbox One and PlayStation 4, Poulter shared with us his experience working on the game…
How familiar were you with Supermassive Games before you took on the role in Little Hope?
I was aware of Until Dawn and obviously Rami Malek being one of the lead roles in that game, and aware of just how well that was received and the incredible reviews that it got. I was also aware that Little Hope was going to be the second game in the anthology, and that Man of Medan was already in the works.
So I was very, very excited to join such an established and sought-after production team and very, very flattered that they asked me to be involved.
What can you tell us about your character, Andrew? He's part of this group of teens, but how does he fit into the group?
Yeah, well, it's interesting. So the story follows four students, one of whom is actually a mature student. And Ellen Davis plays that character, her name is Angela. Four students and a professor called John. And the five of them are stranded in the little town of Little Hope after their bus crashes on a field trip.
They're tasked with trying to find a way out of there while simultaneously trying to make sense of the strange sort of apparitions and witchcraft that they're coming into contact with. And they also discover that there are some even greater threats that they're going to contend with down the line.
Little Hope obviously differs from most games in that there are branching story paths and dialogue options. What was it like trying to stay on top of that?
Really lucky in the sense that the team around us, you know, us being the cast were really, really experienced. Nick Bowen, the director, was amazing at making sense of things when I couldn't.
I think if I had any kind of tools that sort of lend themselves well to tackling this task prior to doing it probably would have come in the shape of Bandersnatch, where I did have to entertain sort of multiple narrative strands and have a kind of audience member and an active audience member in mind in terms of accommodating choices into my performance.
Did you find that other cast members could lean on you because of your work on Bandersnatch?
You know what? No, no, I think it was more the other way around. Maybe I had some false advertising strapped on me. I tend to sort of struggle the most with that kind of thing. I'm not necessarily wired in that way to multitask. But as I say, the director was fantastic. And you know, I think certainly as a cast, we helped each other make sense of it. And, you know, rather like the characters in the game we did find ourselves kind of working together in order to sort of some, yeah, tackle problems.
I can sort of picture these scenarios where you're all looking around at each other saying, "Are you dead? Am I dead by this point?"
Yeah, literally.
Why do you think New England as a setting and the witch trials is such a scary topic for a game like Little Hope?
Well, I think I think the notion that, you know, people really were trials and charged with witchcraft, you know, during the 17th century in such a kind of extortionate rate as well. And the game is as much inspired by the Salem witchcraft trials as the Andover witchcraft trials and Andover is in the same region, kind of neighbouring Salem, and more people were actually trialled for witchcraft in Andover than they were in Salem. It's just not so known.
The game's name Little Hope, actually, it comes from a map of the region of New England during the 17th century. I think around the time the game is set, partly in 1692. And there was a Little Hope Meadow. So that's whether the game actually gets its name and it kind of just speaks to the fact that the whole creation of the game is kind of predicated on a lot of, you know, research and historical truths, which kind of makes it a little more scary as well.
Do you plan on playing Little Hope upon release? And if so, are you going to do the whole Netflix and binge thing?
I can't wait to play. It's out this fall and it can be played on PS4, PC and Xbox. And I'm really, really excited to give it a go. I think the notion of playing with myself as a computerised character is going to be really kind of strange, but I'm looking forward to it, nonetheless.
Are you generally a horror games fan?
You know what? I haven't been much of a gamer my whole life. And yeah, I think I probably my sort of only real kind of knowledge of horror is probably film and TV-based.
But yeah, I'm really intrigued to play this game just primarily because of how cinematic and filmic it is. I've seen a lot of the gameplay and I haven't been able to physically play it and it's kind of incredible actually what we've been able to achieve.
Is there an element of the story or perhaps an element of your character that you would advise people pay close attention to before they go into the story without giving too much away?
Yeah, sure. I think, obviously, there are sort of different time periods that exist in the game. And part of the mystery and I think the kind of fun there is to be had in playing Little Hope is trying to work out the connection between the characters and across these different time periods. So just be paying careful attention to that and try to work out how they're linked.
Little Hope is out this Autumn on PS4, Xbox One and PC