News
Teamfight Tactics Coming to Mobile in March
One of 2019's biggest surprises, Teamfight Tactics, is set to release on mobile devices in March.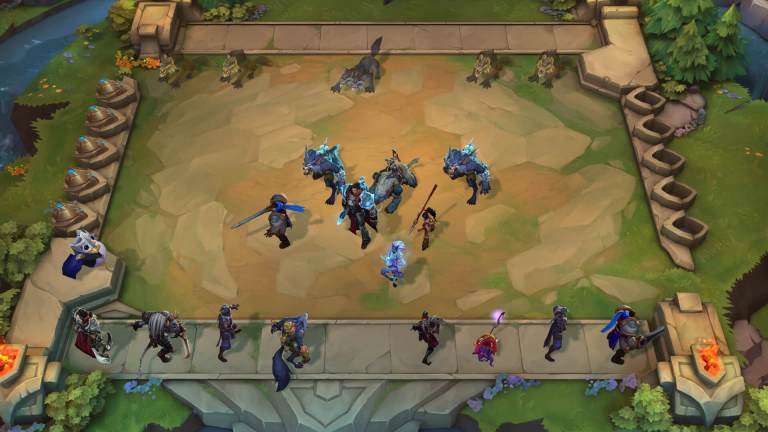 Teamfight Tactics, the League of Legends-based auto-battler from Riot Games, is finally coming to mobile devices. 
Riot Games confirmed the port via a late announcement which revealed that the mobile version of Teamfight Tactics will launch in March sometime near the game's planned Set 3 update. While Riot didn't reveal an exact release date, both are expected to release sometime around mid-March. It sounds like the plan is for the game to launch on Android and iOS at that time (for "most countries"), but we'll see whether that proves to be the case. 
The studio hasn't revealed what we can expect from the mobile version of TFT, but they did mention that their goal is to develop a mobile version of the title that benefits from the abilities of the medium and doesn't just feel like a cheap PC port. That most likely means that we'll see some minor interface and gameplay alterations, but there shouldn't be too many sweeping changes given the relatively simplistic nature of the base game. 
Riot is being just as coy regarding the details of the title's Set 3 update, but they did lean heavily on the idea that it will be "out of this world," so you should expect the game to thematically emphasize something along those lines. 
For those who don't know, the auto-battler genre really began with the rise of a DOTA mod called Auto Chess. However, it came into its own in 2019 with the release of DOTA Underlords, Teamfight Tactics, and Hearthstone's Battlegrounds mode. The original Auto Chess is still set to receive an official release via the Epic Store. As we noted in our breakdown of the genre, auto-battlers represent one of the more interesting additions to the strategy scene over the last several years. They're deep, accessible, and utterly addictive. 
We're fascinated to see whether the mobile version of Teamfight Tactics can retain that game's best elements.
Matthew Byrd is a staff writer for Den of Geek. He spends most of his days trying to pitch deep-dive analytical pieces about Killer Klowns From Outer Space to an increasingly perturbed series of editors. You can read more of his work here or find him on Twitter at @SilverTuna014.