News
Super Mario 3D World + Bowser's Fury Review Roundup
The Super Mario 3D World + Bowser's Fury reviews are finally rolling in ahead of the release date! Here's what critics are saying so far...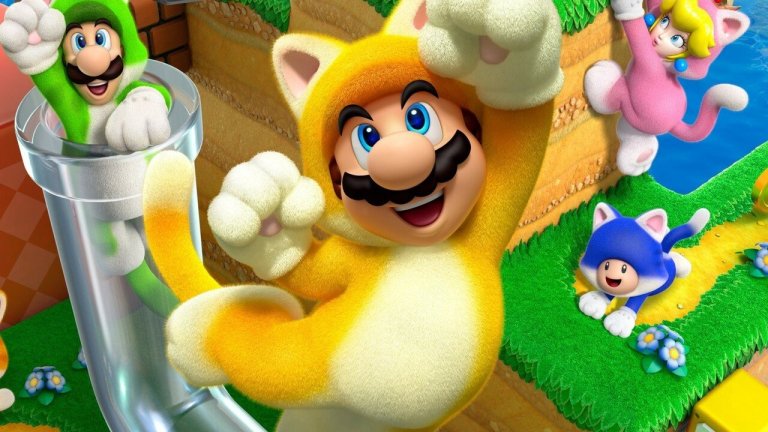 While Super Mario 3D World's original 2013 launch on the Nintendo Wii U could certainly be considered a success, it's also clear that this underappreciated Mario platformer was held back at least somewhat by the platform itself. The Wii U, a confusing follow up to the much more successful Wii, sold well below projections, forcing Nintendo to ditch the platform (and its library of games) much sooner than it had planned.
Fortunately, the Switch, which has sold over 60 million more units than its predecessor, has allowed the company to find many of the Wii U's best games a new home. Just look at Mario Kart 8 Deluxe, a multiplayer game we recently rated as Nintendo's very best.
Next up on the list of Wii U-to-Switch ports is the aforementioned Super Mario 3D World, which comes bundled with a new campaign called Bowser's Fury, a mode that pits Mario and friends against a new version of the Nintendo villain. It also features a bunch of stuff about cats, which every Mario release should.
Ahead of our own review of the game, which is coming next week, here is a roundup of what critics are saying about Super Mario 3D World + Bowser's Fury so far:
Cam Shea, IGN:
"Super Mario 3D World + Bowser's Fury packs a ton of engaging gameplay, but neither component comes together as elegantly as it might have done. This is a solid option if you're craving more Super Mario for your Switch, but it's not the mustachioed must-play I was hoping for."
Score: 7/10
Sam Loveridge, Games Radar:
"Super Mario 3D World + Bowser's Fury is quite the package. The brilliance of a Wii U title most will have missed out on, with the added appeal of a brand new Mario adventure in the vein of Odyssey. It feels like an appropriate celebration for Mario's 35th birthday, and a must-play for Mario fans."
Score: 4.5/5
Brian Shea, Game Informer:
"Having another chance to revisit Super Mario 3D World (or experience it for the first time) is reason enough to be excited. However, with an excellent, all-new game joining the Wii U port, Super Mario 3D World + Bowser's Fury is a compelling option for anyone who wants more Mario in their life."
Score: 9.25/10
Steve Watts, GameSpot:
"Put together, Super Mario 3D World + Bowser's Fury is a spectacular package. Super Mario 3D World is an absolute joy of classic platforming excellence, and this is the best version of it thanks to some well-calibrated improvements. Bowser's Fury is peculiar and less polished, but it dares to poke fun at its own oddities and it has a wild creative streak. The two share thematic similarities, but more importantly, they work hand-in-hand to show the full extent of versatility in what a Mario game can be."
Score: 9/10
Chris Plante, Polygon:
I initially thought the two games — Super Mario 3D World and Bowser's Fury — made for a mismatch. But I found from bouncing between the two that their formulas complement one another. Super Mario 3D World's history-lesson-like approach to the series acts as a control group, making Bowser's Fury's experimental twists all the more striking.
Is Bowser's Fury the future of Mario? I doubt it. The formula has worked too well for too long to go too far down this antagonistic open-world path. But I hope we see similar diversions from Nintendo in the future, new ways for the familiar to surprise us.
Martin Robinson, Eurogamer:
"Super Mario 3D World is a feast of Mario, an exuberant celebration of the series in all its various guises from its Yoichi Kotabe artwork through to its ebulliently upbeat live orchestra soundtrack that might have been a more fitting 35th birthday celebration than last year's Super Mario 3D All-Stars. This Switch version adds a few tweaks – it's 60fps in handheld and docked, though the movement speed has been amped up ever-so-slightly which makes it feel snappier in the hand, with touchscreen sections from the Wii U version now bolstered by the use of a gyro pointer – making it the definitive way to play Mario's most joyous, open-armed adventure to date."
Andrew Webster, The Verge:
"There are two other important things to note about Bowser's Fury. One, it's not a full-scale Super Mario game. While it's a meaty adventure with lots to do and unlock, it's probably about one-third the size of comparable games in the series. The other thing to note is that, despite its dark themes, Bowser's Fury is achingly adorable. The islands you explore appear to have been rendered by the world's biggest cat fan. Seriously, everything in the game, from the bushes to the goombas to the lighthouses to the pigeons, is cat-themed. At one point, while I was wearing the cat suit, an entire gang of rainbow-hued cats started following me, and when I stopped running away it turned into an impromptu cuddle party.
Bowser's Fury is essentially a remix of 3D World, one that takes the same basic themes and mechanics but turns them into something that feels both new and familiar at the same time. Really, this package is indicative of 3D Super Mario games as a whole: it's a series where you never quite know what to expect with each new release. Sometimes that means a whole new structure or gameplay twist. Other times it means towering monsters and lots of cute cats."
Super Mario 3D World + Bowser's Fury is out on Feb. 12.