News
Star Wars Squadrons Game Confirmed by EA
Electronic Arts' Star Wars Project Maverick seems to have leaked again. A listing suggests that the game is called Star Wars Squadrons.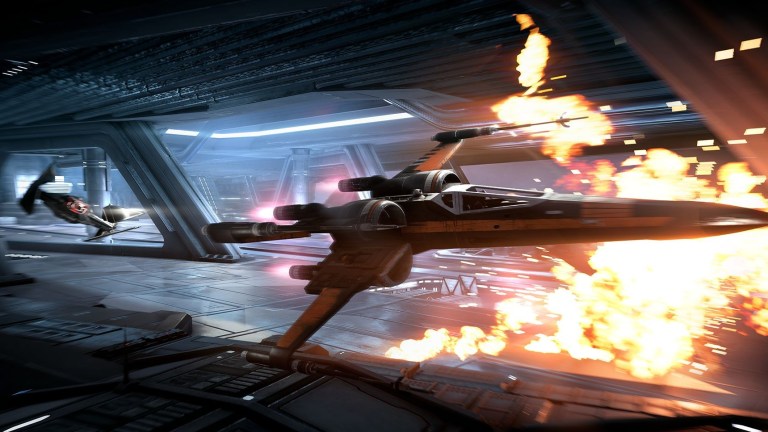 Electronic Arts has confirmed that Star Wars Squadrons is the publisher's next Star Wars game. In a Tweet to its followers, EA announced that it will drop the reveal trailer on June 15 at 11 am ET.
The poster, which teases a space combat game involving X-wings, Y-wings, A-wings, TIE fighters, Star Destroyers, and more, is pretty amazing, too. If it's anything like the old space combat games from LucasArts, the game could feature some of the best spaceships in the Star Wars universe. We don't know as of yet whether Star Wars Squadrons will be a multiplayer-only shooter or if it'll also feature a single-player mode reminiscent of X-wing vs. TIE Fighter or Rogue Squadron.
The official announcement came just hours after the game leaked for the second time this year. This time, it was listing that appeared on the Xbox homepage. Fans managed to grab a screenshot of the promo before Xbox could take down the image.
Here's a screengrab of the listing, courtesy of Eurogamer: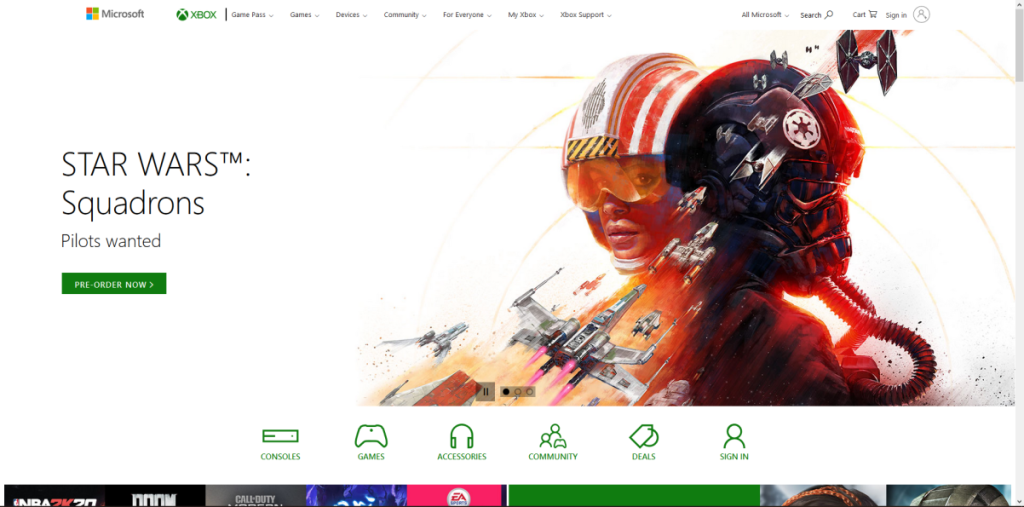 EA will likely unveil the gameplay at its EA Play conference on June 18.The game is said to be in development at Motive Studios, the team that worked on the single-player campaign for Star Wars Battlefront II and provided support for BioWare's Anthem.
While former Kotaku news editor Jason Schreier broke the story that game studio EA Motive was working on a "smaller, more unusual Star Wars project" codenamed Project Maverick, the game seemed to be confirmed back in March when a listing for the game was leaked on the PlayStation Network.
In May, Schreier teased that Project Maverick might finally be officially unveiled by EA after Motive Studios launched its own Twitter handle just weeks before the publisher's big EA Play showcase where it will announce all of its upcoming projects.
"Looks like someone's getting ready to announce a new game," Schreier wrote on Twitter above a message from Motive announcing its new presence on the social media platform: "We're here! The Motive family is excited to be joining on social platforms to share on who we are, and the work we do. Really, we couldn't imagine a better time to start connecting with everyone online. Let's go."
After the massive success of Respawn Entertainment's Jedi: Fallen Order, which is also reportedly getting a sequel, it's not all that surprising that EA is ready to release another Star Wars game.
It remains to be seen if the the new title is a spiritual successor to the Rogue Squadron space combat series that saw players pilot Rebel fighters against the Imperial fleet. Many fans have been asking for a new Rogue Squadron title for years. The last installment came out in 2003 and series developer Factor 5 closed its doors in 2009. Rebel Galaxy developer Double Damage famously pitched a Star Wars space shooter in the spirit of the old X-wing and Rogue Squadron games, but EA turned it down.
We don't know when Star Wars Squadrons might release or what consoles the game will support. The timing of the announcement makes it likely that the game will release on both current-gen and next-gen consoles.
We'll keep you updated as we learn more.