News
Could the New Pokémon TCG Live App Bring Retro Pokémon Cards Back?
The new Pokémon Trading Card Game app, Pokémon TCG Live, has the potential to unlock some serious nostalgia.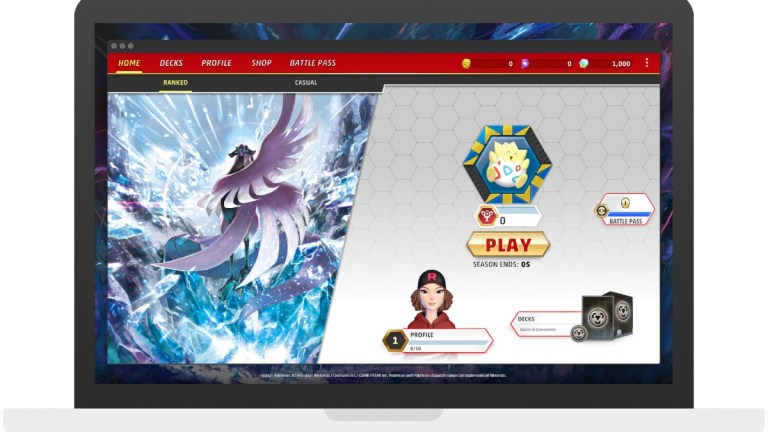 Perhaps you may have heard but it's a big year for the Pokémon franchise. 2021 marks the 25th anniversary for the pop culture behemoth and it's come with plenty of pomp and circumstance. The Pokémon Company has collaborated with diverse entities like Katy Perry, Oreos, McDonalds, and more to honor nearly three decades of catching them all.
Today the company announced a 25th anniversary-adjacent product that has been long in the making: a new mobile application for the Pokémon Trading Card Game called Pokémon Trading Card Game Live. Check out the announcement video below:
The Pokémon Trading Card Game (or Pokémon TCG) is one of the biggest platform for the worldwide Pokémon craze. And yet, the existing app devoted to the game, Pokémon Trading Card Game Online, has long been a source of frustration for some fans. Though the app works just fine in terms of allowing Pokémon TCG players to battle one another, its aesthetics are quite dated and certainly not befitting of a multi-billion dollar franchise. It's also occasionally buggy and is not available on mobile phones.
Pokémon Trading Card Game Live seeks to fix many of these issues and bring online play up to date with competing card games like Magic: The Gathering Arena and Hearthstone. The new free-to-play app doesn't have a launch date yet but once it arrives, the old PTCGO app will be sunsetted. The new app will be available on Mac, PC, Android, and iOS devices, including mobile phones for the first time. Existing PTCGO players will be able to transfer over the majority of their cards to the new game using their log-ins. 
Of course, any migration of old players to a new platform will have some drawbacks. In its sprawling FAQ section, The Pokémon Company addresses some big ones. For starters, Pokémon TCG Live will not support cards from the 2010 HeartGold and SoulSilver sets. This effectively kills off an online format of play known as "Legacy." Also, players will not be allowed to trade cards or packs like they do in PTCGO, which seems kind of unfair for a game with "Trading" in its name.
Still, despite those drawbacks at launch, there is one detail tucked away in The Pokémon Company's literature that suggests the new game may eventually feature a far more expansive card game than ever before. Check out this answer, first uncovered by Twitter user @WamesGames, on Pokémon TCG Live's site:
What about special expansions like Detective Pikachu and Celebrations?
Pokémon TCG cards from the Detective Pikachu expansion are transferrable and playable in Pokémon TCG Live at launch. The Celebrations expansion is also transferrable and playable at launch, with the exception of cards from the Classic Collection within the Celebrations expansion, which are transferrable at launch but will not be playable until future Pokémon TCG Live game updates.
The last part of that answer is interesting. As previously revealed, Pokémon's special 25th anniversary set "Celebrations" will feature some of the most classic cards from the card game's existence, dating all the way back to retro base set cards like Charizard, Venusaur, and Blastoise.
The Pokémon Company's assertion that these cards will exist in Pokémon TCG Live but won't be playable until a later date, suggests that there very well could be a date in the near future in which players can finally play the retro version of Pokémon TCG online.
In this case, "retro" refers to the commonly accepted first era of Pokémon cards, which features the late '90s Base Set and Jungle and Fossil expansions. The Pokémon Trading Card Game has evolved immensely from those earlier sets to the point where the early cards almost resemble another game entirely. The Pokémon Company has thus far resisted including the old cards in its online offerings, likely due to that difference…and to the fact that the game's first two generations were published by Wizards of the Coast.
With a shiny new app in the fold and interest in the franchise at an all time high, however, who's to say we won't soon get to polish off those old Haymaker and Rain Dance decks?