News
New Origin PC Includes Built-in Xbox One or PS4
With Origin PC's newly-unveiled Big O, the world of gaming hardware appears to be eating itself.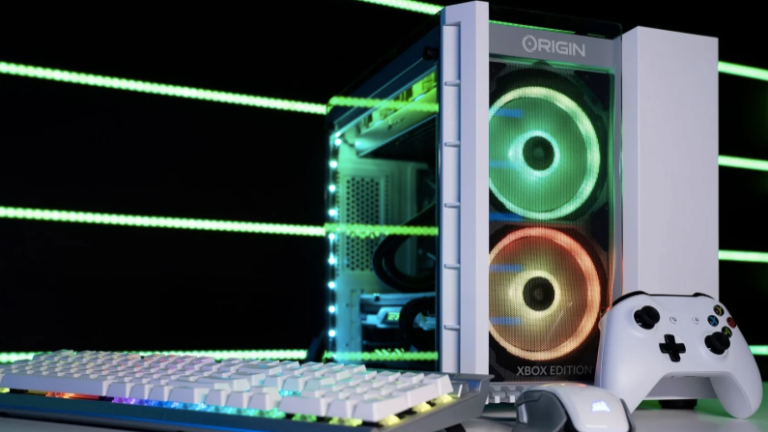 Here's an interesting piece of gaming news to come out of CES 2020: at the big tech conference in Las Vegas, the computer company Origin PC revealed a new gaming PC that also comes with the console of your choice built in. (As long as the console of your choice is either a PS4 Pro or an Xbox One S All-Digital.)
Dubbed the "Big O," this gaming PC setup for desktop-based players is a thing of beauty. It's also further proof that the barriers are starting to come down between different sorts of gamers. Seeing as there are incredible experiences to be had on PC, Xbox One, PS4, and on the Nintendo Switch these days, why shouldn't we start to see custom hybrid rigs that combine those worlds into one handy user experience?
Indeed, mashing together different gaming systems to make a unified experience seems to have been the main plan here. Kotaku reports that Origin PC originally planned to make a PC that includes all three major consoles, but ultimately the decision was made to create something a bit more affordable.
Affordable is a relative term, though, of course. The price of the Big O reportedly starts at $2,500. For most of us, that is a lot of money to spend on anything. But it has to be said that the idea of buying a console and a PC in one fell swoop is pretty epic. It's a real two birds with one stone situation.
The PC side of the Big O seems to quite impressive, as well — with up to an Intel i9 or AMD Ryzen 9 CPU, 32GB RAM, and NVIDIA GeForce RTX 2080 Ti graphics card — and you can customize the specs to suit your price range. You also get 24/7 support and the option to choose custom finishing touches and paintwork. You can read the full specs, and learn a lot more, on the official Origin PC website.