News
Nintendo Switch OLED Pre-Order: Release Date, Specs, and Where to Buy
The Nintendo Switch OLED is coming this year! Here's when it's out, how much it costs, and where and how to pre-order.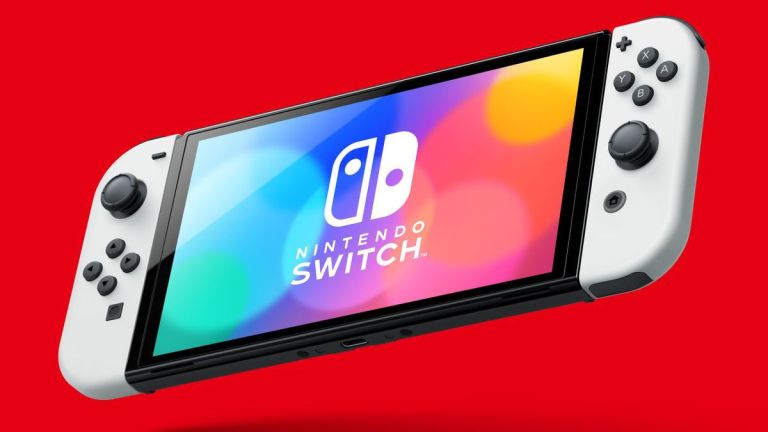 The rumors were true…sort of. A new version of the Nintendo Switch, with larger 7-inch OLED screen, is hitting stores on Oct. 8. The Nintendo Switch OLED will cost $349.99 and will come in two color variants, the traditional red-and-blue Joy-con color combination as well as the new white Joy-Con combo complete with a white dock.
While 4K functionality has been the long-rumored star feature of a Nintendo Switch upgrade, the Switch OLED isn't that extensive an upgrade. Players should expect the standard 720p in handheld mode and up to 1080p when docked — disappointing news for those fans who hoped that the new Switch would blur the lines between a last-gen and current-gen Nintendo console.
But there a few other worthwhile improvements coming with the Switch OLED, including the aforementioned screen, an ethernet port in the dock, 64GB of internal storage (up from 32GB in the launch version), and a wider adjustable stand in the back of the console. Nintendo is also promising enhanced internal speakers for better sound quality.
If you want to be the first to get the Nintendo Switch OLED, you'll want to make sure to get your pre-order in ASAP. As you all know, Nintendo products tend to sell out before they even hit shelves! And as the Xbox Series X/S and PlayStation 5 pre-order periods showed us, you won't just be competing with other Nintendo fans. You'll also have to try to get a console before all of the scalpers do. Just ask the many gamers still trying to buy a PS5 all these months after the next-gen console's release: beating the scalpers won't be easy!
But we've got you covered. Below, you'll find links to the online retailers where you'll have the best chance of securing your pre-order before the Switch OLED is inevitably out of stock!
Nintendo Switch OLED Pre-Order
Pre-orders for the Nintendo Switch OLED open on July 15 at 12 pm PT/3 pm ET. Your best path to securing your pre-order is at one of the following stores:
Nintendo Store: White or Red/Blue
Amazon
Best Buy: White or Red/Blue
GameStop: White or Red/Blue
Sam's Club
Target
Walmart
It's also a good idea to follow online gaming deal watchdogs like @Wario64 on Twitter! Wario64 constantly updates his followers when consoles and games are back in stock at retailers. Following this user was how I was able to pre-order my next-gen consoles on day 1 of their pre-order periods!
Nintendo Switch OLED Specs
While the Nintendo Switch OLED will retain most of the core features and specs of the Nintendo Switch's launch version, here are the key specs coming to the OLED model:
Battery Life: 4.5-9 hours
Screen Size: OLED 7-Inch Screen / 1280×720
Storage: 64 GB
TV Output: Up to 1080p via HDMI in TV mode
Nintendo Switch OLED Games
The complete Nintendo Switch library released to date is compatible with the Switch OLED, so you don't have to worry about OLED-only Switch titles. While Nintendo hasn't announced whether the Switch OLED will come bundled with any games, it should be noted that the new hardware comes out on the same day as Metroid Dread.
We'll keep you updated as we learn more about the Nintendo Switch OLED. Good luck getting your pre-orders!