News
New World: Release Date, Trailer, Gameplay, and News
New World is Amazon's new MMO. Here's what you need to know about the game.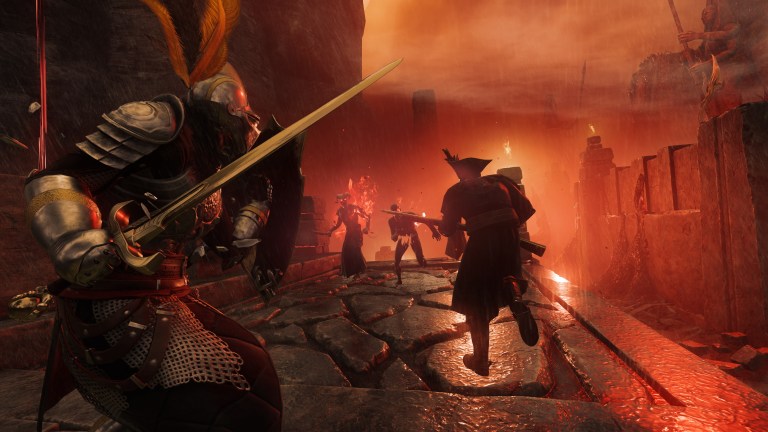 Amazon is making a big push in the AAA gaming space. Not only has the commerce giant already published its first competitive shooter, Crucible, but it's also set to release New World, the company's first MMO. With both games, Amazon Games is diving into two very crowded markets, hoping to make a splash. So what sets New World apart?
The game is set in "in an alternate-history in the twilight of the Age of Exploration, and takes place on the fictional and supernatural island of Aeternum in the 17th century," according to the official FAQ. Amazon has stressed that the game's setting is not based on real-world history.
In a press release, Amazon Games teased that "success in New World ultimately depends on a player's ability to conquer not only rival players, but Aeternum itself as it unleashes undead legions, hell-bent on purging them from its shores."
New World mixes the "alternate-history Age of Exploration" with Aeternum's emphasis on dark fantasy, horror, magic, and mythology. Players will face off with the monsters that live on Aeternum as part of the game's PvE component.
While coming away impressed with New World's gameplay, saying "it does a lot of the basic game stuff right" and that "gathering and crafting is simple and fun," Polygon also took issue with the alternate-history 17th-century setting and some of the themes in the game.
"New World is also a sanitized re-enactment of the European colonization of the Americas and elsewhere," Polygon reported after participating in a hands-on preview in 2019. "It's a manifestation of the great white fantasy of virgin territory and new beginnings. The game treads unwarily into a Heart of Darkness-like country of racist imperialism." The outlet concluded that it hoped that New World would find "a way to properly confront the complexities of its historical inspirations" at launch.
As far as all of that goes, Den of Geek hasn't played the game yet to draw our own conclusion. For now, we'll just have to wait and see how Amazon Games, which counts on veterans who worked on Destiny, World of Warcraft, and Everquest, executes this idea. In the meantime, Amazon is teasing the scope of the game's combat and the 50 vs. 50 faction battles players will be able to fight online for territory.
"Massive battles set New World apart, with fortress sieges against other players and supernatural invasions that feature up to 100 players on the battlefield at once," Amazon explained in a press release. "Combat in New World is visceral and skill-based, giving players direct control over their movements and attacks."
There's more to do than just fight in New World, though. According to Amazon, players will also be able to band together to form "companies" and build strongholds.
"Aeternum is rife with danger and conflict, but rich in opportunity for soldiers, explorers, artisans, and empire-builders. Players can band together to form powerful Companies operating out of fortified strongholds, or play alone and acquire and customize their own homes as they contribute to the growth of the larger community around them. New World provides near-limitless play, with classless character progression, social systems, and rich crafting mechanics," Amazon said.
Here's everything else you need to know about the game:
New World Release Date
New World's official launch has been delayed from August 25, 2020, to spring 2021.
According to the New World team, this delay is largely the result of their desire to ensure they get the game right. Specifically, they want more time to address some concerns early players have regarding the game's PvE and endgame content.
New World alpha players, those who were scheduled to be accepted into the beta, and anyone who pre-ordered New World will be able to try out the game in its current state starting on August 25, but the game's final beta test will not arrive until spring of next year.
New World Trailer
Amazon dropped a new combat gameplay trailer during the 2020 PC Gaming Show. Watch it below for a look at what combat will be like in this MMO:
And here's the cinematic trailer: