Features
What College Football's Return to Gaming Means for NCAA and Madden Fans
Both Madden and College Football will release under the same publishing umbrella, but gamers will at least have a choice of football sims again.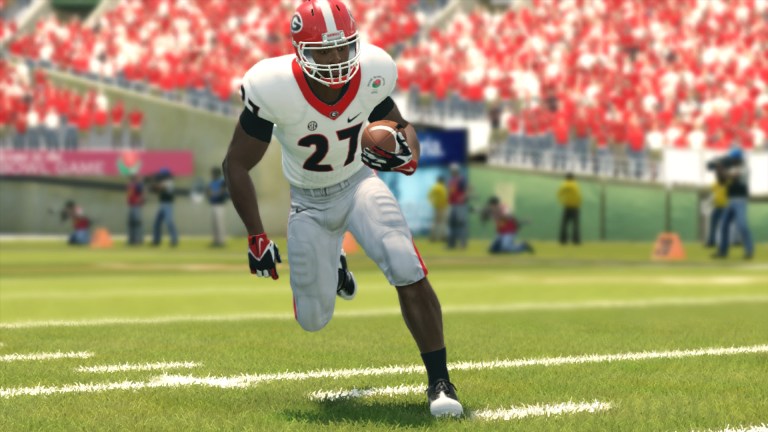 During a week in which the entire football focus is squarely on the biggest game of the NFL season, EA Sports called a trick play few were expecting: the publisher is developing a new college football game for the first time since 2013.
All of a sudden, buzz shifted from whether Tom Brady's Tampa Bay Buccaneers will beat Patrick Mahomes and the Kansas City Chiefs in Super Bowl LV on Sunday — briefly, anyway — and squarely on the announced return of college football to gaming.
Like Boise State's epic Statue of Liberty play in the 2007 Fiesta Bowl, nobody saw this one coming. The EA's NCAA Football franchise dropped out of college more than seven years ago, a casualty of the debate over whether student-athletes should be compensated for the use of their likeness while those who weren't battling for school pride on fall Saturdays reaped the financial rewards of a successful annualized sports game. The series' sizable fan base long lobbied for its return to no avail — until now.
The reveal was simple and came with very little information beyond the fact that there will, indeed, be a college football video game produced by EA Sports. Both the social media announcement and a statement released to media outlets refer to it as EA Sports College Football. There is no release window, "with launch timing still to come as the project progresses in the years ahead."
That doesn't read like a note one would attach to a game set to release this year in NCAA Football's traditional July timeframe. But maybe that's misreading the defensive alignment, so to speak.
But for this week, when EA's mainstay football titan Madden NFL 21 would normally get all the gridiron gaming focus, the words "College Football is coming back" overlaid on a confetti-covered football field in a tweeted image seems to have sated the masses. More than 200,000 likes and 140,000 retweets is a good sign of that.
But what does all this mean for frustrated fans who've yearned for NCAA Football's Dynasty mode fix and all the recruiting that comes with it but been stuck playing Madden stagnating Franchise? How about for everyone sick of saying the only football sim in town since 2014 has been "the same game with a roster update," or some version of that?
It means you, once again, have the luxury of choice.
Now, look, let's not forget that both this upcoming college game and the monolithic Madden are still published by the same folks based in Redwood City, Calif. No official word has been put out, but it stands to reason that both will be developed by EA Tiburon, just as they were when both college and pro hit store shelves each summer.
But, if nothing else, those who've missed the presentation pageantry the NCAA Football franchise captured from the college game can choose to play their online ranked matches as Nick Saban's championship-winning Alabama offense or SEC rival Georgia's sturdy defense. The press release notes that more than 100 schools will be available, "featuring the logos, stadiums, uniforms, gameday traditions, and more that fans have come to know and love."
What won't be included are student-athlete likeness. That means no Spencer Rattler (Oklahoma) or D'Eriq King (Miami, Fla.) or their doppelgangers under center. Without resolution as to whether athletes such as these should be compensated for the NCAA making a killing off their scholarshipped backs, that's about as likely a scenario as a Group of Five school winning the College Football Playoff — maybe even one making the four-team field, at this rate.
Maybe that's a deal-breaker for you. If you're the sort who wants the little digitally-rendered players to look as close to the genuine article as possible — and on the next-gen consoles and PC graphics cards, they're getting closer — perhaps it's a turnoff to play with generically-named and random-looking fake college kids, even if they're wearing the Notre Dame gold helmet and navy jersey.
Then there are the playbooks, which always featured more trick-play quirkiness in NCAA than its NFL cousin. NFL offenses are sophisticated, and they only grow more so every year. The college game, meanwhile, generally features far less meaty playbooks. That should translate into a simpler pre-snap experience for gamers, if that's how EA decides to approach it.
It all comes down to how you want to engage with your simulation football experience in a given year, presuming the new college game sticks with the tried-and-true yearly release schedule. (And, come on, of course they will.)
EA would be wise to lean into creating even greater distinction between the two franchises. EA's FIFA series found great success with it's story-driven experience, The Journey, for several installments before discontinuing the mode and leaning into the ever-lucrative (but disdainful to many) microtransaction-laden Ultimate Team. A mode like that feels like the missing piece for a game that lacks recognizable names and faces — potential for licensed coaches notwithstanding.
We've had versions of this in recent Madden entries, which told the story of Devin Wade's journey from "Longshot" to NFL quarterback. That mode featured some college and high school games. But how about one that sticks with the college experience and celebrates the sport at the top amateur level? There's real potential for a standout narrative-based experience in the right hands.But hey, that's just me spitballing. It sure seems as if we'll have to wait awhile to know for sure what will separate Madden from College Football. Hopefully, there's enough to make the choice between the two distinct.