Reviews
Namco Museum Archives Vols. 1 & 2 Review: Pac-Man, Galaga, and a Trip Through NES History
Namco Museum Archives Vols. 1 and 2 are two of the best retro game compilations released in recent years. Pac-Man, Galaga, and Splatterhouse fans won't want to miss these re-releases.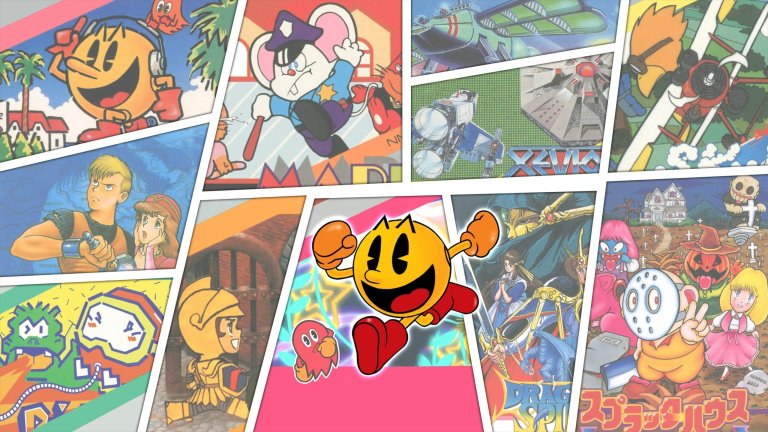 It's hard to believe that Namco has been repackaging many of its classic titles for more than two decades now. And the new Namco Museum Archives is among the publisher's best compilations yet, thanks to welcome new features and an excellent mix of beloved classics along with deep cuts in Namco's sizable back catalog. 
Unlike previous collections that were largely made up of arcade games, these two volumes (each sold separately) focus on NES and Famicom games. Volume 1 includes Galaxian, Xevious, Mappy, Dragon Buster, Pac-Man, Dig-Dug, The Tower of Druaga, Sky Kid, Dragon Spirit: The New Legend, Splatterhouse: Wanpaku Graffiti, and Pac-Man Championship Edition. Volume 2 features Battle City, Pac-Land, Dig Dug II, Super Xevious, Galaga, Rolling Thunder, Mappy-Land, Legacy of the Wizard, Dragon Buster II, Mendel Palace, and Gaplus.
Between the two volumes, this is one of the stronger collections of retro games currently available. Even with the minor differences from the original arcade releases, the NES versions of Pac-Man, Galaga, and Dig Dug are all-time classics, and the emulation is flawless.
It's also nice to see Namco dig up a few games that were never officially released outside of Japan. Splatterhouse: Wanpaku Graffiti is one of the better-looking titles here and a real treat for Splatterhouse fans who haven't played this entry previously. The little known Japan-only Xevious sequel, Super Xevious: GAMP no Nazo is also worth spending some time with, even if its more puzzle-focused gameplay isn't as addictive as the original's.
On the other hand, The Tower of Druaga would have been best left behind in the East. Its top-down exploration and puzzle-solving may have influenced titles like The Legend of Zelda, but it's too difficult and confusing to be much fun now. Similarly, the Dragon Buster titles are absolute slogs of woefully outdated RPG mechanics with poorly aged graphics and sound. And while the Mappy titles are still considered classics by many gamers who grew up in the '80s, the controls feel far too stiff now. Platformers have come a long way and there are even better examples of the genre in this collection.
One of the biggest draws here are the two "new" games: Pac-Man Championship Edition and Gaplus. This version of Pac-Man Championship Edition is a demake of the 2007 classic featuring 8-bit graphics. You're still collecting pellets in a constantly shifting maze with a 5-minute time limit, but now everything looks and sounds like the1980 original, and when you try to move off-screen, you scroll to the other side of the maze. It's just as fun as the original release for the Xbox 360 and PS3, and it's such an ingeniously simple idea, I'm just surprised that Namco didn't think of it sooner.
Release Date: June 18, 2020
Platforms: XBO (Reviewed), PS4, Switch, PC
Developer: Bandai Namco
Publisher: Bandai Namco
Genre: Arcade Compilation
Gaplus, the sequel to Galaga was only released in North American arcades in 1984. Unsurprisingly, it plays very similar to Galaga, except now you can move vertically and there are new enemies and a new scoring system. This version of Gaplus is based on what an NES port would have looked like if a home version had ever released. And it's pretty good. It feels exactly like the arcade version, and the graphics have that classic 8-bit Nintendo feel that retro fans know and love.
As far as bonus features, neither volume includes anything about the history of these games, which is somewhat disappointing. The requisite wallpapers and screen resizing options are included, as are save states and a rewind feature, which is very welcome given the high difficulty of most of the games included in these collections.
Curiously, reminders to open the system menu or use the rewind feature are always present in the bottom left corner of the screen. You can only stop these from blocking part of the screen of whatever game you're playing if you change the default display size, but otherwise, these reminders always present by default. This isn't a big deal for most of the games in the collection, but it makes it almost impossible to see the very bottom left portion of the maze while playing Pac-Man. 
The other issue with the collection is that it's split into two volumes. Yes, that's becoming the norm for retro collections, and it does keep the price of each volume down, but it's still annoying that if I want to play Dig Dug and then check out its sequel I have to go back to the Xbox One dashboard and open a completely different game instead of just going back to the main menu.
It also makes for a slightly lopsided package. Unless you have particularly fond memories of one of the games in volume 2, the games in volume 1 are slightly better. Gaplus is a fun diversion in volume 2, but the Pac-Man Championship Edition demake in volume 1 could have easily been sold as a standalone game and is arguably the best game in the entire collection.
Aside from a couple of minor issues, Namco Museum Archives is a fine journey through Namco's history and one of the best retro compilations currently available. Between the perfect ports of beloved classics, underrated gems, and brand new 8-bit versions of fan favorites, this is a must-have for gamers who grew up in the '80s.