News
Mortal Kombat Legends: Scorpion's Revenge – Trailer and Release Date
Warner Bros. is working on an animated R-rated Mortal Kombat movie.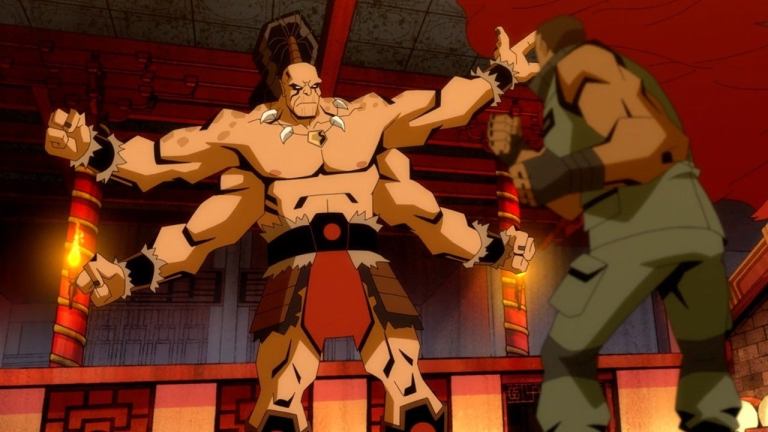 Warner Bros. Animation has revealed an upcoming animated movie based on the Mortal Kombat franchise called Mortal Kombat Legends: Scorpion's Revenge.
The movie will star Joel McHale as Johnny Cage and Jennifer Carpenter as Sonya Blade. It's set to be directed by Ethan Spaulding (director of Batman: Assault on Arkham, Justice League: Throne of Atlantis, and Scooby-Doo: Return to Zombie Island) and is based on a script by Jeremy Adams (Supernatural, Teen Titans Go! vs. Teen Titans, Justice League Action). 
Additional voice actors attached to the project include Jordan Rodrigues as Lui Kang, Patrick Seitz as Scorpion, Steve Blum as Sub-Zero, Artt Butler as Shang Tsung, Darin De Paul as Quan Chi, Robin Atkin Downes as Kano, David B. Mitchell as Raiden, Ike Amadi as Jax Briggs, Kevin Michael Richardson as Goro, and Grey Griffin as Kitana and Satoshi Hasashi.
The recently released trailer for the animated movie reveals a few interesting plot points. For the most part, it looks like the movie will tell a version of the basic premise seen in the original Mortal Kombat titles. That is to say that it will largely focus on a group of fighters who are assembled to compete for Earth in an inter-realm tournament. We see quite a few familiar faces during the preview, and nearly all of them appear to resemble the designs of their original models. It's still not entirely clear why the animated film is called Scorpion's Revenge, but it does seem it will focus on him and Sub-Zero in some way. 
It's also worth noting that this will be an R-Rated animated movie, which isn't really that surprising given the source material, but you really just never know when it comes to adaptations of such properties. 
In any case, Mortal Kombat is doing quite well lately. Mortal Kombat 11 proved to be a somewhat surprising hit in 2019 (at least in terms of just how good it was) and Warner Bros. is also working on a new live-action Mortal Kombat film that will look to replace the '90s adaptation of the video game franchise (as well as the fairly recent web series) as the most beloved live-action adaptation of the infamous fighting game. 
Here's everything else we know about Mortal Kombat Legends: Scorpion's Revenge.
Mortal Kombat Legends: Scorpion's Revenge Release Date
Mortal Kombat Legends: Scorpion's Revenge will launch on April 12 via digital marketplaces. It will also be available on 4K Ultra HD Combo Pack, Blu-ray Combo Pack, and DVD starting on April 28.
Mortal Kombat Legends: Scorpion's Revenge Trailer
Here's the exciting and well-animated debut trailer for Scorpion's Revenge:
Matthew Byrd is a staff writer for Den of Geek. He spends most of his days trying to pitch deep-dive analytical pieces about Killer Klowns From Outer Space to an increasingly perturbed series of editors. You can read more of his work here or find him on Twitter at @SilverTuna014.