News
Mortal Kombat 11 Leak May Reveal Rambo as New DLC Character
You thought Mortal Kombat 11 was finished with downloadable content? Nothing is over! Nothing!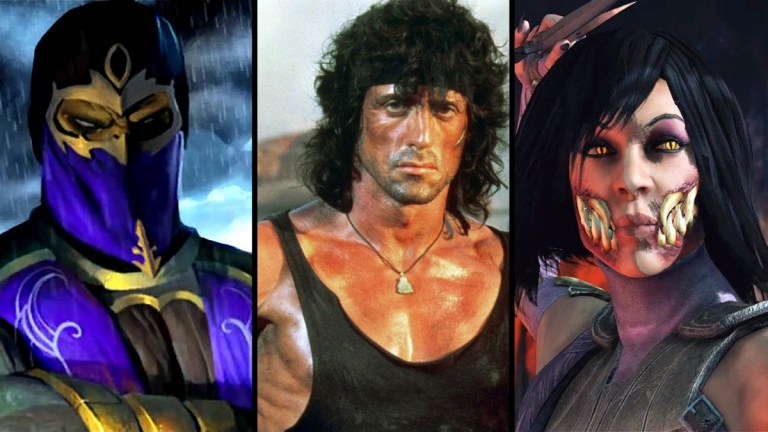 Mortal Kombat 11 is sadly reaching the end of its life cycle. But although NetherRealm has already released the secondary story mode Aftermath, various DLC characters, and few other new features, we're still due one more DLC pack before the studio moves on to a new game.
While fans wait anxiously for the big announcement, series co-creator Ed Boon has been throwing around hints on Twitter. Normally, I'd be going full-on Beautiful Mind with those hints, covering my walls with Ed Boon tweets and newspaper clippings, but Boon isn't the kind of guy you should trust at times like this. The guy LOVES messing with fans.
Fortunately, a new update just hit Mortal Kombat 11 and that's sent the dataminers of the world into the game's code in search of anything juicy, and boy, did they find some stuff. According to the findings of dataminer and Mortal Kombat modder thethiny, the final three DLC spots in the game will be going to Rain, Mileena, and John Rambo.
It's important to note that while datamining can be a good source for leaks, you should categorize these findings as rumors until the information is confirmed by NetherRealm itself. It's no secret that Ed Boon's team has been screwing with files to get people guessing for decades, whether it's putting sound files of Fujin's name in Mortal Kombat 9 as a big fake-out or namedropping "Kano Transformations" on the debug menu in Mortal Kombat II to trick Shang Tsung players. Now, if these are indeed the final three characters for Mortal Kombat 11, it's a very interesting trio.
We begin with Rain, who contradicts Boon's claim that he'd never use the same character as DLC twice. Rain was, of course, DLC back in Mortal Kombat 9. He showed up as an opponent in Mortal Kombat X's story mode with the same model and moves as the previous game, but was only playable through modding. Coincidentally, his role in that game was as Mileena's soldier.
Mileena is easily the most popular character not to appear in Mortal Kombat 11. Boon has been bombarded by people asking about her on a daily basis and he's sworn that she isn't going to be in the game. If Mileena does end up joining the list of fighters in the game, she'd be an interesting wild card in a storyline where there's a good Kitana, an evil Kitana, and their mother Sindel has been revealed to be secretly evil all along.
Finally, there's John Rambo. I've heard rumors about Rambo for a while, so it isn't the biggest surprise ever. His Mortal Kombat debut would make sense since it'd pretty much set up the ultimate battle between '80s Arnold Schwarzenegger (via Terminator) and '80s Sylvester Stallone. It's like a better-looking version of that one episode of Celebrity Deathmatch.
While we're at it, here are some other characters who've been rumored to appear as Mortal Kombat 11 DLC:
Cyrax and Sektor: These guys in the story mode, so making them playable shouldn't be too hard.
Nitara: While she's usually one of those Mortal Kombat characters that you forget exists, she's apparently going to be part of the upcoming live-action movie. That was enough to get her a brief cameo in the animated feature Mortal Kombat Legends: Scorpion's Revenge.
Ash Williams: It's barely a secret that Ash was going to be in the first Kombat Pack. Then he wasn't. Then he was again, maybe. Then he wasn't. Word is that the hero of Evil Dead was removed due to complications with securing Bruce Campbell's likeness. But hey, you never know!
Michael Myers: Over the past few years, Mortal Kombat has adapted many of the top slashers in Hollywood history. Personally, I'd rather see some Candyman action, but Halloween has had a successful resurgence, so why not.
Smoke: They gave him such a neat redesign in Mortal Kombat 9 and then did nothing with him!
Havik: Although his very prominent appearance in Joker's ending might disqualify him, Havik has always been considered one of the more popular cast members of Mortal Kombat's PlayStation 2 era.
As long as it's not someone extra lame like Dairou or Reiko, I'll be happy. We'll keep you updated as we learn more.