News
Monster Hunter Rise Monster List: Every Monster in the Game
How many monsters are in Monster Hunter Rise? Here's a full list of the ones that have been found so far: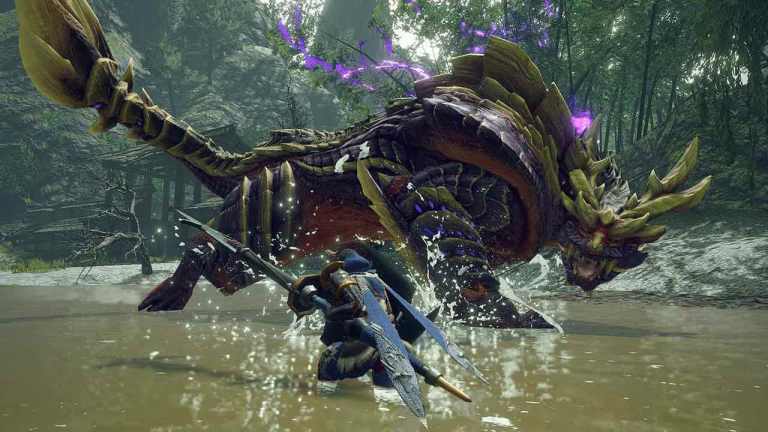 Monster Hunter Rise is finally here, which means that it's time for millions of fans old and new to try to hunter every monster in the game and turn them into some of the swankiest (and weirdest) armor and weapons you'll ever see.
If you're new to Monster Hunter and Rise is your first time exploring this series, then you'll likely be blown away by both the creative design of the game's monsters and the sheer number of them spread throughout the title's sizeable world. While Rise doesn't feature nearly as many monsters as some of the franchise's older handheld installments, we doubt that even longtime veterans will find a lot to complain about once you see the quality of Rise's new monsters and how well they work alongside some of the series' returning favorites.
If you're looking to see (and hunt) them all, then here's a rundown of every monster that's been found in Monster Hunter Rise so far.
How Many Monsters Are In Monster Hunter Rise?
As far as we can tell based on the information available so far, there are 61 monsters in Monster Hunter Rise. While it's possible there is another monster or two hiding in the game (and that the total number of monsters will be expanded by DLC/expansions), that seems to be the final number of monsters Capcom intended to include in Rise's retail release.
How does that compare to previous Monster Hunter games? Pretty favorably, actually. Monster Hunter World launched with 54 monsters, so it's already larger than its most immediate predecessor in that effect. Monster Hunter World: Iceborne bumped that number up to 94, but again, it's pretty common for those kinds of expansions to bump the total number of monsters up a bit, so you should expect Rise to benefit from similar treatment at some point.
How Many Returning Monsters Are in Monster Hunter Rise?
Of Monster Hunter Rise's 61 monsters, 47 were previously seen in an older Monster Hunter game. Here's how the returning monsters break down by generations:
1st Generation Monsters – Basarios, Bullfango, Diablos, Felyne, Kelbi, Khezu, Melynx, Rathalos, Rathian
2nd Generation Monsters – Anteka, Chameleos, Popo, Nargacuga, Tigrex, Rajang, Remobra
3rd Generation Monsters – Altaroth, Arzuros, Baggi, Barioth, Barroth, Bnahabra, Delex, Gajau, Gargwa, Great Baggi, Great Wroggi, Jaggi, Jaggia, Lagombi, Ludroth, Rhenoplos, Royal Ludroth, Slagtoth, Volvidon, Wroggi, Uroktor, Zinogre
4th Generation Monsters – Mizutsune and Zamite
Monster Hunter World Monsters – Anjanath, Jagras, Jyuratodus, Kestodon, Kulu-Ya-Ku, Pukei-Pukei, Tobi-Kadachi
How Many New Monsters Are in Monster Hunter Rise?
While Monster Hunter Rise's roster largely consists of returning favorites, there are 14 new monsters you'll find throughout the game. Here's are the new monsters sorted by type:
Fanged Wyverns – Magnamalo
Leviathans – Almudron and Somnacanth
Temnocerans – Rachnoid and Rakna-Kadaki
Elder Dragons – Thunder Serpent Narwa and Wind Serpent Ibushi
Fanged Beasts – Bishaten, Bombadgy, Goss Harag
Amphibians – Tetranadon
Bird Wyverns – Aknosom, Izuchi, Great Izuchi
What Small Monsters Are in Monster Hunter Rise?
Though smaller than some of their more prominent friends, the small monsters of Monster Hunter Rise are no pushover. If you're trying to hunt them all, here are the ones you need to keep an eye out for:
Altaroth
Anteka
Baggi
Bnahabra
Bombadgy
Bullfango
Delex
Felyne
Gajau
Gargwa
Izuchi
Jaggi
Jaggia
Jagras
Kelbi
Kestodon
Ludroth
Melynx
Popo
Rachnoid
Remobra
Rhenoplos
Slagtoth
Uroktor
Wroggi
Zamite
What Large Monsters Are in Monster Hunter Rise?
While I suspect that you won't be in danger of missing any of Monster Hunter Rise's largest monsters, here's a rundown of the biggest creatures in the game:
Aknosom
Almudron
Anjanath
Arzuros
Barioth
Barroth
Basarios
Bishaten
Chameleos
Diablos
Goss Harag
Great Baggi
Great Izuchi
Great Wroggi
Jyuratodus
Khezu
Kulu-Ya-Ku
Lagombi
Magnamalo
Mizutsune
Nargacuga
Pukei-Pukei
Rajang
Rakna-Kadaki
Rathalos
Rathian
Royal Ludroth
Somnacanth
Tetranadon
Thunder Serpent Narwa
Tigrex
Tobi-Kadachi
Volvidon
Wind Serpent Ibushi
Zinogre