News
Metal: Hellsinger Release Date, Gameplay, Trailer, and News
Rhythm shooter Metal: Hellsinger blends metal music, demons, and arcade action. Here's what we know: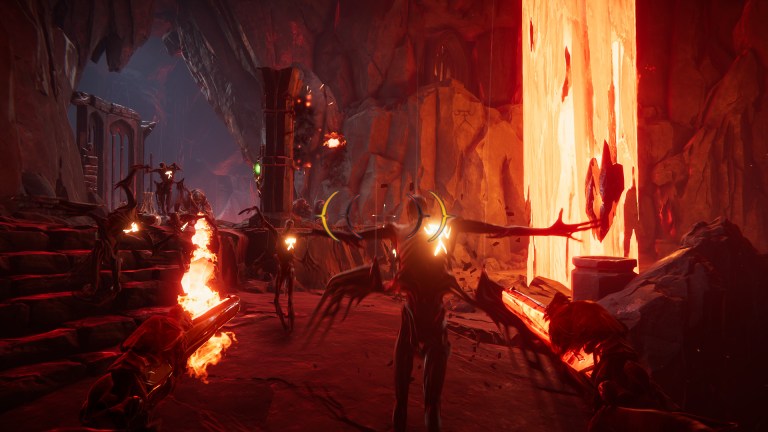 Revealed during IGN's Summer of Gaming festival, The Outsider's Metal: Hellsinger is a fascinating upcoming rhythm first-person shooter that we can enthusiastically describe as Dance Dance Revolution meets Doom.
The basic concept of Metal: Hellsinger is relatively simple. You walk around various levels and do battle with those good ole' demons from Hell. Assisting you is a variety of classic and elaborate weapons.
Much like the cult hit Crypt of the Necrodancer series, you won't be able to get by simply by laying waste to these poor demons. Instead, you'll need to ensure that your gunshots match the rhythm of the soundtrack and action.
Not all of the details seem to be set in stone quite yet, but the basic idea is that your reticle is accompanied by a kind of rhythm bar. By shooting at to the rhythm of the beat, which will be visually indicated in a manner similar to what we've seen in titles like Guitar Hero and Thumper, you'll not only score the maximum number of points but grow stronger in the process, giving your character a sort of juggernaut effect. The music will also intensify.
"Each level will have its own song, and every song will be divided into multiple layers. Your performance will impact how many layers of the song will be played at a time, starting with atmospheric background music, and ending with powerful metal anthems," said Joel Bylos, the CCO of Funcom, the game's publisher. "This gives the player an incentive to stay on beat because the experience becomes so intense and so powerful that you want to keep it that way."
As you've probably gathered from the…everything about this game, its soundtrack is entirely comprised of metal tracks. This is appropriate, of course. As we've learned from the Doom franchise, nothing goes better with demon-slaying than a screaming metal soundtrack. The driving beats of Doom tend to fuel the gameplay indirectly, so it'll be fascinating to see a similar soundtrack used to so directly drive the action. So far, the soundtrack includes bands such as Arch Enemy, Soilwork, and Dark Tranquillity.
"We want to make this the most metal game ever," said David Goldfarb, creative director of The Outsiders. "Or get as far as we possibly could, anyway! To make something that felt like a tribute to the epic imagination and joy and fury of metal – not just in terms of music, but art style, characters, lore. Trying to do it has been an amazing joy and we can't wait to get it into the world for people to play."
While Metal: Hellsinger will have a story, it does seem like the main draw is an arcade-like online leaderboard and a mysterious challenge mode. Of course, we imagine the action itself will be the biggest appeal.
Here's everything else you need to know about the game:
Metal: Hellsinger Release Date
Metal: Hellsinger is currently set to launch on September 13, 2022, for PC, Xbox Series X, and PlayStation 5.
Metal: Hellsinger Trailers
Check out the reveal trailer here:
IGN also unveiled eight minutes of gameplay from Metal: Hellsinger, which you can check out below: