News
Marvel's Avengers Deepfake Brings MCU Actors to the Game
Do the Marvel's Avengers character models look weird to you? Well, this deepfake brings back Chris Evans, Robert Downey Jr., and more back to their iconic MCU roles.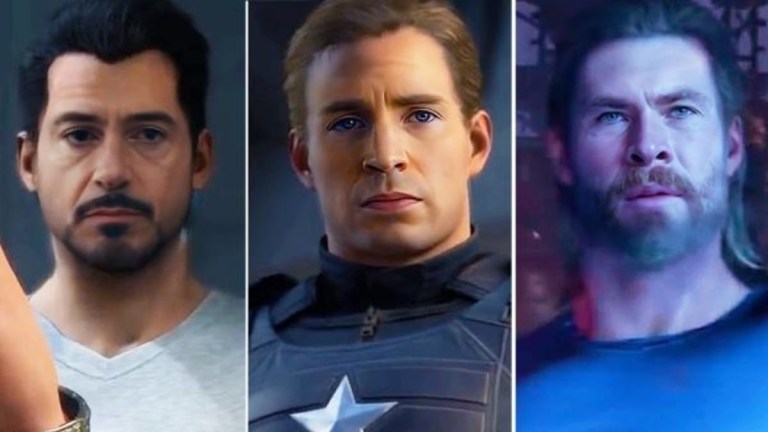 Marvel's Avengers is this year's big superhero extravaganza, and it's already shaping up to be a bit polarizing. After a beta period that received a bit of a lukewarm reception, publisher Square Enix and developer Crystal Dynamics have only made matters worse by announcing that Spider-Man is coming to game…but only on the PlayStation versions of the game. In case you don't know, these types of exclusivity deals mean that players on other platforms will be forced to pay the same amount for the game for less content.
But even before anyone had gotten their hands on the game or learned of the Spidey fiasco, some Marvel fans were already questioning whether Marvel's Avengers was the real deal. A big issue from the moment the live service game's first gameplay trailer hit was the look of Earth's Mightiest Heroes. A far cry from the actors who made the Marvel Cinematic Universe such a success, some critical fans suggested the character models in Marvel's Avengers looked like imposters at best.
Thankfully, a YouTube creator who goes by BabyZone has created a deepfake trailer that puts Robert Downey Jr., Chris Evans, Chris Hemsworth, Scarlett Johansson, and Mark Ruffalo at the forefront of the new game. The result is pretty impressive, even if it's not quite as photo-realistic as other nerdy deepfakes out there.
Give the deepfake a look for yourself:
If you didn't get a chance to jump into the Marvel's Avengers beta, we spent a weekend with it before it launched to the public and came away a bit underwhelmed with the experience. Repetitive level design and dull enemies rob the fun combat of a bit of its spark. We really loved playing as Black Widow and Kamala Khan/Ms. Marvel, but felt that the beta did too little to tease what should be a superhero spectacle on par with the Avengers movies. Instead, Marvel's Avengers is a bit ordinary.
Compounding an already worrisome situation is the fact that Square Enix seems to be set to use Marvel's Avengers as a marketing platform for commercial partnerships. Verizon and Virgin Mobile subscribers, for example, will be able to unlock special skins for their heroes, while buying packs of 5Gum will get you other perks in the game. Yikes.
All fans will be able to finally get their hands on Marvel's Avengers when the game launches on PlayStation 4, Xbox One, Google Stadia, and PC on Sept. 4. The game is coming to Xbox Series X and PlayStation 5 at a later date.