Sponsored
History of Baseball Video Games Vol. 2: Games With Personality
We revisit the digital representations of baseball that have taken the sport to silly, light, and even bizarre places!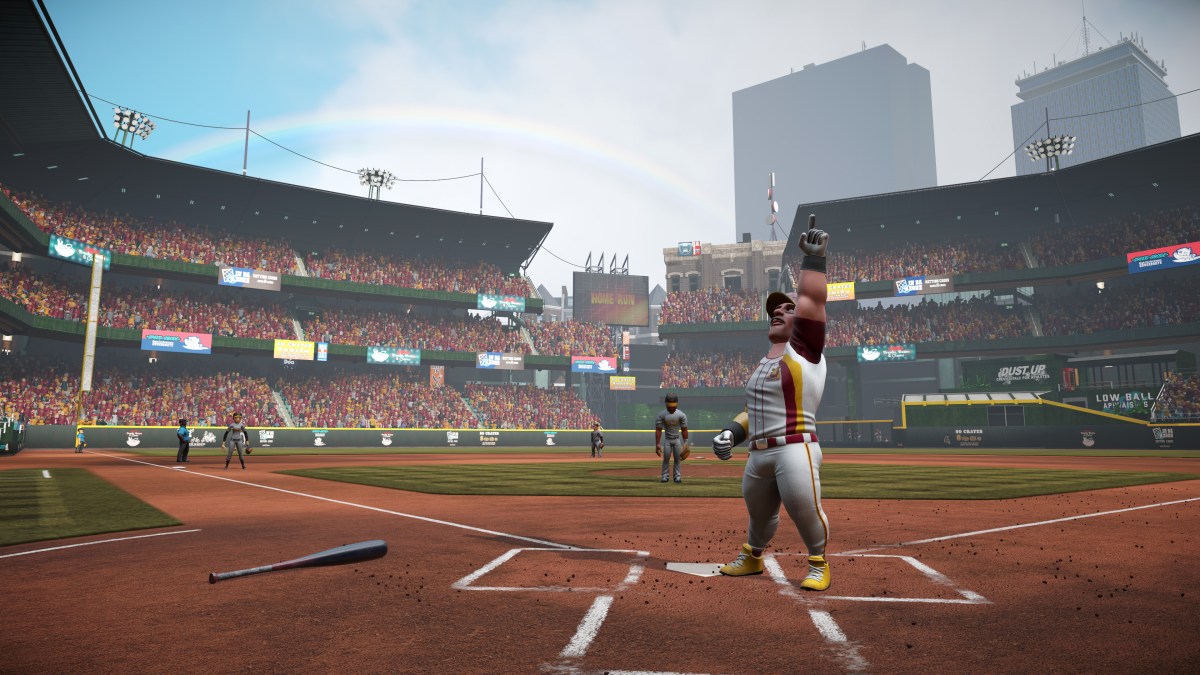 This article is presented by Super Mega Baseball 3.
Baseball is America's Pastime, steeped in traditions that date as far back as the Civil War. But the on-field action at a big league ballgame isn't always as colorful and full of personality as the players themselves, and a multitude of baseball video games released over the decades aimed to mirror the real thing.
And then there are games like Super Mega Baseball 3, the latest in the series from Metalhead Software.
Super Mega Baseball games play like a simulation of the sport, except with arcade-style visuals to spice things up and unique team names and ballparks for added flavor. The new game's announcement trailer features good ol' fashioned taunting the opponent, plenty of angry broken and tossed bats, and even a bean ball to the helmet that spins and topples a hapless hitter.
You won't find much of these flourishes of color in officially licensed Major League Baseball games these days. But plenty of digital representations of action on the diamond have, in the past, taken the sport to silly, light, and even bizarre places.
In celebration of the release of Super Mega Baseball 3, we partnered with Metalhead Software for Vol. 2 of our History of Baseball Video Games series. You can watch the video below (believe us, you'll want to see the footage from Super Baseball 2020, which is exactly what we wish baseball was like this year) or read on below for a trip down memory lane.
Metalhead Software credits Baseball Stars for NES as the "the closest thing to a spiritual ancestor" of Super Mega Baseball. As far back as 1989, gamers could create and save custom teams stored on an innovative battery backup.
Baseball Stars, which like most of its peers lacked the MLB or MLBPA license, regularly makes the cut on all-time best NES games lists.
Looking back, most of the late '80s console baseball games have their own quaint charm. But it was 1988's Reggie Jackson Baseball for the Sega Master System that took it a step further, with the unusual inclusion of cheerleaders. But the big difference-maker was benches-clearing brawls after beanballs, all while the beaned player left on a stretcher. A more silly than violent scene, given players were all 8-bit sprites.
Developer Culture Brain introduced arcade elements to the baseball game equation with Baseball Simulator 1.000 in 1990. This NES title, which like most of its peers lacked the MLB or MLBPA license, allowed pitchers to do wild things like make a pitch stop midway between the mound and home plate, or catch fire and throw heat. Plus, one of the ballparks was in space. Space! The Super NES sequel, Super Baseball Simulator 1.000, a year later carried its unique brand of digitized baseball to the next gen of consoles.
Not to be outdone, 1991's Base Wars from Konami offshoot Ultra Games took concepts from way out of left field to create a completely unique baseball experience on NES. Players were replaced with robots shaped like tanks, unicycles, hovercrafts and more. Pitchers fired toward the plate Mega Man-style from an arm cannon. More than just a strangely-skinned baseball experience, close plays in Base Wars were decided by fast-paced, close quarters brawls with guns and health meters. It was wild.
Base Wars never returned, but Super Baseball 2020 kept the spirit of futuristic-styled baseball alive for Sega Genesis and SNES in 1993. Robots and humans, both men and women, utilized jet packs and other crazy equipment. Power-ups were available. Many of the rules were altered, such as homers only counting in a small section of the outfield. Oh, and land mines called crackers would pop up all over the field between innings (except on violence-averse SNES). You know, just how baseball looks like in 2020.
The beloved Backyard Baseball series went in the other direction to stand out, creating a kid-friendly, inclusive and charming baseball experience. The series from Humongous Entertainment published 10 separate releases between 1997 and 2010 for computers, console and handheld. The first sequel in 2001 added real MLB players, as kid versions of themselves, as well as power-ups to the sandlot action. It was easy to pick up and play, just as MLB sims were beginning to become more complex in their controls.
Going opposite field from Backyard Baseball, NBA Jam and NFL Blitz publisher Midway Games introduced its on-brand MLB Slugfest series in 2003. It's run was isolated to the PlayStation 2/Xbox/GameCube era. Very on-brand for Midway arcade-style sports titles, baserunners and fielders could punch one another on the basepaths while iconic announcer Tim Kitzrow sprinkled in off-the-wall commentary. MLB Slugfest Loaded, the third of four releases through 2006, even earned a T rating from the ESRB. Quite a feat for a baseball game. It's almost stunning MLB licensed such a game to begin with.
That was the last we saw of such raucous baseball in a video game. Most arcade-like alternatives offered more broad appeal such as Nintendo's 2005 Mario Superstar Baseball for GameCube and its 2008 Wii sequel Super Mario Sluggers. Players created lineups from the Super Mario and Donkey Kong franchises, with silly team names like Wario Garlics and Mario Sunshines. It added unique flourishes, such as DK using a big boxing glove in lieu of a bat.
The Nintendo Wii makes a lot of sense as a home for baseball video games, as Wii Sports' baseball mode proved right out of the box with all consoles sold beginning in 2006. Swinging with Wiimote motion controls is a no brainer, and the presence of user-created Miis all across the field ensured a cutesy and unique feel to the diamond action.
Speaking of cuteness at the ballpark, real-life major leaguers don't get much more adorable than in 2007's MLB Power Pros from Konami. Only found on PS2 and Wii, the action feels more sim-style than arcade-y. But this North American offshoot of the most Japan-only Power Pros series, and its 2008 sequel, allow the visuals to let a solid game stand out from the crowd.
Arcade-style baseball's last stand game with 2007's The Bigs and its 2009 sequel for Xbox 360, PlayStation 3 and Wii stayed more true to the game than, say, MLB Slugfest. The 2K Sports entry sported the official MLB license and real players, but turbo gauges and powered-up pitches and blasts ensured this would not be confused with a sim such as MLB The Show. Where else could your left fielder leap 10 feet into the air to rob a home run? Just in The Bigs.
And then there's Nicktoons MLB, the title of which gives it all away. This 2011 Xbox 260 and Wii release from 2K Play offered the unlikely mix of actual big leaguers mingling with Spongebob Squarepants and Ren & Stimpy. Obviously a family-friendly offering, Xbox users had the option to play using their Kinect.
Super Mega Baseball 3 carries the torch for non-traditional baseball video game experiences and is now available on Nintendo Switch, Xbox One, PlayStation 4 and Steam.