News
Hearthstone Scholomance Academy: Release Date, Trailer, Cards, and News
The latest Hearthstone expansion takes us to the magical world of Scholomance Academy.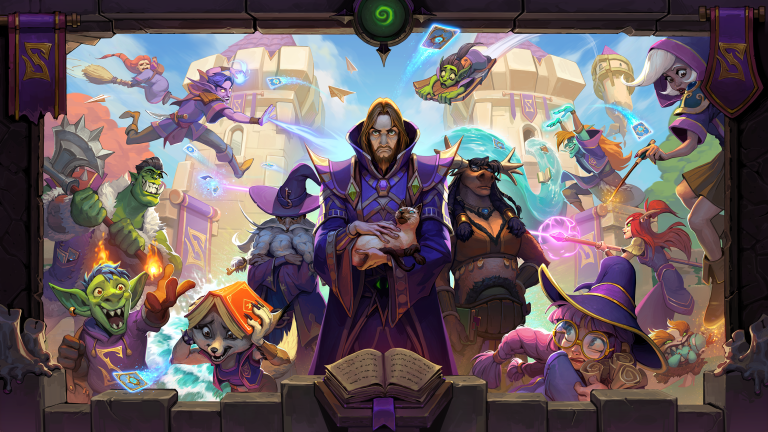 Blizzard has revealed the first details for the next Hearthstone expansion, Scholomance Academy.
"Class will officially be in session early August with the arrival of Scholomance Academy, the next expansion for Blizzard Entertainment's smash-hit digital card game, Hearthstone," reads a press release from Blizzard. "Within the hallowed halls of this fabled college of magic, Students will encounter 135 all-new cards, designed to supercharge the game with sorcerous synergies and dazzling displays of arcane splendor."
Considering that Shcolomance is Warcraft's most famous school of magic, it should come as no surprise that this expansion will focus on Hearthstone's spell cards. In fact, the expansion will introduce a new keyword called Spellburst. Found on both weapon and minion cards, the Spellburst keyword will trigger an additional effect the next time the player casts a spell.
Interestingly, Scholomance Academy will also feature the return of the multi-class concept seen in the Mean Streets of Gadgetzan expansion. The dual-class cards will only be available to the two classes that share them (for example, Mage and Shamans will share dual-class cards). This time around, Blizzard says that they designed dual-class cards to help ensure that they grouped classes that generally share similar strategies and mechanics (such as beasts for Hunters and Druids), so that should help balance this multi-class concept this time around.
On top of the 40 dual-class cards that will be featured in this upcoming expansion, there will also be 10 Legendary professor minions available to the "unique class pairings" featured in the dual-class cards.
Finally, Scholomance Academy will feature a new kind of Discover card known as Studies cards. Basically, these Studies cards let you pick between one of three cards just as you usually do with the Discover mechanic. The twist is that Studies cards will automatically reduce the mana cost of the next card you play that matches the type of card that you just discovered.
Scholomance Academy is expected to launch sometime in early August. Before then, though, you'll be able to pre-order a variety of bundles. For instance, the Scholomance Academy Bundle ($49.99) will reward you with 55 Scholomance Academy packs, a random Scholomance Academy Golden Legendary Card, and the Kel'Thuzad card back. The Scholomance Academy Mega Bundle ($79.99), meanwhile, will net you 85 Scholomance Academy card packs (five of which will feature all golden cards), a random Scholomance Academy Golden Legendary Card, the Kel'Thuzad card back, a tavern pass for Heartonstone's Battlegrounds mode, and four free Arena tickets.
Even if you don't pre-order the upcoming expansion, all Hearthstone players will receive two free copies of the epic neutral minion card, Transfer Student. That unique card gains a different effect based on which game board you're currently playing on. To receive your free copies, you just need to log-in to Hearthstone starting today, July 14.
Scholomance Academy is currently scheduled to release on August 6.