News
Hearthstone Demon Hunter Class: Release Date, Gameplay, Trailer, and Price
One of Hearthstone's biggest updates to date features the long-awaited arrival of the Demon Hunter class. Here are the details you need to know about the new class!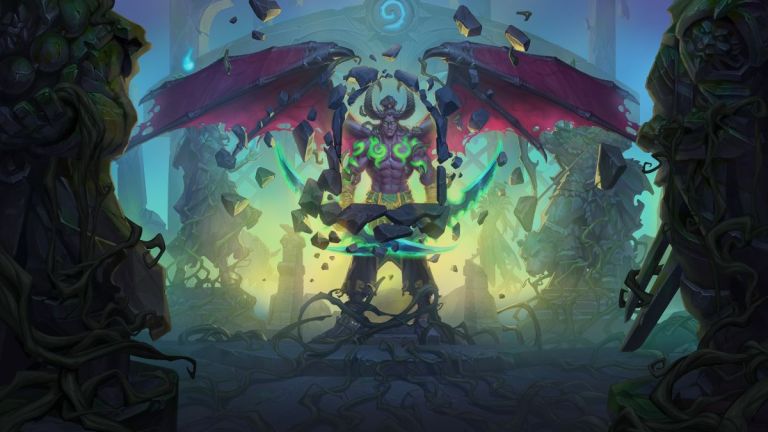 As part of a stunning series of ambitious Hearthstone updates, Blizzard has confirmed that the Demon Hunter class will finally be added to the game. This is the first new class to be added to Hearthstone since the game's launch in 2014. 
The best part? The Demon Hunter class will be released for free to all Hearthstone players.
"The Demon Hunter is a full-fledged class, free for all Hearthstone players," Blizzard said in a press release. "He'll be introduced on April 2 in a new prologue campaign, a four-part series of story-focused single-player missions, which retells Illidan Stormrage's origin story from his perspective . . . and with a Hearthstone twist. Players will also receive, for free, all 10 Demon Hunter Basic cards as well as a 20-card set of Demon Hunter Starter cards. Starting with Ashes of Outland, players can expand their collections with 15 additional Demon Hunter cards from each of this year's expansions—45 in total across the Year of the Phoenix."
Interestingly, Hearthstone's Demon Hunter class will be led by one of the great characters in Warcraft lore, Illidan Stormrage. Some Hearthstone fans will no doubt recall that Stormrage is already featured in the game as a Legendary card whose power level has been a source of controversy over the years given the status of the character. It seems that his role as the hero of the Demon Hunter class serves as something of a "soft promotion" for the icon.
On that note, Stormrage will no longer be featured on the Legendary card that once bore his name and image. That card will be renamed and redesigned to feature a new character. The card's stats and effect, however, will remain the same.
What separates the Demon Hunter class from other classes in the game? Well, as Blizzard noted, Demon Hunters will have access to their own collection of exclusive cards, just like the game's other classes do. They'll also have access to a devastating one-mana hero power that grants the hero one attack point for one turn. That makes Demon Hunters the only class that has access to a one-mana hero power that doesn't need to be acquired via the abilities of another card.
That one attack will often come in handy, as Demon Hunters have access to a variety of weapons that can be buffed through that hero power. In general, Blizzard wants Demon Hunters to be "aggressive attackers who can dominate the early game with glaives and claws." They'll also have access to life-stealing abilities and an array of demons.
Furthermore, certain Demon Hunter cards will benefit from a new keyword called Outcast. This mechanic allows you to unleash a card's powerful secondary effect but only if it's the left-most or rightmost card in your hand. This creates a new kind of strategy that we haven't previously seen in the game outside of very specific (and limited) examples.
Here's everything else you need to know about the new Demon Hunter class:
Hearthstone Demon Hunter Release Date
The Demon Hunter class will be introduced in a free prologue that will launch on the Hearthstone client on April 2. The Demon Hunter properly joins the game on April 7 alongside the release of Hearthstone's Ashes of Outland expansion.
Hearthstone Demon Hunter Gameplay
We went hands-on with the new Demon Hunter class during a press event in February. You can read our full gameplay impressions right here!
Hearthstone Demon Hunter Trailer
Here's the first trailer for the Demon Hunter class: