News
Fortnite: How to Complete the Nindo Challenges
The Naruto-themed Nindo event has returned to Fortnite. Here's what you need to know about completing the 2022 Nindo's challenges and unlocking every available reward.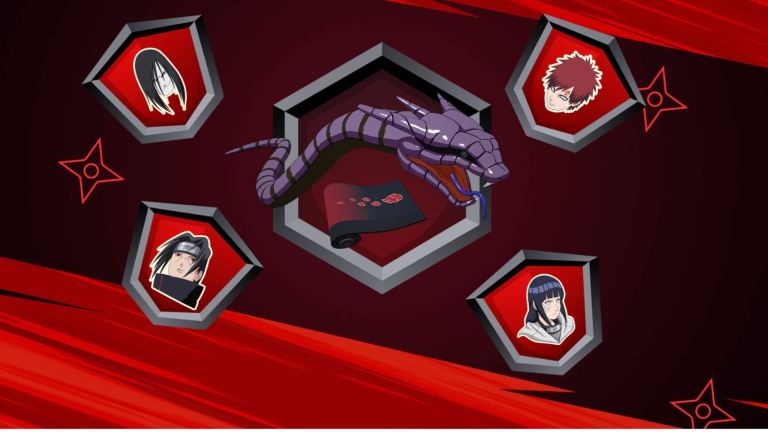 While Fortnite's latest update is arguably highlighted by the addition of Darth Vader and his iconic lightsaber, the game's latest patch also includes some Naruto-themed challenges and rewards. Lightsabers and shuriken: a combination that only Fortnite (gaming's great shameless marketing machine) could pull off.
Starting today, players can participate in Fortnite's Nindo 2022 event. Like last year's Nindo event, Nindo 2022 encourages Fortnite players to complete various challenges to earn Naruto-themed rewards. Whereas the last version of this event heavily featured emoticons and gliders inspired by the manga/anime's Team 7, though, the 2022 version of the event is pretty much all about rivals. By completing various Nindo challenges, Fortnite players can earn emoticons featuring the mugs of Itachi, Gaara, Hinata, and Orochimaru, as well as an Akatsuki-themed wrap and a glider patterned after the giant snake, Manda.
While Fortnite players can also purchase bundles to don the guises of the above-mentioned characters (a must for anyone who wants to practice their Transformation Jutsu), the only way to earn the emoticons is through the latest Nindo challenges. The wrap, meanwhile, is already available via the cash shop, and the glider is scheduled to land there soon. However, anyone who wants those items for free (and in the glider's case, early), will have to work their way through the new Nindo challenges.
Before anyone can actually participate in the event, they first need to log into the Nindo event page. The Fortnite game client won't directly track progress, so logging in first is a must.
The Nindo 2022 event is divided into four paths, each themed after a different character. You've got the Path of Itachi, the Path of Gaara, the Path of Hinata, and the Path of Orochimaru. Each path offers a different challenge, which are as follows:
Path of Itachi: Finish a match in the Top-6 a total of five times (Squad Battle Royal and Squad Zero Build game modes only)
Path of Gaara: Survive 24 Storm Circles (Solo, Duo, and Trio Zero Build game modes only)
Path of Hinata: Catch 20 fish (Battle Royale and Solo, Duo, Trio, and Squad Zero Build game modes only)
Path of Orochimaru: Eliminate 18 players (Solo, Duo, and Trio Battle Royale game modes only)
Once you complete a test, you will earn that challenge's respective badge. Players can acquire a total of ten badges per path. That means in order to complete the Path of Itachi, players need to finish 50 matches in the top six positions. To acquire all ten Orochimaru badges, you'll need to eliminate 180 opponents. Those are pretty tall orders, but they're not impossible. Honestly, your best bet is to try to tackle as many challenges as you can during every match you play.
The first badge you earn in each path also unlocks a specific emoticon. Specifically, you get the Shocked Itachi Emoticon in the Path of Itachi, the Focused Gaara Emoticon in the Path of Gaara, the Byakugan Hinata Emoticon in the Path of Hinata, and the Orochimaru's Smile Emoticon in the Path of Orochimaru. Meanwhile, every five badges you earn in any one path nets players an extra 20,000 XP. So, if you earn five badges in each path, that's an extra 80,000 XP in your pocket.
As you probably guessed, though, the best rewards are saved for last. For instance, players who acquire ten badges in one path will earn the Akatsuki Wrap. Those truly dedicated gamers who collect all 40 badges will receive the grand prize of the event: a Manda Glider. Just know that it's going to take you a long time to get there.
The Nindo 2022 event will end on July 7 at 11:59 PM ET, so get out there and start completing the challenges as soon as possible. Manda ain't gonna summon himself, you know.