News
Fortnite: How to Find and Knock Down Timber Pines
Fortnite is full of trees players can knock down for building materials, but one of the game's latest challenges tasks gamers with cutting up very specific trees with a very specific weapon. Here's how you do it.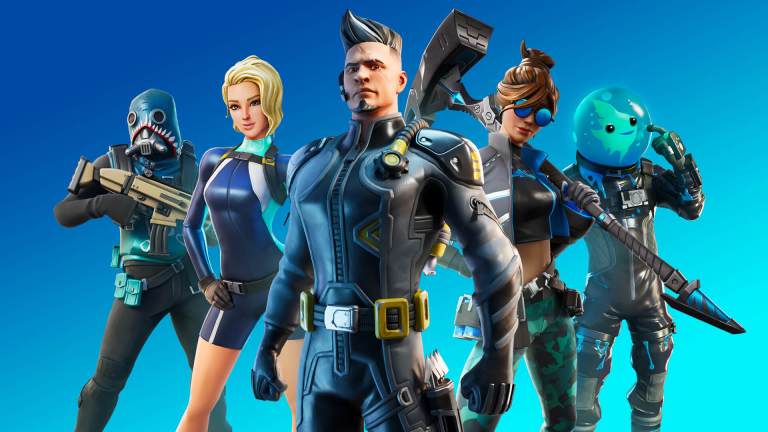 The best way to level up in Fortnite is to complete different quests. Most quests are as simple as outlasting opponents or surviving a storm phase, but some missions have stricter requirements. Usually, if a quest involves a specific landmark or item, the game marks it on the map. However, there's at least one quest that doesn't offer that convenience, and it's driving players crazy.
In the "Weekly" tab of the Quests page, you can find a slew of limited-time missions that provide a ton of bonus XP. One of these quests, which is found near the bottom of the page in the "Week 4" category, provides the following challenge: "Knock down Timber Pines with a Ripsaw Launcher." Players have to chop down five of these trees with this special weapon, which sounds easy enough. However, you'll soon realize that it's surprisingly difficult to find those trees in the first place.
Unlike the mission above that one, which asks players to demolish 15 buildings with an E-11 Blaster Rifle, Fortnite doesn't provide any map markers to indicate the Timber Pines' locations. Since the game features a huge arena, anyone who wants to complete this mission has a lot of ground to cover while battling a deadly storm and opposing players. Alternatively, you could just consult this handy guide for a little help.
Fortnite: Where are Timber Pines?
In the real world, pine trees are hardy, evergreen plants that are primarily found in northern temperate regions and can thrive in the winter when all other trees have lost their leaves. Using this knowledge, you can actually narrow down where to find Timber Pines in Fortnite.
Currently, Fortnite's battle area is divided into several distinct biomes. The northwest portion of the map is covered in snow, and since pine trees can thrive in this extreme weather, you should find Timber Pines strewn all over that location. However, not every tree in the area is a Timber Pine. Some trees are taller and thicker with reddish-orange bark and light-green foliage. Those are the Timber Pines you're looking for, but remember that the challenge asks you to chop them down with Ripsaw Launcher. You could destroy the trees with a normal harvesting tool, but toppling pines with a pickaxe doesn't count towards the challenge. Luckily, the requisite item isn't far away.
Fortnite: Where is the Ripsaw Launcher?
Most items and weapons in Fortnite spawn in semi-random locations, but the Ripsaw Launcher is not one of them. These serrated-blade bazookas are designed to chop down trees, not cut through cars (although you can do both, in case you're wondering). Now, if I were a weaponized lumberjack tool, where would I hide? In a lumberjack's building, of course.
Northeast of Logjam Lotus, you can find a woodsy office building with the Logjam logo. This is The Chop Shop, and if you head in the main entrance, hang a right, and keep going straight through a door, you will enter a loading bay. Turn around immediately, and you should see four Ripsaw Launchers hanging on the wall. Alternatively, you can directly enter the loading bay by venturing into the gray, concrete section of The Chop Chop. Either path should lead you to a Ripsaw Launcher, so just pick one up and let 'er rip.
Now, some advice on proper Ripsaw Launcher usage. The weapon holds 12 saws, three saws to a clip. Each saw slowly travels in an arc and has to spin up before launching. Also, the tree will fall in the direction it was hit and damage anyone in its way, including allies and enemies. Gravity doesn't discriminate.
With the Ripsaw Launcher in hand, just shoot down five Timber Pines, and voila, you've completed the challenge. Simple as that.