Features
Elden Ring: Was George R.R. Martin's Involvement Overhyped?
Virtually every Dark Souls and Game of Thrones fan lost their mind when they heard George R.R. Martin was working on Elden Ring but did he really contribute that much to the game?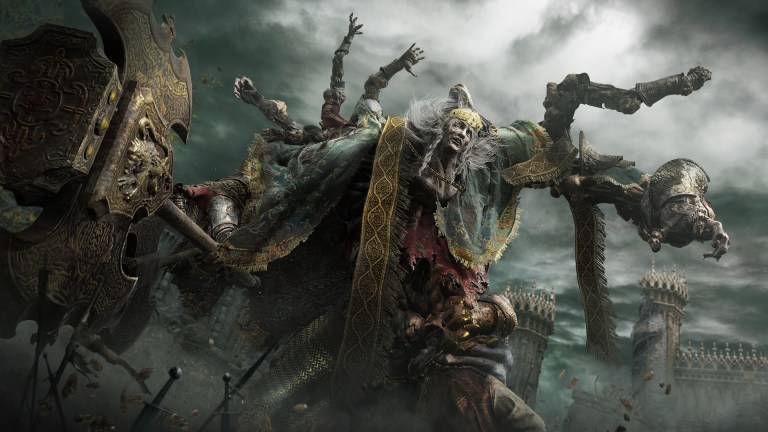 Elden Ring is yet another entry in FromSoftware's ever-growing library of successful Soulsborne titles (not a bad thing, mind you), but unlike the company's previous works, this one features a world created by George R.R. Martin. At least that's what the game's announcement trailer claims. Even though Martin certainly took part in Elden Ring's development in some way, the specifics of the game itself has some questioning the scope of Martin's contributions and whether his involvement has been overhyped in some way.
Odds are you know about Martin thanks to his Song of Ice and Fire novels (and the HBO series those books spawned, Game of Thrones). He has, of course, also worked on numerous other projects, most notably the Wild Cards book series, but it seems fair to say that most audiences still associate him with his hit novel-turned-tv show franchise. The director of Dark Souls and Elden Ring, Hidetaka Miyazaki, was certainly one of those people.
Miyazaki told sites such as IGN, "It all started with me being a fan of Mr. Martin's works. A Song of Ice & Fire and its drama adaptation Game of Thrones are both masterpieces." He eventually set up a meeting with Martin, and, according to Miyazaki, the pair "clicked right away." Miyazaki proposed his idea for a game, and Martin agreed to assist. That was the beginning of their collaboration. Since Elden Ring's debut trailer teased that the game's world was "created by" Miyazaki and Martin, it wasn't unreasonable to assume they worked in tandem to produce its narrative, which some assumed would likely be full of Game of Thrones-esque political intrigue, infighting, and backstabbing. That was half the show's fun, after all. However, Miyazaki didn't actually tap Martin to write the plot. 
In his personal blog, Martin detailed his thoughts surrounding Miyazaki's initial pitch. According to Martin, Miyazaki asked him to only build the then-upcoming game's backstory and history. In other words, Miyazaki wanted Martin to craft the foundation of Elden Ring's worldbuilding. Martin admits he isn't that into video games (he played older titles such as Railroad Tycoon and Master of Orion, but nothing contemporary), but he did know about FromSoftware and loved the studio's work. So, in his own words, "this offer was too exciting to refuse." He accepted Miyazaki's pitch, worked on the fictional history of Elden Ring, and then shipped it off to FromSoftware. According to Martin, that was the end of his contribution.
Given Miyazaki's respect for Martin, you might assume he would try to preserve Martin's ideas as much as possible, but it sounds like that couldn't be further from the truth. One month before Elden Ring was released, Miyazaki spoke with Game Informer and claimed he had a lot of fun turning all the heroes that Martin created and "breaking them" in order to turn them into "misshapen, grotesque monsters." Miyazaki loved twisting these characters into boss creatures and trying to fill the gaps that explained how they fell from grace. "I think [Martin] might be a bit shocked," stated Miyazaki. So, that raises an important question: Why bother involving the famed creator of Game of Thrones if you're just going to throw out his work and replace it with your own interpretations? Well, name recognition alone can certainly help push a product.
Even though many people, both gamers and non-gamers, are aware of the Dark Souls franchise and the Soulsborne genre in general, most probably only know it as "that extremely challenging game that started the 'video games should always have difficulty modes' argument." However, even more people know about Martin and his work, primarily thanks to Game of Thrones. While Dark Souls and Bloodborne were popular titles, neither sold as quickly as Elden Ring. According to Steam Spy, Elden Ring may have already sold over 10 million copies on PC alone within two weeks of launch, while a 2020 press release revealed that the entire Dark Souls franchise, including remasters, has sold over 27 million lifetime copies.
It's not unreasonable to assume that Martin's association helped push sales and let Elden Ring reach a wider audience, or that Miyazaki hoped that would happen by teaming up with him. We constantly see fans follow creators even when those creators are working outside of the franchises they're best known for. For instance, gamers adore Hideo Kojima because of his beloved Metal Gear Solid franchise, but when he announced Death Stranding, many of those fans flocked to the new title even though they had no idea what it was about. What mattered most was that Kojima was at the helm.
However, associating a famous person with a product can lead to the wrong ideas without the proper context. For instance, many audiences assume Tim Burton directed The Nightmare Before Christmas because he had previously directed movies such as Beetlejuice and 1989's Batman (and because the film is also known as Tim Burton's The Nightmare Before Christmas). But no, he only wrote the movie's story while Henry Selick handled directing duties. Many Martin fans seemingly made a similar mistake and erroneously assumed he had co-written the plot of Elden Ring, seemingly because the game's trailer said its world was "created by" Miyazaki and Martin. Nonetheless, even though Martin didn't pen the game's narrative, the game's story would almost certainly be very different without his contributions.
Since Martin produced the game's backstory and lore, he essentially wrote key parts of a design document: a crucial part of game development that is written during pre-production and includes story, characters, art, and game mechanics. However, ask any video game developer, and they will tell you game production is an iterative process; not everything detailed in the design document makes it to the final product. Arguably one of the most famous video game design documents is the Doom Bible, which contains all the initial ideas produced for the original 1993 Doom game. If you scour that document, you will find many proposals that were either changed or scrapped. For instance, Doom was supposed to take place on the fictional planet Tei Tenga, not Mars. However, the game's concept of demons attacking a military base via a portal to hell originated from the Doom Bible and remained intact throughout development. Even though Martin's backstory work wasn't translated verbatim to Elden Ring, it still shaped what players ultimately experienced in the game.
So to finally answer the question: Was George R.R. Martin's involvement in Elden Ring overhyped? Well…sort of, maybe, but we didn't know the scope of his work at the time we learned about his involvement. Moreover, that fact doesn't diminish his contributions. Given his blog, he likely contributed to the legacy dungeons, the Erdtree, Roundtable Hold, and the Finger Maidens, just to name a few things that help make Elden Ring's world special. We might not be able to thank Martin for every detail of Elden Ring's final story or stealth system, but we can thank him for helping one of the best games of the year come together.