Features
E3 2020 Canceled: How This Will Affect the PlayStation 5 and Xbox Series X
The cancellation of E3 2020 could mean big changes for how game companies do business in the short term. This might be good news for the PlayStation 5 and Xbox Series X.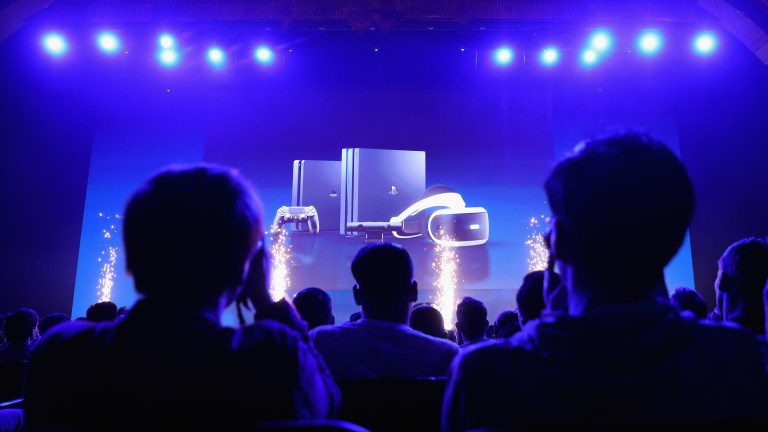 E3 2020 has been canceled, a major blow for the trade show that could have long-lasting effects on how the games industry conducts business and markets its products to gamers in the future. In the short term, the big question on people's minds is how this decision will affect the next-gen platforms and games set to release at the end of 2020. The answer might not be as murky or apocalyptic as you think.
Yes, the cancellation comes at a very significant moment in the games industry, as major publishers and studios switch over to the PlayStation 5 and Xbox Series X, the consoles that will dominate the gaming conversation for the next five years or more. The lack of a major trade show in which to promote their products will leave many companies scrambling to find other venues to market to consumers. Microsoft, for example, seemed to be betting big on E3 2020, especially after Sony announced that it wouldn't attend the trade show at all. As the only next-gen console in town, the Xbox Series X was poised to "win" the show.
But how much does "winning" E3 truly mean in 2020, anyway? There's no denying that E3 is still an event that a huge portion of the game community tunes into and/or attends, but as Nintendo has discovered with its yearly online Direct broadcasts, the trade show is no longer the only way to get your message across to potential adopters. Sony's absence from this year's event is telling.
A decade ago, the thought of Sony or Microsoft skipping E3 right before the launch of a new console generation would have been unfathomable. In 2020, Sony will instead "build upon our global events strategy in 2020 by participating in hundreds of consumer events across the globe" for "a year of celebration with our fans," according to a statement from January. Besides other top-tier game shows like Gamescom, Tokyo Game Show, EGX, and Paris Games Week, there are many hyper-local events for PlayStation to choose from if and when it wants to get the PlayStation 5 into the hands of its audience. And it's very likely that Sony is planning its own PS5 reveal event, anyway.
But what if all of those public events get canceled, too? Sony, nor Microsoft, have too much to sweat in terms of marketing. Since Nintendo decided to skip the E3 stage in 2013 for pre-recorded live streams in which they announce their latest projects, Sony, Microsoft, and other publishers have also started flirting with digital-only pressers. Microsoft frequently hosts Inside Xbox broadcasts, while Sony releases State of Play videos a few times a year. These types of digital, direct-to-consumer presentations are how these companies will respond to the closure of the E3 expo this year.
About an hour after the ESA officially canceled the show, Xbox and Ubisoft confirmed that they're planning digital events in lieu of E3 presentations.
"E3 has always been an important moment for Team Xbox," Xbox head Phil Spencer wrote on Twitter. "Given this decision, this year we'll celebrate the next generation of gaming with the @Xbox community and all who love to play via an Xbox digital event. Details on timing and more in the coming weeks."
In a lengthier statement, Ubisoft said that it was "exploring other options for a digital experience that will allow us to share all the exciting news we have planned."
If Sony wasn't planning to unveil the PlayStation 5 in a digital presentation speaking directly to its fans, it's definitely considering it now. And the advantages of an online showcase are clear. Video presentations allow companies to fully control the message they want to get across as well as avoid the awkward moments (hardware not working, flubbed lines, bad jokes) that have become staples of most E3 stage pressers over the years. Pre-recorded video is also undoubtedly way cheaper to produce over the high costs of putting on an elaborate stage show.
The obvious drawback of Microsoft and Sony unveiling their next-gen consoles as digital showcases? The lack of hands-on demo stations that they have used in the past to get their new hardware in the hands of the public. Even if E3 isn't the promotional juggernaut it once was in the age before live streaming, it still provides a centralized location in which fans and the media can test new products. Not only is this a testing ground for just how well the public will receive a new console but it also allows companies to collect valuable feedback on hardware features and launch titles.
Normally, the lack of E3 wouldn't be such an issue if it were being replaced with other public events by Microsoft and Sony, but coronavirus could prevent even these from happening. Without demo stations or any hands-on time, Microsoft and Sony could have a hard time selling new consoles to gamers beyond the usual techies and early adopters. Fortunately, this might not be such a huge issue either, at least when it comes to next-gen games themselves.
Last year, The Game Awards experimented with a new way to get demos into the hands of gamers that could change the way we think of trade shows in the future: a digital demo space within Steam that allowed players to try a selection of over a dozen games for a 48-hour time period. As The Game Awards creator Geoff Keighley explained, The Game Festival was designed to emulate the E3 experience without having to actually fly to Los Angeles.
"Let's face it: Not everyone can attend a physical trade show or consumer event," Keighley said in a statement at the time. "The Game Festival is designed from the ground-up as an event without barriers, extending the benefits of a physical event to the global gaming community that watches The Game Awards."
While The Game Festival mostly featured smaller indie titles already included in The Game Awards broadcast, it is easy to see how this digital event space format could be used by E3 and publishers to get demos of next-gen titles like Halo Infinite and Godfall to those watching at home. Don't get me wrong: releasing demos on digital platforms is hardly a new concept. Microsoft and Sony have published game demos on Xbox Live and the PlayStation Network for more than a decade. But the idea that these demos could be packaged as a curated event held completely over the internet is innovative and exciting. Not only does this allow fans with less access to events like E3 (whether it's due to distance, a disability, or the high cost of attending) to have an expo experience from the comfort of their homes, but Microsoft and Sony already have the infrastructure needed to host these kinds of events.
In fact, both companies are already developing cloud platforms that could enable players to run demos even if they don't own a current Xbox One or PlayStation 4. Microsoft's Project xCloud cloud gaming service, for example, allows you to play a selection of the console's library on mobile devices, while PlayStation Now lets you stream games on your PC. Harnessing the power of the cloud could mean E3-like showcases that are more accessible than ever before and Microsoft and Sony reaching a larger audience of gamers than a traditional trade show ever could.
There will undoubtedly be other concerns in the coming days that could seriously affect the next-gen console race. Not only will the coronavirus pandemic continue to affect the health of thousands of people around the world, but it could also lead to serious strains on the world's economy. Just as the 2008 recession greatly affected the timing of the Xbox One and PlayStation 4, it's possible that financial strain on consumers as well as console manufacturers could delay the release of next-gen consoles to 2021 or later.
But on the marketing side, companies like Microsoft could realize, as Sony seems to have concluded, that it doesn't need E3 as much as E3 likely needs them to stay relevant. What could this mean for the trade show itself? The ESA confirmed that it's "exploring options with our members to coordinate an online experience to showcase industry announcements and news in June 2020."
It's unclear at this time whether Microsoft and Ubisoft's digital events could become a part of an all-digital E3 2020 or if the trade show will have to rely on other publishers and studios for its own pressers. Whatever the case, it feels like the game industry is about to change in a big way. An E3-less next-gen console race could lead us into a brave new world.