News
Destroy All Humans! Remake: Release Date, Trailer, Gameplay, and News
Cult classic open-world game Destroy All Humans is getting a remake courtesy of THQ Nordic.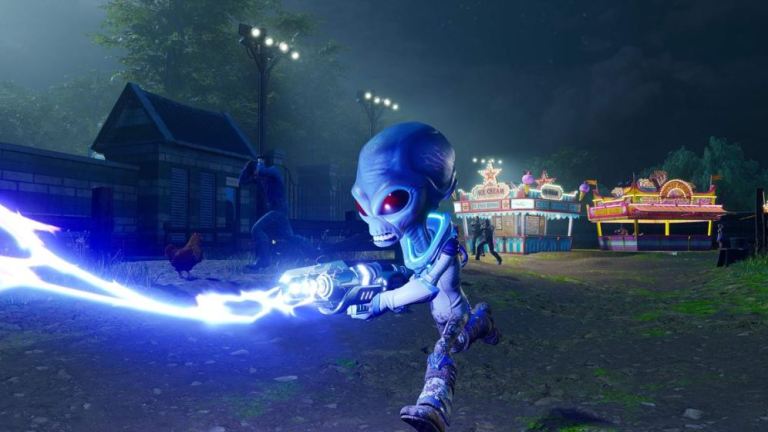 THQ Nordic promised to share some surprises ahead of E3 2019, and they certainly made good on that promise with the reveal of the long-awaited Destroy All Humans! remake.
Like many of the recent THQ Nordic announcements, understanding the appeal of this particular project requires a bit of history. First released in 2005, Destroy All Humans! allowed players to control an alien invader in an open-world environment heavily inspired by 50s sci-fi Americana. The game's sense of humor and style certainly did quite a bit of heavy lifting, but the game itself was actually quite good.
You have developer Pandemic Studios to thank for that. Pandemic Studios was once known as the best source for action-heavy open-world experiences that really felt like they were offering you a true playground to roam around in. Destroy All Humans! is one of the best examples of that, and it still manages to stand pretty tall amongst a legion of copy-and-paste open-world experiences.
While the now-shuttered Pandemic clearly won't be developing this remake (that honor goes to Black Forest Games), it's looking like this remake won't stray far from the original game's blueprint. The fact that this is labeled as a remake seems to based more on the upgraded visuals and technology than any major tweaks to the gameplay. There's also a reference to a "much-rumored, never before seen, "Lost Mission of Area 42" that will be in the remake, but there's been no other word on any substantial changes in the game.
Here's everything else you need to know about the Destroy All Humans! remake:
Destroy All Humans! Remake Release Date
The Destroy All Humans! remake is out July 28. The game is coming to Xbox One, PS4, and PC.
Destroy All Humans! Remake Trailer
Here's the release date trailer:
And here's the debut trailer:
Destroy All Humans! Remake Gameplay
IGN played 13 minutes of the new Destroy All Humans! remake, and as you can see for yourself, the graphics are very much improved. Modern flourishes to combat and the environments make this a very welcome return for the franchise. Check out the footage for yourself below:
Destroy All Humans! Remake Story
In case you missed it the first time, Destroy All Humans! stars an alien named Crypto from the planet Furon. The Furons have decided to invade Earth in order to save their own species. Crypto leads the charge, tasked with extracting pure Furon DNA from human brain stems, the only thing the Furons believe will be able to save them from extinction. Crypto proceeds to remove brain stems from powerless soldiers — and later Congress — in the most gruesome ways imaginable.