News
Destiny 2: The Witch Queen and Lightfall Expansions and Future of the MMO Revealed
Bungie shared quite a few details about the future of Destiny 2, including the 2021 and 2022 expansions as well the Destiny Content Vault. Here are the details!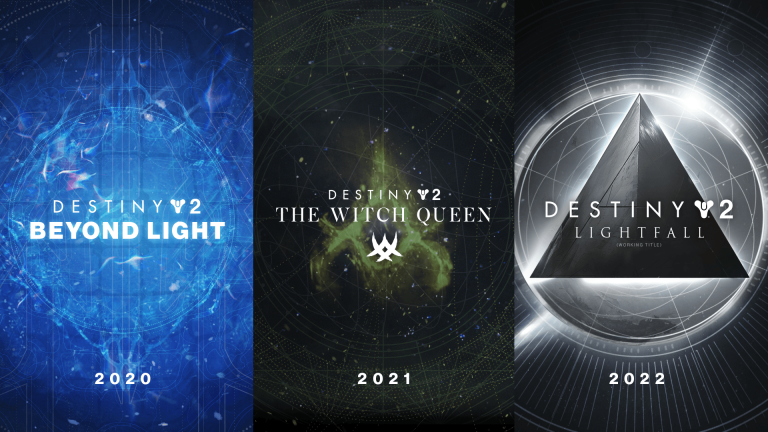 Bungie has mapped out the future of Destiny 2 farther than anyone expected. During a Summer Game Fest reveal event, the developer announced not only Beyond Light as this year's big expansion but also The Witch Queen and Lightfall, the Year 5 and 6 updates out in 2021 and 2022, respectively.
In a blog post, Bungie described how it had a vision for "a future where we maintain your characters, accounts, and continuity with our game systems and build on each of them for years."
The studio said little regarding what The Witch Queen and Lightfall will be about but did tease that these two expansions and Beyond Light would tell a story focused on "the true nature of the Light and Darkness," the good and evil forces that represent the heroes and villains of the game. The "Witch Queen" reference could also mean that Hive villain Savathûn, the sister of Oryx the Taken King and a character that's long been teased in the universe's lore, may finally be coming to the game.
Check out the announcement trailer for these expansions:
Bungie said during the stream that it will focus on these expansions as opposed to releasing a more traditional Destiny 3 sequel to continue the story. Season 11, which is called "Season of Arrivals" and is out now, will lead to Beyond Light and this new story.
"With Destiny 1, we solved the 'ever expanding, exponential complexity' problem by making a sequel in Destiny 2. We left behind all of Destiny 1's content and many of the features players grew to love. We believe now that it was a mistake to create a situation that fractured the community, reset player progress, and set the player experience back in ways that took us a full year to recover from and repair," Bungie said of continuing Destiny 2's story as opposed to launching another sequel. "It's a mistake we don't want to repeat by making a Destiny 3. We don't believe a sequel is the right direction for the game and for the past two years we have been investing all of our development effort into new content, gameplay, and new engine features that directly support a single evolving world in Destiny 2."
Bungie is so committed to creating more cohesiveness within the Destiny universe that it plans to re-introduce content from the first game through a new initiative called the Destiny Content Vault, which will also see the developer cycle out old Destiny 2 content to make way for new storylines and systems.
"Each year, usually at the expansion boundaries, we will cycle some destination and activity content out of the game (and into the DCV) to make room for new experiences," Bungie said of the DCV. "The first cycle of Destiny 2 content going into the DCV begins this fall, with the appearance of the Pyramid ships in Season of Arrivals and the Beyond Light expansion…Those events will usher in dramatic changes to the Destiny universe, affecting characters, destinations, and Guardians for years to come."
The studio stressed that content cycled out of the game and put into the DCV could return in the future in an altered or upgraded form. Strikes set in destinations that are cycled out of the game will also go into the DCV. Bungie also made clear that the DCV will not affect any weapons or armor in a player's inventory or vault. There will also be "new ways to earn Exotics originally tied to destinations and activity content that have entered the Destiny Content Vault."
"Furthermore, we consider all Destiny 1 and 2 destinations and activities part of the new DCV and we're going to be pulling from that archive – revisiting some of the most interesting places in Destiny's history – from now onwards. It's why the original Destiny 1 Raid – the Vault of Glass – will be returning to Destiny 2 in Year 4."
Bungie provided a full rundown of the first wave of DCV content being cycled back into the game as well as the content being cycled out:
RETURNING FROM THE DCV
On September 22, 2020:

Cosmodrome as a selectable, explorable destination (but not yet at full Destiny 1 parity on 9/22).

Note: We're looking to leverage Cosmodrome's initial return to expand the new Guardian origin story to the world of Destiny. Veteran players will be able to experience that story as well.
Cosmodrome's Will of Crota strike will also be added to the strikes playlist for all players.

During Season 13:

Cosmodrome will be fleshed out to roughly Destiny 1 Year 1 parity.
Cosmodrome's The Devil's Lair and Fallen S.A.B.E.R. strikes return.

During Year 4:

Destiny 1's first raid, Vault of Glass, returns.
HEADING TO THE DCV
On September 22, 2020:

Io, Titan, Mercury, Mars, and Leviathan will be cycled out and no longer be accessible.

This includes all PvE activities (including campaigns) on those destinations.
Bungie also shared a screenshot of what the game's destination map will look like once the DCV goes into effect in September: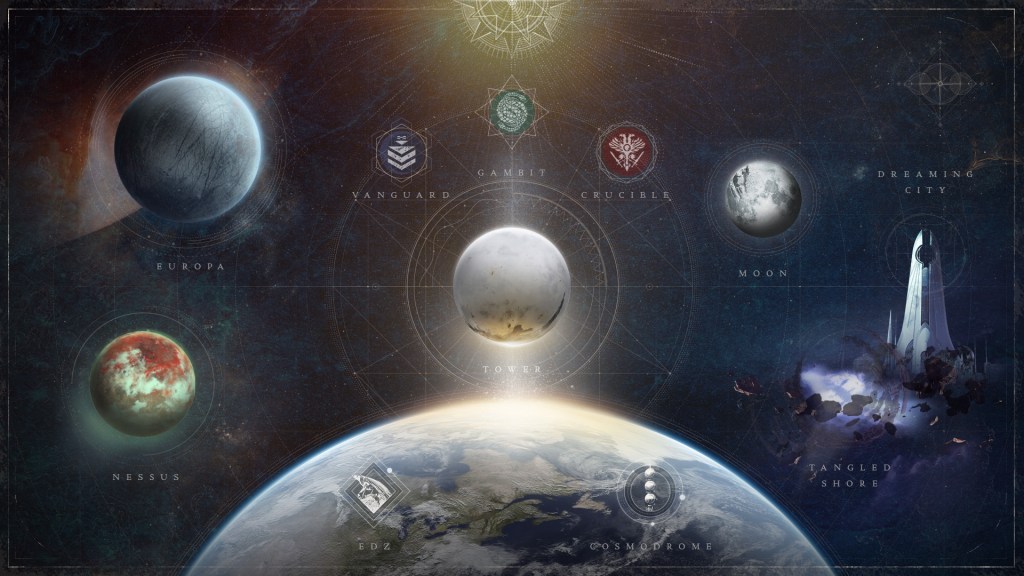 Destiny 2: Beyond Light is out on Sept. 22 for PlayStation 4, Xbox One, PC, and Google Stadia. Destiny 2 and all of its expansions, including Beyond Light, are also coming to Xbox Series X and PlayStation 5 later this year. Bungie confirmed that Destiny 2 will run at 4K resolution and 60 fps on next-gen consoles.

Players who purchase Beyond Light (or any other expansions) on PS4 or XBO will be able to bring that content with them to the PS5 and XSX respectively. Destiny 2 will also support cross-generational play, so you can still play with your PS4 and XBO fans, even if you upgrade to the PS5 and XSX version of the game.