News
Dead Island 2 Multiplayer: How to Unlock Co-Op Play
Everyone is welcome to visit Hell-A with their friends, but not every friend is invited. Here's how to access Dead Island 2's multiplayer.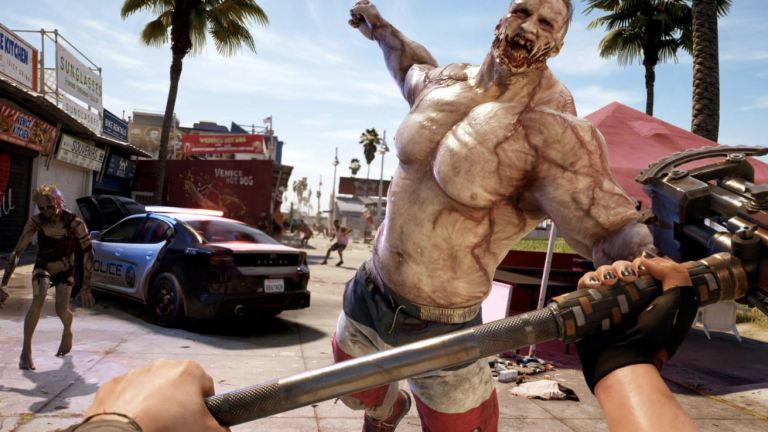 What good is a zombie apocalypse if you can't survive it with your friends? Some of the best zombie games on the planet feature co-op, and Dead Island 2 is one of them.
The original Dead Island is a great zombie title that emphasized RPG-like leveling and skills, a looter shooter-esque weapon system, and co-op. Up to three players could team up to escape an island paradise overrun with zombies, and Dead Island 2 basically utilizes the same systems. However, Dead Island was released more than a decade ago, so its sequel offers a few more tricks when it comes to co-op and crossplay. Here's how to enjoy the game's various multiplayer options.
Dead Island 2: How to Unlock and Play Co-Op
Unlocking co-op in Dead Island 2 is one of the easiest tasks in the game. Just progress through the story, complete a mission or two, and you will earn the ability to play with friends in about an hour. The game's UI will flash a message saying that you can play in co-op, so you literally can't miss it. However, actually arranging a co-op session is a little more involved. Blame all the options the developers give you.
To start stomping zombie heads as a team, you can begin the co-op as early as the Main Menu. To do this, select "Continue Game," but before you hit Play, select your preferred game type. These include Single Player, Public, Invite Only, and Friends Only. The first option bars anyone from teaming up with you, while the latter three turn you into a co-op host. "Public" lets anyone join via matchmaking, "Invite Only" ensures that only people you personally invite can join, and "Friends Only" restricts allies to your friends list. While you can't change your co-op preferences mid-session, you can invite people while taking a breather. From the Menu (not the Player Menu), scroll down to Social, pick the friend you want in on the action, and fire an invite away.
If you would rather crash someone else's campaign (and help them), you have to do so from the Main Menu. Select Join Game, and Dead Island 2 should give you the option to team up with a friend or random player. Friends are located under "Friends Online," and if you want to try your luck with a stranger, select Quick Join instead.
Like with the original Dead Island, you can only team up with two other players at a time. After all, the point of a zombie apocalypse is to have the brain munchers vastly outnumber the living survivors, not the other way around.
Does Dead Island 2 Support Cross-Platform Play?
Many games these days have cross-platform functionality, i.e., crossplay. Titles such as Fortnite, Minecraft, and Apex Legends are prime examples of this trend to connect players across the globe, regardless of platform. Sadly, Dead Island 2 is not one of them.
As of writing, Dead Island 2 does not include cross-platform multiplayer. PS5 owners cannot team up with Xbox Series X or PC players, and vice versa. However, the game supports cross-gen co-op, so PS5 players can invite PS4 players, and the same holds true with Xbox Series X/S and Xbox One owners. Don't celebrate just yet, though, since the ability to host a game is locked behind stronger hardware. If you own a PS4, Xbox One, or Xbox One S, you can only join someone else's session. According to a recent blog, this limitation is a result of Dead Island 2's graphics requirements, but the developers are working on a solution.
Does Dead Island 2 Save Co-Op Progress?
In many quest-centric co-op games, progression is a fickle mistress. Players who join a friend to help them complete a mission usually don't receive any credit, meaning their story progression and inventories are rolled back once they go back to solo play or hosting. Thankfully, Dead Island 2 isn't one of those games, but it still carries its own warning label.
Quest progress and loot are saved for all co-op participants. If, for instance, you join a friend and help them complete an optional scavenger hunt mission, not only will that job be marked as complete on your solo campaign's quest log, but you will get to keep the reward.
However, to keep things balanced, hosting rights are reserved for the player with the fewest completed story missions. Say you are on mission 10 but your friend is on mission 9. You can't invite them to your session since it would let them skip part of the story. However, you can help your friend complete mission 9 and then work on mission 10 together. And since progress is saved, if the two of you stop there, you both will get to pick up from Mission 11 when you start playing again.
That's just about everything you need to know about Dead Island 2 co-op at launch. Get out there and get the heck out of Hell-A.