News
Days Gone vs. Ghost of Tsushima Sales Controversy Divides PlayStation Fans
A reported comparison between Ghost of Tsushima and Days Gone's sales figures has everyone arguing again about whether Days Gone was robbed of a sequel.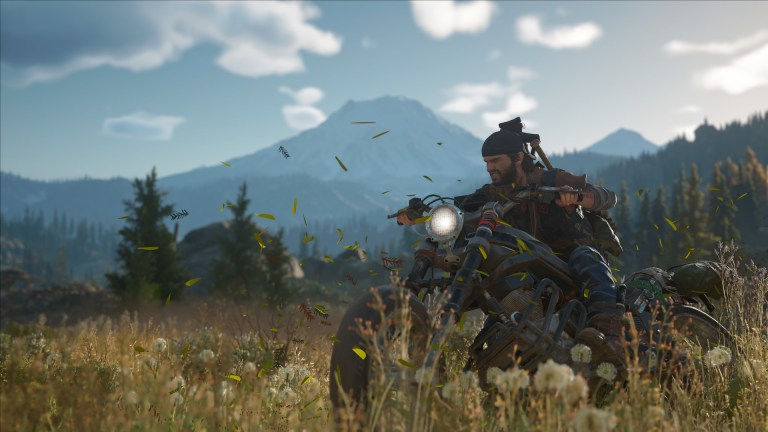 A series of events involving Ghost of Tsushima and Days Gone's reported sales figures has triggered a debate that has divided some members of the PlayStation community and has left many others simply rolling their eyes.
This whole story is more than a little strange, but it basically started when Sucker Punch Productions confirmed that 2020's Ghost of Tsushima recently crossed the 8 million units sold mark.
Many fans saw that announcement as a harmless way for the Sucker Punch team to celebrate the critical (and now commercial) success of Ghost of Tsushima. The studio's samurai epic has impressed many gamers since it was released about two years ago, and it's nice to know that the Sucker Punch team is now getting to enjoy the full fruits of their labor.
However, not everyone saw that tweet as a simple excuse to celebrate the Ghost of Tsushima team's success. In fact, Days Gone co-director Jeff Ross apparently saw the tweet as the perfect whetstone to grind a very familiar ax on.
This is where things start to get a little complicated. As you can tell by that tweet, Ross is obviously somewhat upset that some are so eager to celebrate Ghost of Tsushima's sales success when (as he claims) members of the Bend Studio management team made him feel like Days Gone was a disappointment despite allegedly reaching a similar level of sales success.
What's very important to realize, though, is that this is not a new debate. Indeed, ever since Days Gone was released in 2019, we've been treated to numerous arguments over the quality of the game, its commercial performance, its critical reception, and whether or not those who support and criticize the game are basing their views on some kind of allegiance or bias. It's been…a lot.
What's fascinating, though, is that this particular debate hasn't been limited to fans and critics. Some of those involved with Days Gone's development have been more than happy to fuel that particular fire. Days Gone voice actor Sam Witwer previously suggested that some of that game's negative reviews can be attributed to some reviewers not bothering to finish the game, while Days Gone co-director John Garvin previously stated that more people should have bought the game at full price if they wanted to help ensure that it got a sequel.
If you've suddenly raised an eyebrow, you're not alone. After all, how can Garvin insinuate that one of the reasons Days Gone didn't get a sequel is because of sales (or revenue) shortcomings while Ross argues that the game did sell very well yet was treated internally as a disappointment?
Well, as it turns out, Ross' initial suggestion that Days Gone had sold over 8 million units may not be entirely accurate.
In a live stream with David Jaffe (who is certainly no stranger to stirring the pot), Ross clarified that his sales estimate were partially based on data from a now-defunct website called Gamestat that tracked PlayStation trophies.
"Where I got my data from, I had access to a lot of telemetry, and I could see stuff and when we were at 5 million copies – when we were announced at 5 million copies – the telemetry data was at 5.8 [million]," Ross said. "There are basically resells or shared discs. I was actually using an external website – I think they're offline now – but they were using trophy data and it lined up with our internal telemetry data so for me, it's like, 'good enough.'"
As you've probably gathered, the big problem with Ross' estimate is that it's partially based on PlayStation Trophy information from a third-party source, and that information doesn't necessarily give us an accurate view of how many copies of a game were actually sold and at what price (assuming that that site's figures were accurate in the first place). While Ross indicates that the trophy information lines up with internal sales figures he saw while he was still with the company (and that the internal sales information he saw was based on sales figures recorded prior to Days Gone being released for free via PlayStation Plus in 2021), there are still a number of factors that could account for a serious discrepancy between Ross' estimates and the actual sales figures.
At this point, though, the absolute accuracy of those sales figures is seemingly less important than the idea that Days Gone sold very well (which it likely did) and was still treated as a disappointment by some seemingly due to its mixed critical reception.
This whole debate really brings us back to that bigger argument over how important a game's Metacritic score is in regards to its "success" as well as the increasingly hostile divide between critics and gamers who sometimes disagree wildly when it comes to certain titles. That debate isn't exclusive to gaming by any means, but as we can see in the case of Days Gone, it has a way of opening wounds that don't heal so easily.
What's more than a little disappointing here, though, is the way that some of those associated with Days Gone seem so willing to publically attribute the game's shortcomings to everyone but themselves. Everyone from journalists to cheap gamers and Ghost of Tsushima has been referenced by certain Days Gone team members in the discussion about what happened to that game and its chances at a sequel. That's not to say that some of those close to the game have avoided acknowledging the title's various design and technical issues, but rather that part of the reason the debate over Days Gone has lasted this long is that some of the high-profile people who worked on it seem to be unable to avoid any reason to talk about the "haters" and how they got screwed.
There is certainly a conversation to be had about the relationship between critics and users and review scores and sequels, but in the case of Days Gone, it's more than a little disappointing that a largely interesting (if incredibly flawed) game has been turned into an "Us vs. Them" exhibit by some of the people who made it.