News
Call of Duty: Warzone Gameplay Trailer Showcases 150-Player Battle Royale Mode
Activision has finally unveiled its free-to-play Call of Duty: Modern Warfare battle royale mode, Warzone, and it looks like an impressive addition to the game.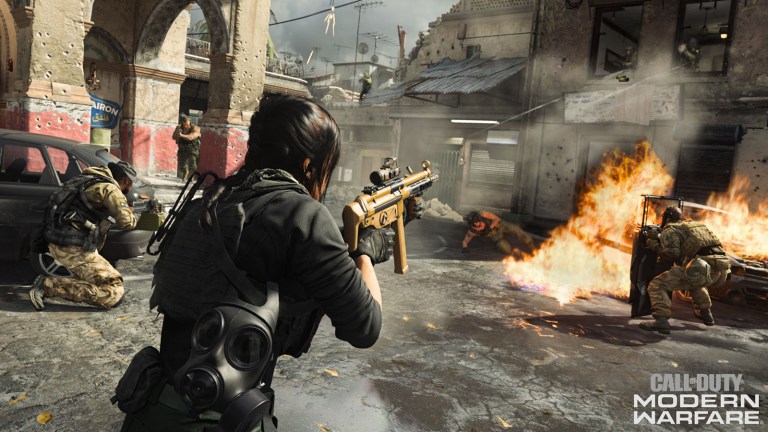 Activision has confirmed that Call of Duty: Modern Warfare's previously leaked battle royale mode, called Warzone, is real and set to release for all available platforms on March 10. 
Undoubtedly the biggest piece of info to drop from this reveal is the fact that Modern Warfare's battle royale mode will be free-to-play. Yes, that means that you won't need to purchase Call of Duty: Modern Warfare in order to play it. That's a big change from Black Ops 4's Blackout battle royale mode, which came as part of that title's retail launch package. Warzone will go live a little early for those who own the full game, but everyone will be able to access it at some point on its launch day. For more information on when you'll be able to access it in your region based on your current set-up, check out the Call of Duty blog. 
Warzone will support up to 150 players for in solo, duos, three-player squad modes. As you might imagine, the primary draw of all of those options is the classic battle royale option which sees you fight to be the last player (or squad) standing. As always, the field of play will gradually shrink over time in order to encourage skirmishes. 
However, Warzone will also feature a special game type called Plunder, which sees you (and your team if you choose to bring one) compete to collect the most cash. While cash can be earned by defeating other players or simply looting it from across the map, you'll also be able to earn cash by completing "contracts" which require you to complete various objectives. 
What is cash used for? Along with needing it to win Plunder, you'll also use cash at buy stations to purchase loot, revive your teammates, and acquire unique perks like killstreak advantages and advanced items like a balloon where you safely deposit your money. Cash will also be featured in Warzone's standard battle royale mode, but its primary use in that mode will be to purchase additional loot and revive teammates.
Speaking of which, it sounds like Warzone's primary battle royale mode will feature a new take on the respawn system popularized by titles like Apex Legends. When you die, you'll be able to participate in a 1v1 battle that will resemble Modern Warfare's Gunfight game type. Winning this battle will throw you back into the fight, but it sounds like this respawn option will not be made available during the latter stages of the match. As we noted, you can still be revived via a buy station if you lose, but you have to hope your team has the cash to make that happen.
Regardless of which game type you choose, you'll play on a new map called Verdansk. Much like it was in Blackout, this map will feature new locations, a blend of rural and urban areas, and some points of interest that long-time Call of Duty fans will no doubt recognize. You'll also be able to use a variety of vehicles, including a helicopter, to work your way across the field of play. 
It's genuinely fascinating that Activision and Infinity Ward are choosing to launch a free-to-play battle royale mode months after Modern Warfare's initial launch. We wonder if they will continue to support it even as new yearly Call of Duty installments are released. We're also curious about Warzone's almost inevitable microtransactions system and how that will shape the game.
Stay tuned for our impressions of Call of Duty: Warzone soon!