News
Call of Duty: Season 5 Reloaded Roadmap Reveals New Warzone Mode
Call of Duty's Season 5 Reloaded update kicks off a major event and gives Warzone players a new team deathmatch mode.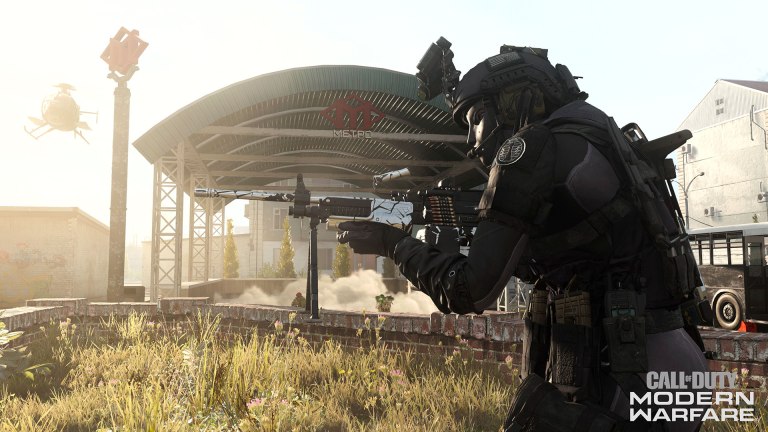 Activision and developer Infinity Ward have revealed a roadmap for Call of Duty: Modern Warfare and Warzone's Season 5 Reloaded update, and it starts with the Games of Summer event.
"Following Shadow Company's explosive arrival to Verdansk, Games of Summer will arrive to challenge all Operators on their skills," reads a post on the Activision blog. "Only the most talented will be rewarded with the spoils of the games; the prospect of which has invited a new reinforcement to the Coalition's Warcom division."
What are the Games of Summer? Well, they're a collection of challenges that will divide players into national teams and reward the victors with various medals. By earning medals, you earn your team points as you all work to "prove which country's Tier One Operators are truly the best in the world." You'll be able to participate in an unlimited number of trials from August 28 – September 7.
There are five trials in total, and the event kicks off with the launch of "Gun Course" on August 28. This trial asks you to navigate a shooting course and eliminate as many targets as possible while avoiding casualties. Medals are awarded based on the fastest clear time.
The second trial (Price's Alley) starts on August 29. This event pits you against an "endless series of enemy targets" that you must eliminate while also avoiding civilian casualties. Medals are awarded based on who maintains combos for the longest amount of time.
On August 30, the third trial (Risky Parkour) joins the competition. This event requires you to work your way through an obstacle course filled with toxic gas. The medals go to those who finish the course as quickly as possible.
Next up is Shooting Range, which will be added on August 31. This event simply requires you to eliminate all assigned targets in an area while battling a limited supply of ammunition. Medals are awarded to the games with the fastest clear times.
The final trial (Marksman Challenge) won't be available until September 1. When it launches, this event will ask teams to try to hit a series of long-distance shots in a short amount of time. Missed shots will incur a penalty. Medals are awarded to the most efficient teams.
Participating in Games of Summer will award you with cosmetics while winners will be treated to a series of rare items designed to showcase their achievements. During the event, you'll even be able to track which country's players are performing the best. It seems that your country will be determined by the location of your account, so be sure that information is updated.
There's also going to be a massive gunfight tournament that takes place inside of a new Stadium map. This event will also reward participants and winners with XP and cosmetic items. Everyone will be able to participate in that tournament from August 28 to September 2 thanks to a free event weekend set to run during that time.
Warzone will also soon be updated with a new game mode called King Slayer. This Team Deathmatch-style mode forces players to navigate a constantly moving circle in order to earn points. The five players with the most kills will be marked on the map at all times, and killing them will reward you with additional points.
For a full rundown of everything coming to Warzone and Modern Warfare as part of Season 5 Reloaded, be sure to check out this extensive blog post. You can also take a look at the roadmap right here: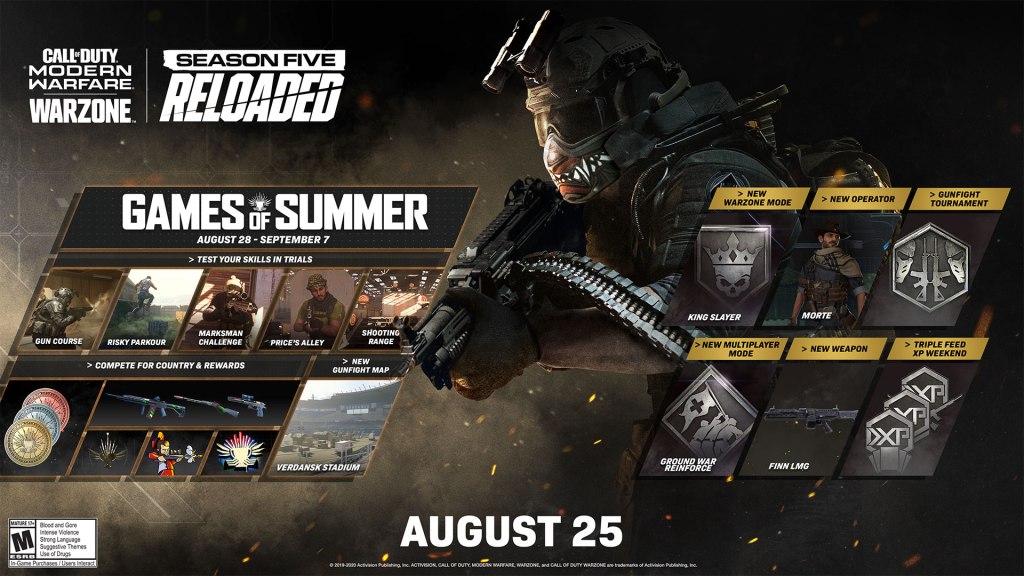 As we near the full reveal of Call of Duty Black Ops: Cold War, updates like these show that Infinity War intends to support their Call of Duty game for as long as possible, especially as Warzone remains one of the most popular battle royale games on the market.