News
Borderlands: The Handsome Collection revealed
Borderlands goes current gen with The Handsome Collection, and it's got a whole lot of content to offer...
We've suspected it for a while, and now 2K and Gearbox Software have confirmed that Borderlands is coming to current gen. Borderlands: The Handsome Collection will be full gathering together of Borderlands 2 and Borderlands: The Pre-sequel (not the first game, sadly), both remastered for current gen, along with all of the DLC available for the games, which is a massive amount of extra content, including highlights like Captain Scarlett and the Pirate's Booty, and Tiny Tina's Assault On Dragon Keep, just two of over 10 add-ons and challenge packs. This also includes upcoming season pass content for the Pre-Sequel.
Along with all of this comes a new, four-player split screen co-op mode, and the function to transfer your existing last gen save games to the new version.
If you're very lucky (and have the cash), you may even be able to bag one of the limited Collector's Editions, which includes a steel book case, 12 lithographs, and a fully functional remote control Claptrap, which even talks. Only 5,000 of these are being produced, and they'll retail for around $400. They'll be available to order worldwide.
Borderlands: The Handsome Collection will arrive on March 24 in the US, and March 27 internationally for Xbox One and PlayStation 4.
The full list of game content is as follows (via the Borderlands website):
Borderlands 2
Captain Scarlett and Her Pirate's Booty (campaign add-on)Mr. Torgue's Campaign of Carnage (campaign add-on)Sir Hammerlock's Big Game Hunt (campaign add-on)Tiny Tina's Assault on Dragon Keep (campaign add-on)The Ultimate Vault Hunter Upgrade Pack (level cap increase)Gaige the Mechromancer (playable class)Krieg the Psycho (playable class)Ultimate Vault Hunter Upgrade Pack 2: Digistruct Peak Challenge (level cap increase & challenge arena)Creature Slaughter Dome (challenge arena)T.K. Baha's Bloody Harvest (Headhunter Pack)The Horrible Hunger of the Ravenous Wattle Gobbler (Headhunter Pack)How Marcus Saved Mercenary Day (Headhunter Pack)Mad Moxxi and the Wedding Day Massacre (Headhunter Pack)Sir Hammerlock vs. the Son of Crawmerax (Headhunter Pack)
Character Customization Packs
Collector's Edition PackCommando Madness PackCommando Supremacy PackCommando Domination PackSiren Madness PackSiren Supremacy PackSiren Domination PackGunzerker Madness PackGunzerker Supremacy PackGunzerker Domination PackMechromancer Madness PackMechromancer Supremacy PackMechromancer Domination PackAssassin Madness PackAssassin Supremacy PackAssassin Domination PackMechromancer Steampunk Slayer PackGunzerker Dapper Gent PackPsycho Dark Psyche PackPsycho Madness PackPsycho Supremacy PackPsycho Domination PackSiren Glitter and Gore PackCommando Haggard Hunter PackAssassin Stinging Blade PackMechromancer Beatmaster PackGunzerker Greasy Grunt PackPsycho Party PackSiren Learned Warrior PackCommando Devilish Good Looks PackAssassin Cl0ckw0rk Pack
Borderlands: The Pre-Sequel
Handsome Jack Doppelganger Pack (playable class)Ultimate Vault Hunter Upgrade Pack: The Holodome Onslaught (level cap increase & challenge arena)Shock Drop Slaughter Pit (challenge arena)Upcoming Season Pass Content (playable class)Upcoming Season Pass Content (campaign add-on)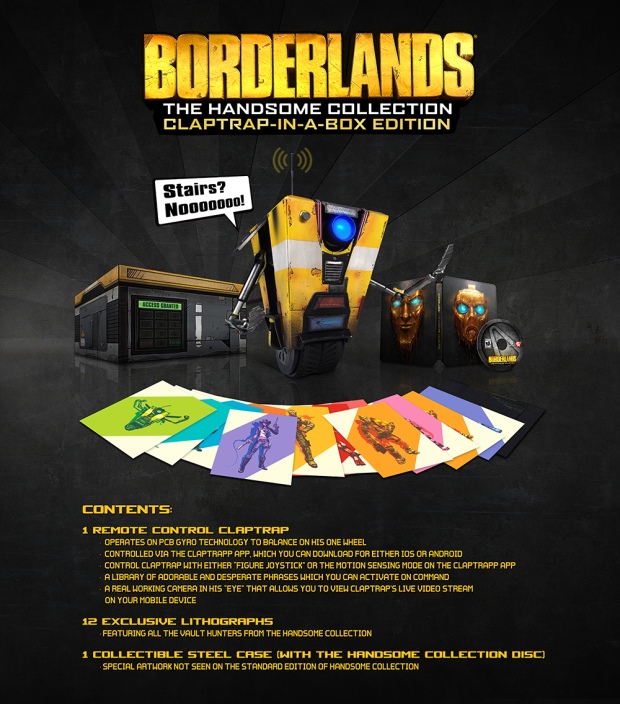 Please, if you can, support our charity horror stories ebook, Den Of Eek!, raising money for Geeks Vs Cancer. Details here.