News
Assassin's Creed Valhalla: Next-Gen Gameplay Trailer
We finally got a better look at Assassin's Creed Valhalla thanks to this stunning next-gen trailer.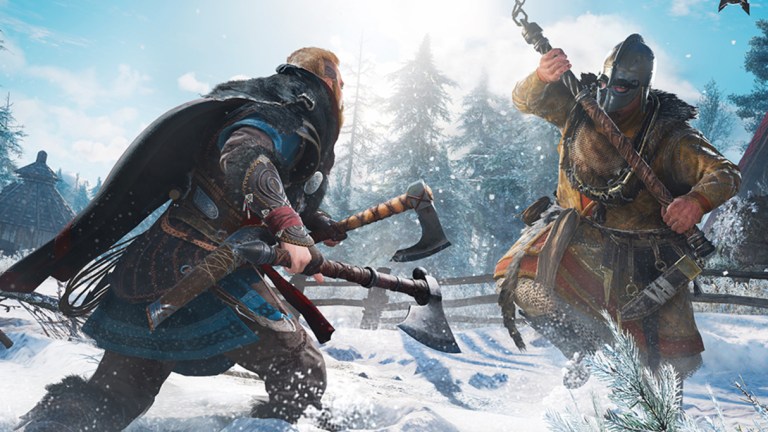 We finally got our first look at Assassin's Creed Valhalla's gameplay (kind of) via a brand new trailer revealed as part of the recent Xbox Series X livestream.
First of all, let's talk about the term "gameplay." As you can clearly see in this next-gen gameplay trailer, there isn't really much gameplay at all. The pitch is that the footage in this trailer is based on in-engine Xbox Series X technology, and while we imagine that some of the action we see will be translated to gameplay, this isn't exactly the first look at Valhalla in action that we were hoping for.
Regardless, there are a few gameplay takeaways this trailer does offer. As some on the Valhalla team have noted before, this game will feature a full dual-wield combat system that will serve as the basis of the title's action. Not only does that mean you'll be able to dual-wield swords, axes, and daggers as you rush into combat, but you'll even be able to take two shields into battle. Is that practical? Well, you're a Viking, so you don't care about practical.
Furthermore, the Assassin's Creed Valhalla team confirmed that this trailer does feature a glimpse at the upcoming title's raiding system. Raiding settlements and castles was a big part of Viking warfare, so it stands to reason that it would be included in this game. While it's not entirely clear how this will work, it does seem like these sieges may focus more on open combat. That idea represents something of a departure from the more stealth-based gameplay of previous Assassin's Creed titles.
Then again, this trailer suggests that it could be more of the direction this game is going for in general. While we imagine that certain franchise gameplay staples like sneaking, recon, and, yes, assassinations will still be in the game, it does feel like the primary goal of this title's gameplay will be to replicate the combat style (or a least a popularized version of the combat style) of ancient Vikings.