News
Assassin's Creed Valhalla: Female Eivor Revealed as Collector's Edition Statue
Assassin's Creed Valhalla will not only feature male and female protagonists, but both options will be canonical.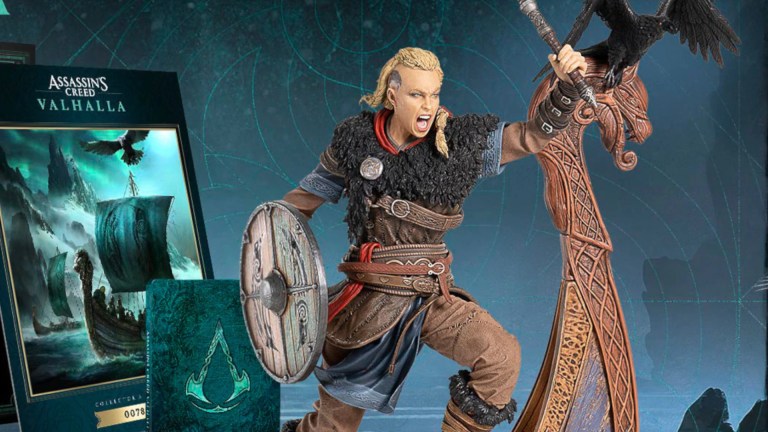 Ubisoft has confirmed that Assassin's Creed Valhalla will feature a female version of the game's protagonist, Eivor, and we got our first look at her as a statue that will ship with the Collector's Edition of the game.
You can check out everything that will ship with that Collector's Edition by checking out this promo image, but the star of this particular show is the female variant of Eivor who stands front and center in the photo. The statue looks great, and the design of the character suggests that both variants of Eivor could somehow be related.
So far as that goes, Valhalla's narrative director, Darby McDevitt, revealed via Twitter that both the male and female versions of Eivor are "canon." Basically, that means that whichever version of the character you choose to play as in the game will result in a story that will reflect the canonical mythology of this installment. McDevitt also notes that he won't spoil "how we managed that trick until you play the game."
That's an interesting deviation from what we saw in Assassin's Creed Odyssey. That game also lets you choose a female or male protagonist, but there, the character you didn't choose ended up playing a different role in the game. Odyssey attempted to be vague about which character was the canonical one, but it was later suggested that the female variant, Kassandra, was the true canonical choice. It'll be interesting to see how they get around that in this sequel, but we imagine that the situation may be similar to what we saw in the Mass Effect series which utilized a similar trick.

As for why we saw the male version of Eivor in the game's debut marketing (including the cover and first trailer), Ubisoft told Eurogamer that they intend to focus on both characters in future marketing material. With a full gameplay reveal of Assassin's Creed Valhalla reportedly coming soon, it makes sense that we might see the female version of Eivor featured heavily in that footage.

Part of the reason why this topic is so heavily covered in this instance is because of the controversial comments made in 2014 by Assassin Creed Unity director, James Therien. At that time, Theirien suggested that the reason the game didn't feature an optional female protagonist is that it would require too much extra work to put one in the game. Since then, the series has done a much better job of offering players the option.