News
Amy Hennig's Marvel Game Could Be Justice for Star Wars: Project Ragtag
Amy Hennig's upcoming Marvel game could help realize the potential of the tragically canceled Star Wars: Project Ragtag.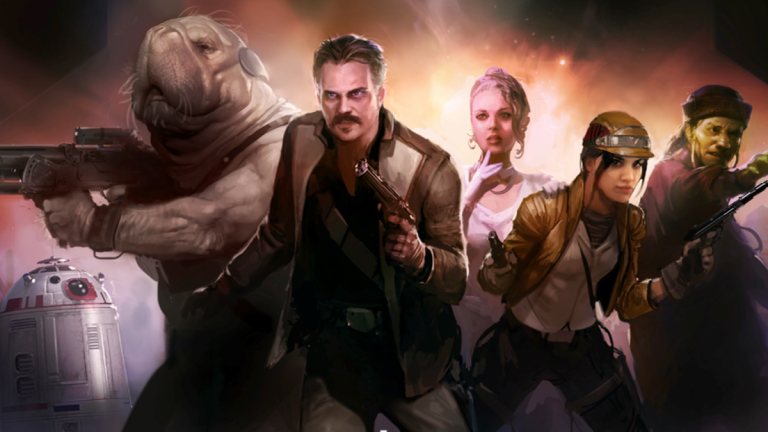 Skydance New Media and Marvel Entertainment have revealed that writer and director Amy Hennig (Uncharted, Legacy of Kain: Soul Reaver) is working on a new AAA game set in the Marvel universe.
"I can't imagine a better partner than Marvel for our first game," says Hennig, President of Skydance New Media. "The Marvel Universe epitomizes all the action, mystery, and thrills of the pulp adventure genre that I adore and lends itself perfectly to an interactive experience. It's an honor to be able to tell an original story with all the humanity, complexity, and humor that makes Marvel characters so enduring and to enable our players to embody these heroes that they love."
As Hennig mentioned, this project is currently described as a "narrative-driven, blockbuster action-adventure game" that will tell "a completely original story and take on the Marvel Universe." Beyond that, we really don't know a lot about the project at this time. Jay Ong, Executive Vice President & Head of Marvel Games says that everyone involved will "share more with Marvel fans when the time is right," but it doesn't sound like this game will be released anytime in the near future.
At the moment, many fans are speculating about the "original story" part of that pitch and whether that means this game will feature entirely new characters or whether it means that it will simply tell a new story based on existing Marvel characters. If it's the latter, it's going to be interesting to see which Marvel characters ultimately appear in the game.
However, the biggest news here isn't necessarily which corner of the Marvel universe this project may explore but rather the ways it sounds like this game might finally give Amy Hennig the chance to realize the potential of Star Wars: Project Ragtag.
We've talked about this topic more extensively in the past, but the gist of the story is that Amy Hennig once worked on a Star Wars game for EA known as Project Ragtag. It was supposed to be a rather unique Star Wars adventure that focused on a group of "scoundrels," but it was ultimately canceled by EA due largely to the company's decision at that time to pivot away from big-budget single-player games.
The reason for Ragtag's cancellation certainly helps explain why some fans feel so passionate about it to this day (it really fits quite well into the "evil EA" narrative), but this is really about more than a chance to throw a little hate EA's way. After all, it's not like people need another reason to criticize EA's business practices.
No, the biggest reason that Ragtag's cancellation has always stung is the fact that it looked so promising. What little we know about Ragtag suggests that it would have been an almost Uncharted-style third-person game with elaborate set pieces and a prominent narrative. Some of those who worked on the project even said that it was shaping up to be "the best Star Wars game ever made." Hennig's track record speaks for itself, and the idea of her applying her talents to the Star Wars universe was always an exciting prospect.
More importantly, Project Ragtag promised to be a different kind of Star Wars adventure. We all love Jedis, and most of us harbor some kind of love for the classic Star Wars trappings (although Rise of Skywalker certainly proved that even the strongest nostalgia has its limits), but the cries for Star Wars to escape its habits and dare to be a little different have only grown louder in recent years. The Mandalorian showed us that approaching that universe from even a slightly different perspective (a perspective that Ragtag seemingly would have also utilized to some degree) can make Star Wars feel fresh and exciting again.
The Marvel universe isn't quite at that same point, but I think it's safe to say that there's a degree to which we're all wondering what Marvel adaptations are going to look like in the post-Endgame world. Some glimpses into the future have been incredibly promising (such as Wandavision and Marvel's Spider-Man), while others have raised concerns regarding a sense of complacency and familiarity that may be creeping in (The Falcon & Winter Soldier and Square Enix's Marvel's Avengers, for instance). It's exciting to see so many different creative voices offer their input, but there's also a sense that the "safety net" of "give it to me because it's Marvel" is starting to wear thin.
With this project, Hennig gets another chance to dive into an established universe with a ton of potential and a little uncertainty. There's no indication that this game is essentially going to be a variation of what Ragtag would have been, but there is something cathartic about the idea that whatever Hennig may have brought us with Ragtag and whatever ways she may have provided a slightly different look at a major franchise via an epic video game adventure may at least spiritually live on.
Of course, if this game ends up using some of Ragtag's best ideas and proves to be the kind of massive hit that some at EA seemingly felt that Ragtag couldn't be…well, the phrase "poetic justice" does come to mind.