News
William Shatner to Release Two New Albums
William Shatner will return to the vinyl frontier with two new albums this year.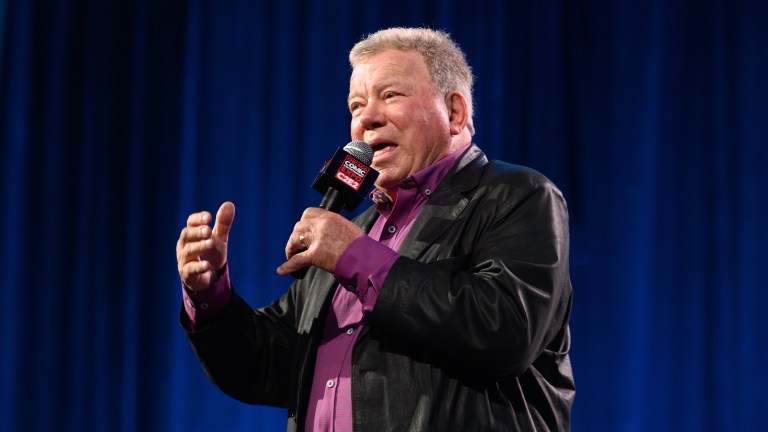 Star Trek's Captain Kirk wasn't One with guests on "The Way to Eden" episode, and didn't take part in the interstellar jam. Since then William Shatner has had a number of luminary musicians play on his tracks. The actor who debuted as a recording artist with the 1968 aural soundscape The Transformed Man is taking another sonic adventure. The rocktogenarian will drop two new albums this year, and both offer musical experiments. One of the two albums, which will be out by the end of the summer, will be a blues album. The other will be a new kind of record.
"It's an album that we've finished," Shatner tells Den of Geek while promoting his hosting duties on the History channel series The UnXplained. "I've got two albums. I've got a blues album which will be released by the end of the summer and then we'll bring the other album out after that. We think it's going to be accompanied by a book. So, it'll be a book and an album together."
The blues album, which Shatner reportedly was initially reluctant to make, is an exploration of a new genre for the veteran actor. The mystery album may well break a vinyl frontier in the digital age. "It's an autobiographical album," Shatner said. "I don't think it's ever been done before. These are stories that happened in my life that the lyricist and I have talked about and made."
While Shatner didn't reveal the album's title, he did name two songs. Both have backstories to fill the autobiographical requirements. The first was inspired by a commanding performance. "I was in England. I had a sold out audience on a Monday night at the Apollo Theater, 3,500 people," Shatner says. "That afternoon, I'm in the hotel room resting, waiting to go on. In the hotel room, on television comes Boris Johnson." The British Prime Minister was announcing the first pandemic restrictions, which limited gatherings to "no more than 10 or 15 people."
This was very early in the coronavirus response efforts, and theaters had not yet been ordered to close. "Several hours later, I get in the car that takes me to the theater and I don't know whether there'll be anybody there or whether there'll be 3,500 people there," Shatner recounted. "I get in front of the curtain and I'm hearing voices. When I stepped out, almost everybody who'd decided to come was there. A large number of people risked their lives to come and see me. We wrote a song called 'Monday Night in London.'"
The other song is so improbable, it just might translate into a segment on the Kevin Burns paranormal docu-series The UnXplained, which Shatner hosts. "During this coronavirus time, I worked with a composer in upstate New York, and a lyricist in New York City," he explained. "I recorded a good number of the songs on my iPhone. There is a phenomena that I suggested to both those people. To the lyricist, we discussed what the song would be, and to the producer of The UnXplained, what the magic of this phenomenon is. It's called Fata Morgana. There's a song we wrote called 'Fata Morgana' and there is some activity on whether it'll make an episode of The UnXplained."
Named after literary sorceress Morgan le Fay, Fata Morgana is a mirage which can be visible in a narrow band right above the horizon. "In Los Angeles, we get heat inversion quite often," Shatner said. "That is where hot air traps the cold air underneath it. As a result, like it does in the ocean where different currents of different temperatures overlay each other, that sound and, in this case, sight, are reflected off these currents so that that layer of hot air acts like a mirror. Things that are going on on Earth a thousand miles away might be reflected, like a mirror, to someplace near you. You think you're seeing something but it's actually happening a thousand miles away or a hundred or next door. It is a phenomenon that has not been recognized until recently. It's the explanation of mirage in the dessert."
Shatner's 2004 album Has Been was produced by Ben Folds and had Henry Rollins and Aimee Mann as guests. His last three albums, besides a Christmas album, were Seeking Major Tom (2011), Ponder the Mystery (2013), and Why Not Me (2018). There is no word on when the autobiographical concept album will be released.