News
Talking Strange: NASA's UFO Search, Kristen Stewart Hunts Ghosts, and More Paranormal News
The search for UFOs is on at NASA, while Kristen Stewart hunts ghosts! Plus, what the heck is going on with the strange meat rain in Kentucky?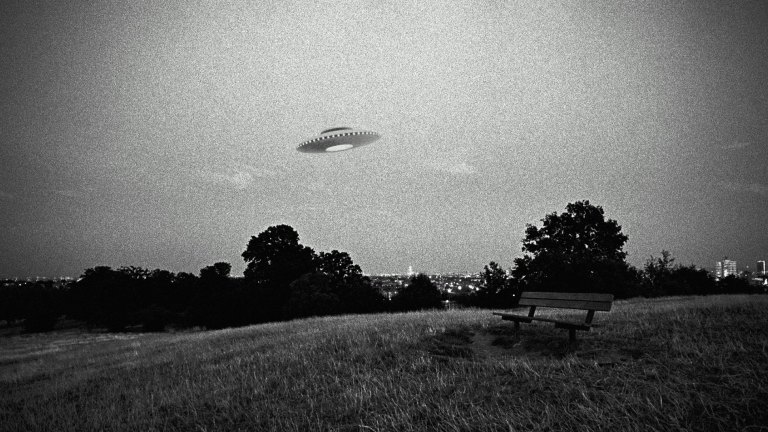 Aloha, Spooky Nerds!
It's been another couple of strange days in which the paranormal has punctuated the news. But why are the topics of ghosts, monsters, aliens, "meat rain" (more on that below), and other phenomena that could be flippantly dismissed as tabloid site fodder given a home on Den of Geek, an entertainment news outlet? Why, for instance, would we dedicate our energy to the weekly paranormal pop culture Talking Strange podcast and video series hosted by yours truly, and available on Apple Podcasts, Spotify, and YouTube?
On one hand, belief in the unexplained is on the rise as religious affiliation decreases, The New York Times reported last October. Meanwhile, anthropologist Jack Hunter recently said in a virtual talk at Harvard that there is academic value in exploring complex "supernormal" experiences. From my perspective as a journalist, I have always found that paranormal stories, and the discussion of what's "out there," reveal as much about us as a people and can highlight commonalities across cultures. 
Plus, it's just fun to talk about the paranormal and supernatural. Fun, and perhaps even a bit unnerving when it begins to seem like yesterday's spooky tabloid fodder is today's reputable headline, such as with the first story in our paranormal pop culture news round up this week…
NASA Plans to Join UFO Research Effort
Following the House subcommittee hearing a few weeks back (which we discussed extensively in the video above), NASA announced yesterday that it will finance "high-risk, high-impact" research into UAP sightings. Thomas Zurbuchen, NASA's associate administrator for science, said the study to begin this fall "will focus on identifying available data, how to best collect future data, and how NASA can use these data to move the scientific understanding of U.A.P.s forward."
The nine-month research will be led by astrophysicist David Spergel and operate independently of the Pentagon. Zurbuch said he believes there's "new science" to be discovered. To put it in meme terms, that sounds a lot like they're not saying it's aliens, but…
Source: The New York Times
Kristen Stewart Announces Open Casting Call for 'Super Gay Ghost-Hunting' Reality Series
Although Kristen Stewart became famous for vampires, the accomplished Spencer actor is on the hunt for ghosts in her new reality show. In a video shared to Instagram by her friend CJ Romero, Stewart announced she'll executive produce the project with Scout, the producers of Queer Eye. The actor described the show as "the most gayest, most funnest, most titillating queer ghost-hunting show ever." The post also shared a website where prospective LGBTQ+ investigators, researchers, and mediums can share their experiences to be considered for the show.
This isn't the first time a show about gay ghost hunters has bounced around, but the high profile power of Stewart and Scout make this not only viable, but it has the potential to pop in a big way. And it frankly contributes much-needed diversity to a genre that has traditionally been dominated by straight, cisgender dudes. As far as Pride month news, file this under "Fa–boo-lous!"
Source: Variety
Teasers for Rob Zombie's The Munsters, Tim Burton's Wednesday Addams
The Addams Family and The Munsters debuted on TV within a week of each other in 1964, both running until Spring 1966, and now the monster comedies are each returning to our screens. This week, we got teasers for both projects.
The Munsters film, directed by Rob Zombie, stars Jeff Daniel Phillips as Herman Munster, Sheri Moon Zombie as Lily Munster, and Daniel Roebuck as Grandpa. Although a release date has not been announced, Zombie unveiled a glimpse of the project that riffs off the original series' opening black-and-white credits before promising the Munsters are now "in living color." Expect this one sometime later this year.
Meanwhile, Netflix unveiled a first look at its Wednesday series, set in the world of The Addams Family. The eight-episode series is directed and produced by Tim Burton, and stars Jenna Ortega as a teenage Wednesday, Luis Guzmán as Gomez Addams, and Catherine Zeta-Jones as Morticia Addams. Christina Ricci, who famously played Wednesday in the 1991 and '93 live-action films, will play a yet-unnamed new character.
The series is set in Nevermore Academy and the plot will follow Wednesday as she "attempts to master her emerging psychic ability, thwart a monstrous killing spree that has terrorized the local town, and solve the supernatural mystery that embroiled her parents 25 years ago — all while navigating her new and very tangled relationships at Nevermore."
Ooh, snap. That sounds mysterious and spooky/ooky/kooky.
E.T. Turns 40
Break out the Reese's Pieces because E.T. the Extra-Terrestrial turns 40 on June 11. The Steven Spielberg-directed sci-fi family film debuted in 1982, and overtook Star Wars as the highest grossing film of all time (until Spielberg's Jurassic Park took the top spot in 1993), making almost $800 million at the box office. The film about a boy and a friendly alien remains iconic, and both "Phone Home" and the image of Elliot and E.T. flying on a bike across the moon are instantly recognizable elements of pop culture.
To celebrate, Universal Pictures and Amblin Entertainment announced this week audiences will be able to catch the film again in theaters when it is released exclusively on IMAX screens beginning Aug. 12. 
Man Finds Rare Sample From One of America's Strangest Phenomenons
On March 3, 1876, over the course of an hour, meat rained down from the sky above Bath County, Kentucky. The incident was called, appropriately enough, The Great Kentucky Meat Shower, and witnesses said it looked like beef falling in a manner similar to large snowflakes. And now, the Bayport-Blue Point Library in Long Island, New York, is exhibiting the only known remaining sample from the strange occurrence. The rare specimen is owned by Frank Reiser, a retired biology professor at Nassau Community College, who acquired it on eBay 10 years ago. He wants the exhibit to travel, and finds it to be a piece of Americana from a time before samples were examined using a microscope.
While the meaty source remains a mystery, one theory was the shower was caused by vultures vomiting up deer or lamb mid-air. Apparently if one buzzard starts to puke, they all do because it's a warning system of sorts that they've eaten something bad. This story really re-frames "Cloudy With A Chance of Meatballs" as a horror story, doesn't it?
Source: Patch
This Week on the Talking Strange Podcast
Comedian and actor Dana Gould joins to talk about the second season of his YouTube comedy series/talk show Hanging With Dr. Z. He also shares some updates on a Stan Against Evil movie, and reveals the secret email chain used to discuss obscure Hollywood facts. Listen below:
Until next time: Be kind, stay spooky, and keep it weird.