News
National Slinky Day Showcases an Enduring Toy Classic
Despite an increasingly technological toy market, the Slinky stands as a lasting example of a simple toy for any age.
There are few sights more satisfying than watching a Slinky descend a flight of stairs, and lining the toy up just right to walk down every step elicits the same feeling as sinking a three-pointer, a long putt, or an angled shot in billiards, even though those feats of physics take much more skill. There's just something about it! On National Slinky Day, August 30, we reflect on how this most simple of toys has stood the test of time, remaining one of the most recognizable toys across the decades and continuing to entertain each new generation.
Arriving on the toy market in 1945, the Slinky was the brainchild of Penn State graduate Richard James. Just after meeting his wife, Betty, James was called up by the Navy to serve in World War II. His job as an engineer had James working on measures to increase safety for the sailors, and one fortuitous day in 1943, the story goes, he knocked a spring off his desk and watched as the coil appeared to walk across the floor. With his future as a family man looming, he couldn't help but think kids would smile at the sight. Thus, the Slinky was born!
Other versions of the apocryphal story say that Betty recognized the potential of the spring as a children's toy and was the one who came up with the name "Slinky." Whatever the case may be, the first run of the toy impressively sold out within an hour and a half at Gimbel's Department Store in Philadelphia, and the Slinky continues to be manufactured in Pennsylvania using the same methods employed by the toy's inventor. Sales of the Slinky are now in the hundreds of millions.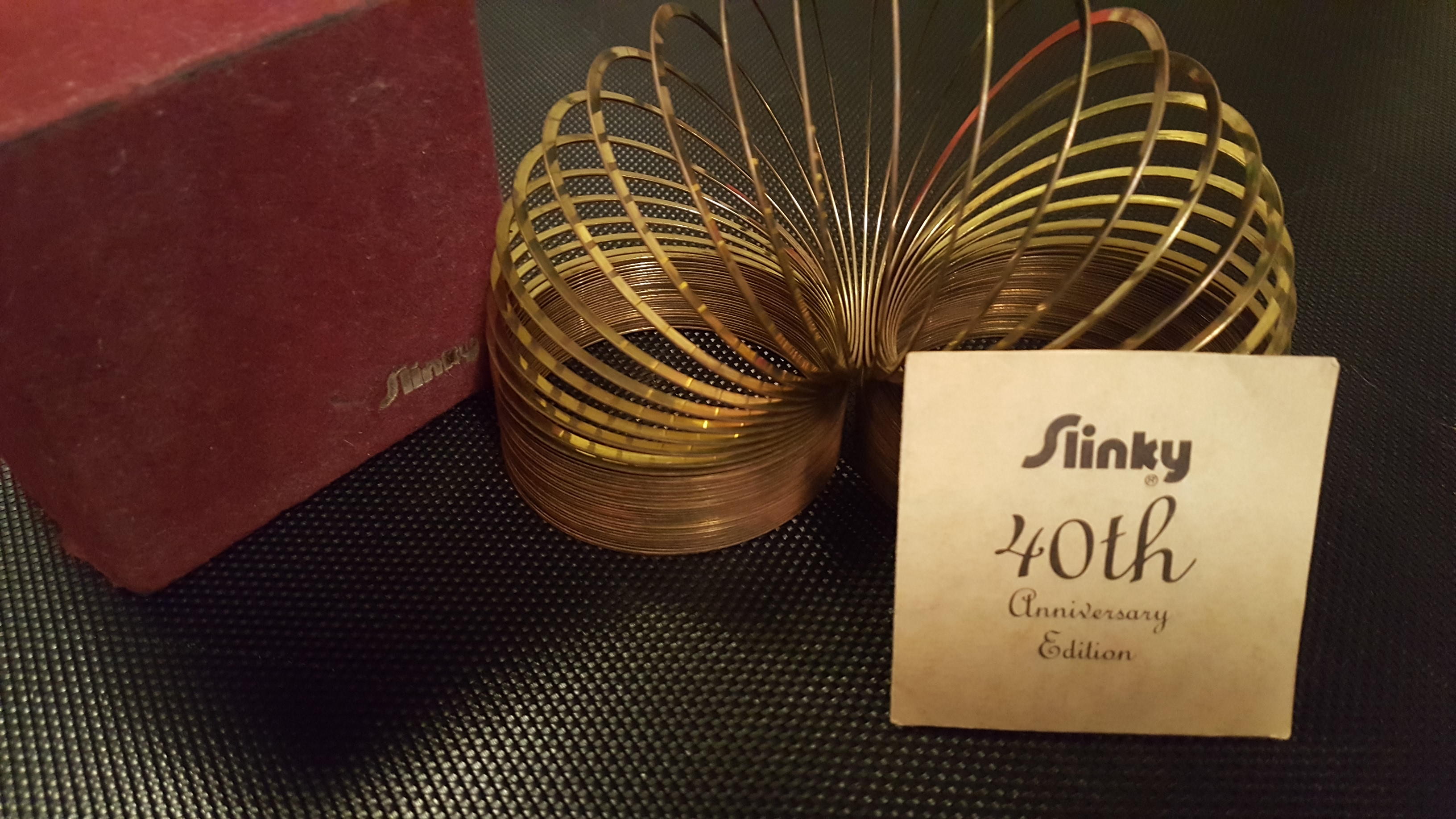 Slinky enthusiasts have noted that substitute "walking springs" just aren't the same, and collectors (including the writer of this article) have even taken pains to acquire the special editions of the toy. A brass Slinky was given a limited release in 1985 for the 40th anniversary, and 14-karat gold version came out in 1995 for the toy's 50th year in production. With the Slinky approaching a ripe, old 75 years of age, it's anybody's guess how the celebration will be marked this time around.
The Slinky isn't merely a toy or a collectible, however. It has also been placed in various utilitarian roles such as pecan picker, drapery holder, light fixture, window and table decoration, gutter guard, bird house protector, therapeutic device, wave motion coil, and mail holder, among other things.  The Slinky was even used by U.S. troops in Vietnam as a mobile radio antenna, and NASA used the Slinky in several zero-gravity experiments. Who knew Newton's laws of motion could be both practical and entertaining?
The Slinky was honored with its own postage stamp in 1999, and the lovable spring was inducted into the National Toy Hall of Fame in 2000. Now in 2019, a commemorative roadside marker will be unveiled in a special dedication ceremony in Slinky's birthplace of Clifton Heights, PA. How will you celebrate National Slinky Day?
Read and download the Den of Geek SDCC 2019 Special Edition Magazine right here!
Michael Ahr is a writer, reviewer, and podcaster here at Den of Geek; you can check out his work here or follow him on Twitter (@mikescifi). He co-hosts our Sci Fi Fidelity podcast and coordinates interviews for The Fourth Wall podcast.