Features
Inside Disney's Toy Story Land Theme Park
Playing around as a toy in Disney's new Toy Story Land.
When granted the status of an honorary toy, you may think there's no playing around on the job. But that's precisely what I was expected to do at the newly opened Toy Story Land at Disney's Hollywood Studios in Orlando, Fl.
My mission was simple at the land themed on the Pixar Toy Story franchise: Shrunk to the size of a Green Army Man, I am headed into Andy's backyard to play with the other toys, including Woody, Jessie, Buzz Lightyear, and Slinky Dog, as well as oversized dominoes, Tinkertoys, and K'nex pieces.
The 11-acre backyard is surrounded by a large wooden fence (I'm guessing Sid's house is on the other side) and the entrance features a 20-foot tall Sheriff Woody welcoming pardners with a "Hey, Howdy, Hey."  
Unsurprisingly, Disney commits to the toy-sized fun of the land. Benches are made of stained popsicle sticks; the merchandise stand is actually a Fisher-Price Play Family Camper; Scrabble pieces mark the restrooms; a discarded No. 2 pencil and Sorry piece. And Green Army Men (who are all over the place), led by Sarge, march through the land, serving up playful orders, delivering puns, and shouldering crayons.
Toy Story Land also features three attractions: the Slinky Dog Dash roller coaster, Alien Swirling Saucers spinning ride, and the pre-existing Toy Story Mania! 4D carnival midway-style game (now with a new gateway, and a third track to alleviate long waits).
Toy Story Mania! has been a massive hit since it debuted in 2008. The competitive game allows guests to take aim (with discs, rings, darts) as their car moves through a practice round and five stops. The queue imagines that people are actually inside the box of Andy's latest toy, surrounded by an Audio-Animatronic Mr. Potato Head, and a giant View-Master disc (from 1953's Peter Pan).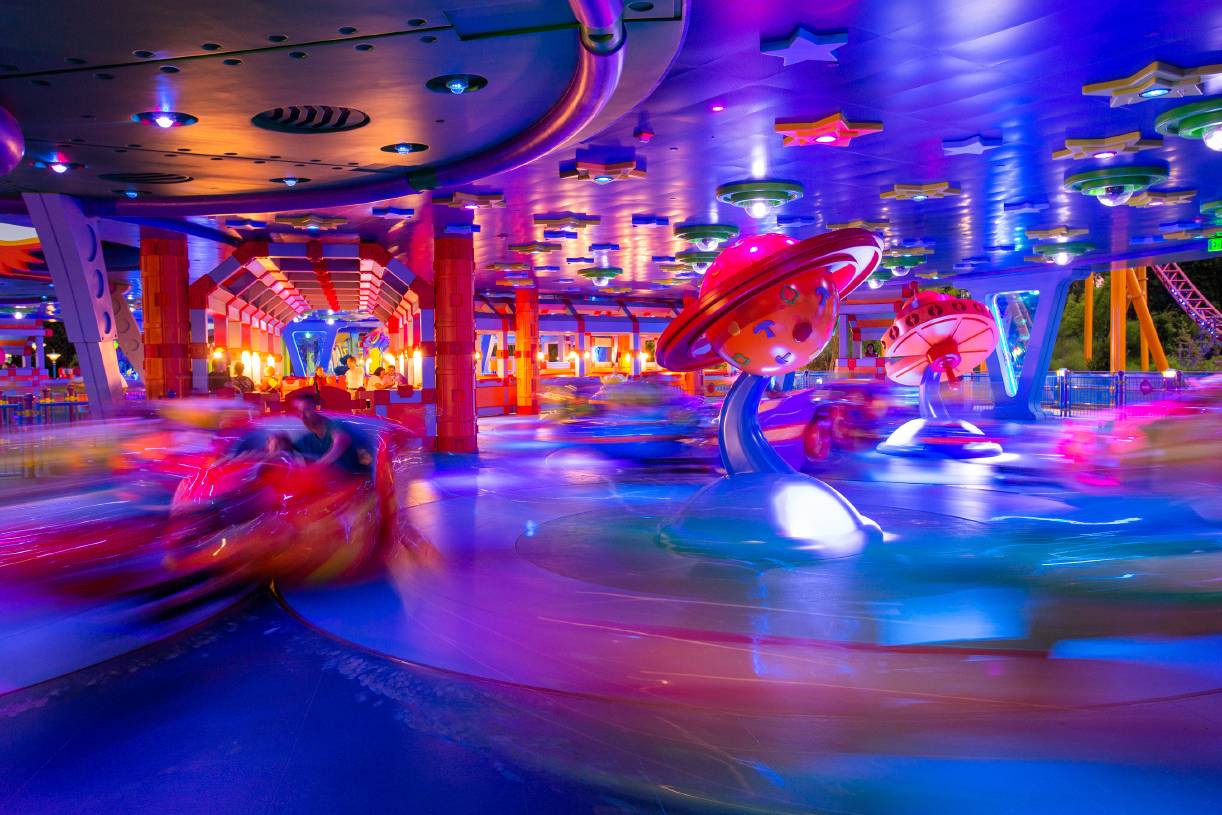 Meanwhile, the Alien Swirling Saucers attraction imagines that Andy collected his Pizza Palace alien toys, and set them off spinning and whirling in a saucer/rocket ship adventure (though this not quite as spinny as Mad Tea Party ride with spinning teacups). The coolest part of this is the 14' 7" Buzz Lightyear welcoming guests into his Star Command Space Station Playset, which is a queue with interactive dials, buttons, and a switch connected to audio/visual effects.
But the crown jewel (crown toy) of Toy Story Land is the Slinky Dog Dash coaster. The concept is that Andy is using Slinky Dog as the ride vehicle on his Dash & Dodge Mega Coaster Play Kit. With guests sitting in Slinky's coils, the coaster features two launches (a first for a Disney theme park) as it zips all throughout the land on red, orange, yellow, and blue supports. The ride goes fast, but not upside down, and is not incredibly intense. The first half of the ride is primarily twists and dips, while the second act is more about camelback humps.
Slinky Dog Dash is a visual treat for Toy Story fans on the lookout for easter eggs. I went on the ride five times, and still didn't catch every reference. For instance, Andy's hand-drawn plans for the ride is on a clipboard, propped up with a piece of gum and pencil eraser. Strewn all about are his toy boxes, with price tags still stuck on (from Al's Toy Barn, no less). And glue containers, spare parts, and so on litter the yard surrounding the coaster. Meanwhile, in one "scene" of the coaster, the dinosaur toy Rex is precariously perched on an unsteady tower of Jenga blocks, after he and Jessie have strung up the ride with Christmas lights.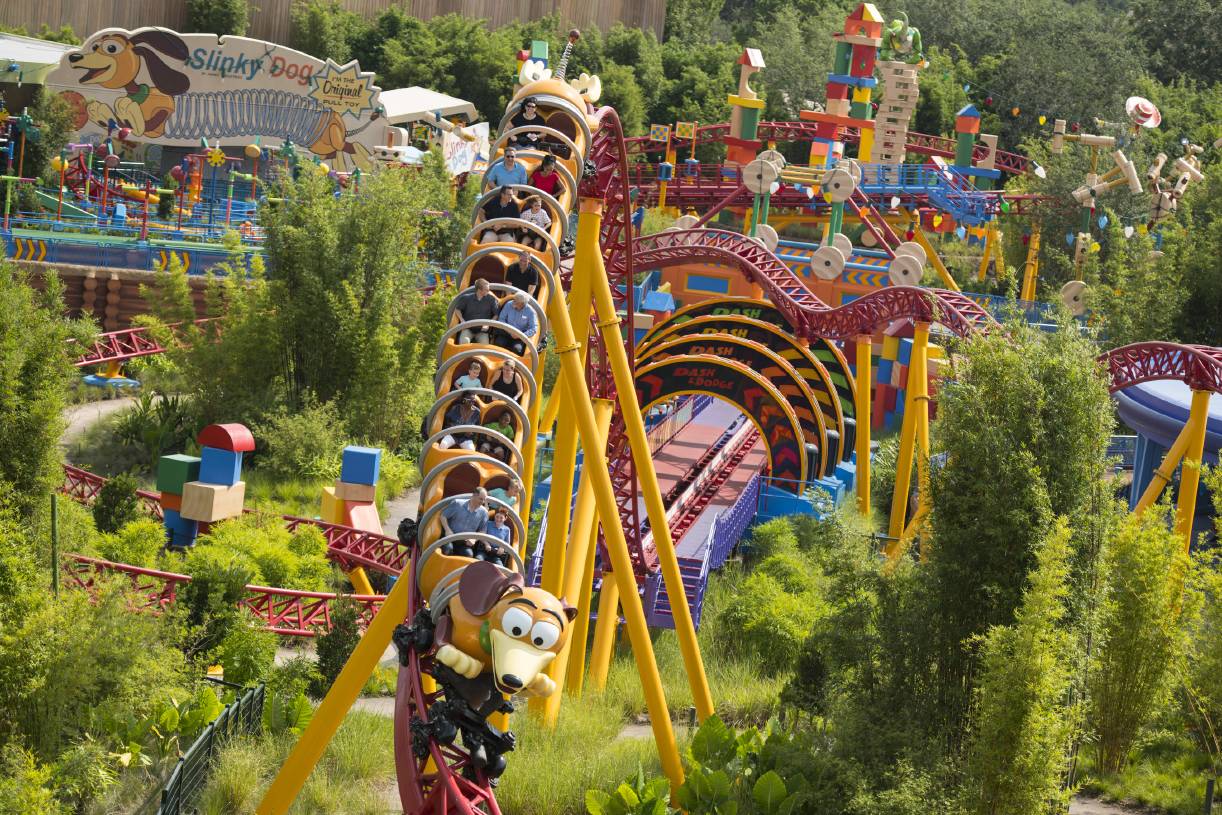 This is going to be a popular ride at Hollywood Studios, so anticipate crowds. However, if you can do it, I highly recommend going on this one at night when all the colors pop for the full experience.
One final note about Toy Story Land is the Woody's Lunch Box on-the-go restaurant. Set inside a vintage Woody-themed lunch box, propped open with a thermos, the box serves up a modern spin on classic kid foods. Sadly, I did not get a chance to taste the "Totchos" (tater tots with corn chips, queso and chili), the S'more French Toast, nor the Barq's root beer float. Yet the grilled three-cheese sandwich was highly touted, and lived up to the hype. Also pretty great was the BBQ Brisket Melt. Just don't let Andy see you're swiping his lunch.
Star Wars Bonus: Toy Story Land is a fun addition to a visit to Hollywood Studios all on its own. But, it also appears to offer the best peek yet of the upcoming Star Wars land, Galaxy's Edge. Construction is happening right next door, and the Slinky Dog Dash ride allows riders a teasing look inside. But no, I didn't decipher any new clues about the new land, nor did I see the Millennium Falcon.