News
Link Tank: WarnerMedia is Shopping The CW
The CW might soon have a new owner, Eternals is headed to Disney+, Picard halts production, and more in Link Tank!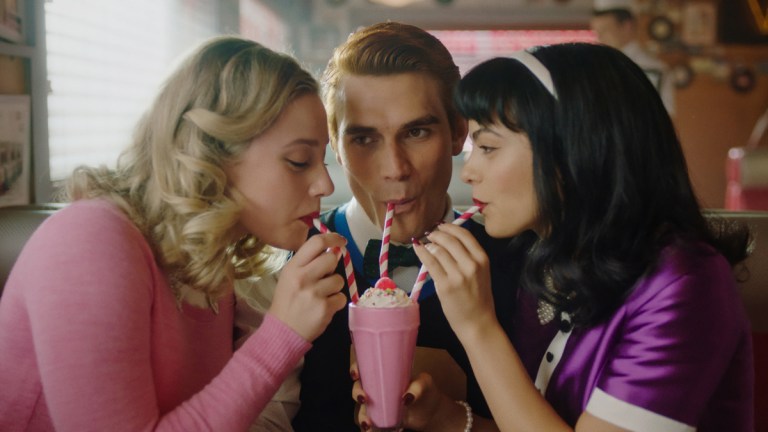 The CW, home of shows like Riverdale, DC's Legends of Tomorrow, and more, has been put up for sale by its parent company.
"When we think of The CW these days, it's usually in terms of capes and tights—not surprising, given how much of the network's schedule is filled with the various superhero shows produced by Greg Berlanti and his wide array of collaborators and co-producers. But now we'll have to start thinking of it with a different descriptor: 'For sale.'"
The Tusken Raiders have been featured heavily in both The Mandalorian and now in The Book of Boba Fett, but do we even know what they look like underneath those masks?
"Masks have always played a huge role in Star Wars. Darth Vader was defined by his ominous mask for years. Boba Fett's hidden face made him an unlikely star. Kylo Ren… also had a mask. Then came The Mandalorian, which introduced Din Djarin and his complex 'Way' of never showing his face to anyone. But one type of mask that's been hiding in plain sight all along could be the most important of all. We're talking, of course, about the Tusken Raiders. Here's why their devotion to masking-up matters to the future of Star Wars and The Mandalorian Season 3."
One of Marvel's most controversial films, Eternals, is headed to Disney+ next week! Here's why you should give it a chance if you haven't already.
"Director Chloé Zhao's superhero ensemble movie Eternals is headed to Disney+, and I'm hoping that a more accessible release will demonstrate to the masses that this is a great Marvel Studios film. Some critics took to piling on Eternals, giving it a lower Rotten Tomatoes score than even Thor: The Dark World, which is frankly absurd. Eternals is compelling, fun, fascinating, and has a lot of heart (not to mention a killer cast). If you haven't checked it out yet, I hope you will soon."
The production of the Star Trek series Picard has halted due to a massive outbreak of Covid-19 on set.
"Season two of Star Trek series Picard is set to arrive on Paramount+ next month, but the show's still in production, keeping to a schedule structured to film seasons two and three back to back. Or it was in production until this week when the sci-fi show temporarily ground to a halt for exactly the reason you're thinking."
Current Jeopardy! champion Amy Schneider reveals she's okay after being robbed of many of her belongings and is ready to continue to set records and pave the way for representation on the program.
"Jeopardy! record-breaker Amy Schneider revealed that she is all right following a robbery on Monday. The 42-year-old Oakland, California resident stated on Twitter that, aside from losing her phone, I.D., wallet, and sleep, she is doing OK. Schneider, who typically tweets a thread to accompany each episode of the quiz show in which she appears, said in a follow-up tweet that she probably wouldn't be able to write one in time for Monday's Jeopardy! game following the robbery."
It turns out we were this close to an epic cameo in the season finale of Hawkeye.
"Marvel went out with a bang in 2021 with their final show on Disney+, Hawkeye, delivering crossovers and big emotional payoffs for longtime fans. We saw Florence Pugh make her second MCU appearance as Yelena Belova, picking up a thread from the end of Black Widow. There were also Pym Tech arrows, nods to Clint Barton's time as Ronin, and even a surprise appearance by Vincent D'Onofrio as the Kingpin, signaling the merging of Netflix's Marvel shows with the MCU proper. For a while there, some fans were even guessing that Tom Holland's Spider-Man might show up, since Spider-Man: No Way Home ends where and when Hawkeye takes place."