Features
Star Trek: Picard — Could Season 3 See Jean-Luc's Starfleet Return?
Star Trek: Picard has yet to bring Jean-Luc back into the Starfleet fold. Could Season 3 change that?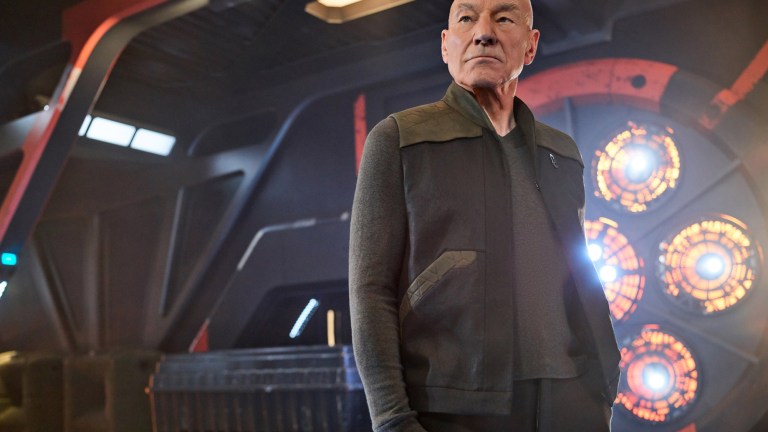 While Star Trek: Picard continues the character-driven story begun in Star Trek: The Next Generation, the first season of the Trek series had a very different premise than its predecessor. While TNG, like most "classic" Trek series, is a problem-of-the-week workplace drama, Picard leans into the serialized format that is much more common in modern TV storytelling. Because of this, it bops from place to place and, while spaceship La Sirena is arguably the show's main setting, it is an unregistered speed freighter—not the Starfleet flagship we are used to seeing Picard on in TNG. Judging by the set photos showrunner Terry Matalas has been regularly sharing via Twitter, that is poised to change in Season 3. Will the new season of Picard bring our eponymous hero back to a Starfleet ship?
Matalas isn't just a great storyteller (he previously spearheaded Syfy's 12 Monkeys), he's also a good inside man for fans to have on set. The showrunner, who is taking over the role Picard showrunning duty from Michael Chabon for both Seasons 2 and 3, has been regularly giving us glimpses into life on the Star Trek production, which allows for some serious speculation about what to come on the TV series. Check it out…
If the above aesthetics look familiar, it's because you've seen them in the Trek world before. The displays' design is classic TNG, while the Boatswain's whistle is reminiscent of the one seen in Star Trek VI: The Undiscovered Country. Before you start to speculate that all of this might mean Season 2's timey-wimey escapades might end with Picard & co. back in TNG-era Trek, note that many of the above design elements (including the Starfleet logo on the dinnerware) is from the late 24th century, which is when Picard Season 1 is set. Together, as Trek Movie initially pointed out, this all hints at a late 24th century starship setting for Season 3.
Honestly, it could be nice to see Picard back on a Starfleet starship. While it was fun to see Star Trek: Picard lean into the space western elements in Season 1, much of the series' tension naturally relies on how Picard and his world have changed since we last saw the character in TNG and the subsequent movies. Placing Picard in a familiar setting—a Starfleet starship—would be the best way to tell a story about how the character (and Starfleet) has or hasn't changed. If Picard Season 1 began with an explanation of the regrets that led Jean-Luc to leave Starfleet, then what could his return look like? And, if it should happen, how would Picard's new found family, the ragtag crew of the La Sirena, become part of that transition? I, for one, would love to find out.