News
Link Tank: Is Tom Hardy Teasing a Venom Appearance in Spider-Man: No Way Home?
Tom Hardy might be teasing something big, Tom Hanks is teaming up with some unlikely friends in a new movie, the winners and losers of the 2021 Emmys, and more in Link Tank!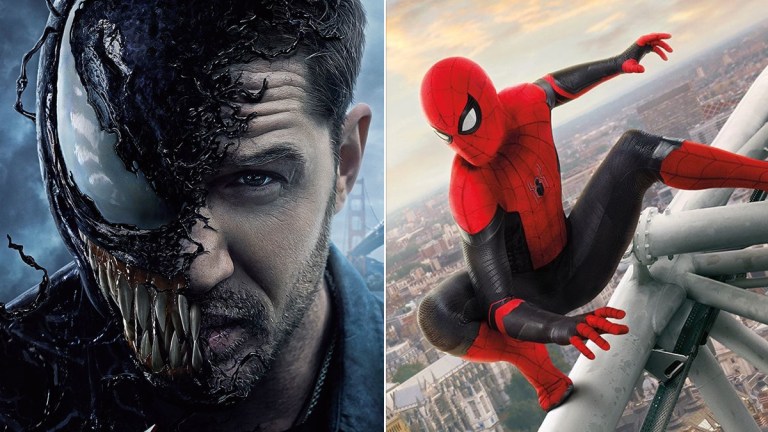 Tom Hardy wore a Spider-Man: No Way Home hat, which means he has to be in the movie, right? Right?!
"Tom Hardy was wearing a Spider-Man: No Way Home hat, though… I think? You have to zoom in on the pic to tell what it says. Hardy isn't alone in the picture, sitting next to him is Lin Oeding (director of Cobra Kai and, for the purposes of this theory, stunt coordinator of Spider-Man: Homecoming). The picture was tweeted by Marvel Updates, and while they credit the account Spider-Man Brasil, that account credits Oeding himself."
Tom Hanks teams up with a cute doggo and a robot in a post-apocalyptic setting? Sign us up.
"Apple TV+ has released the first trailer for Finch, its new post-apocalyptic movie starring Tom Hanks—no stranger to working with dogs—and directed by Game of Thrones' Miguel Sapochnik. Set after a solar flare devastated Earth with multiple climate disasters, Finch follows the titular character as he hides from the storm-ravaged surface in a high-tech bunker."
The 2009 reboot of Star Trek deserves your attention once again.
"Star Trek (2009) isn't just the best modern remake of a classic series but the best Star Trek film period. A bold claim, perhaps. However, by setting the 2009 reboot in an alternative timeline, the narrative was able to break the rules while still paying homage to the originals and succeeding where many remakes and reboots have failed."
While Pokémon cards are still hard to find in stores, a new digital card game is on its way… for free!
"It's actually happening: The Pokémon Company is finally giving the world a straightforward way to play the Pokémon trading card game digitally, online, and on your smartphone. Announced today, the new app is called Pokémon TCG Live and it couldn't be coming at a better time with the Pokémon card game once again exploding in popularity."
Here are the good, the bad, the ugly, and the losers of the 2021 Emmy's ceremony.
"After you've tallied up all the awards won by Ted Lasso and Mare Of Easttown and you've caught up with the history made by Michaela Coel and RuPaul, read on to find out what The A.V. Club thought was the best, the worst, and the weirdest of the 73rd Primetime Emmy Awards."
Not everyone loved The Queen's Gambit—a star chess player just sued Netflix for issues with the show.
"Female Soviet chess legend Nona Gaprindashvili is suing Netflix for $5 million after a scene in the hit show Queen's Gambit falsely claimed she had never played against men. In fact, she claims to have played and beaten dozens of men. In the suit, Gaprindashvili called the incorrect dialogue 'grossly sexist."