News
Link Tank: The Office Gets the LEGO Treatment
The Office is now a LEGO set, Noah Schnapp confirms rumors about Will on Stranger Things, why the goats in Thor: Love and Thunder were screaming so much, and more in Link Tank!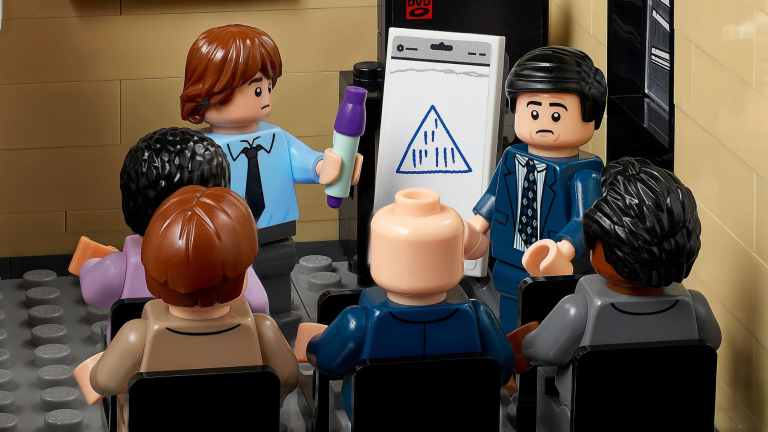 The Office just got a little smaller.
"LEGO's latest crossover set is one based on none other than the hit sitcom The Office. If you're a fan of the show — and I know there are a lot of you out there — you'll want to get out your magnifying glass because the set is chock-full of callbacks to some of the most iconic things from The Office."
Is there any legitimacy to the rumor that Steven Spielberg is directing an upcoming Marvel movie?
"For the first time since 2019, San Diego Comic-Con will take place in person — and Marvel Studios will be there to unveil the future of Phase 4. It was three long/short years ago when Marvel revealed Phase 4, which was a hybrid slate of both movies and Disney+ streaming TV for the first time in MCU history. If a new batch of supposed leaks is any indication, then Marvel is just getting started on an even bigger future for Phase 4 and beyond."
Stranger Things star Noah Schnapp finally confirmed his character Will's sexuality on the show.
"Stranger Things star Noah Schnapp has officially confirmed that Will Byers is gay and is in love with his friend, Mike (Finn Wolfhard), as season 4 strongly indicated. Will's sexuality has been a topic of discussion among Stranger Things fans since season 3. In the season, viewers noticed that Will became increasingly frustrated with his friends' girl problems. While the other boys were preoccupied with their relationships, Will simply wanted to play Dungeons and Dragons with Mike in his family's basement. At one point, he even confronted Mike about destroying the good thing they had going on for the sake of a girl. In response, Mike shot back, 'It's not my fault you don't like girls.'"
Apparently, Harrison Ford scared Chris Pratt away from taking over the mantle of playing Indiana Jones.
"Chris Pratt may be on a mission to play as many iconic characters in as many franchises as possible, but there's one he won't touch with a ten-foot pole: Indiana Jones. As it turns out, Indy himself is the reason that Pratt is steering clear."
In case you were wondering, the screaming goats in Thor: Love and Thunder were inspired by the Taylor Swift meme.
"Following a successful box office opening, Thor: Love and Thunder director Taika Waititi walked through specific scenes of the offbeat Marvel film in an interview with Insider. Those who have seen the film may have noticed that the two giant goats, Toothgnasher and Toothgrinder, sounded a little funny. Waititi was present to reveal why."
Pokémon fans are freaking out over some leaked images from the upcoming game Pokémon Scarlet and Violet.
"It's been over a month since the last official news dump about Pokémon Scarlet and Violet, and a flurry of unofficial and extremely blurry images purportedly leaked from an unfinished build of the game are now filling the void. Fans have no idea if they're real, but that hasn't stopped them from rushing to create new fan art, speculate about alternate endings, and debate possible new mechanics."