News
Link Tank: LEGO Unveils 1,500+ Piece Transformers Optimus Prime Set
LEGO and Hasbro are teaming up, say goodbye to Drax, the Superbad sequel that never was, and more in Link Tank!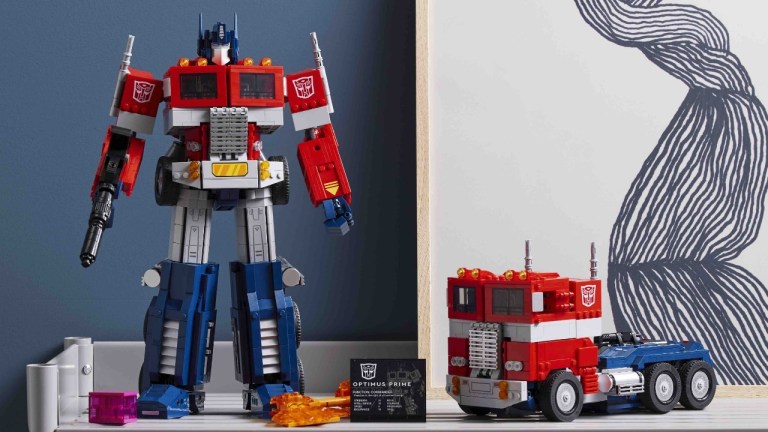 In a toy crossover for the ages (that'll likely please a lot of '80s geeks out there), LEGO is teaming up with rival-brand Hasbro to create an immaculate brick-built version of Transformer's Optimus Prime–and it can actually transform!
"Billund, Denmark May 12th: Leading global toy companies, the LEGO Group and Hasbro, Inc. unite for the first time to bring the iconic Transformers Autobot, Optimus Prime, to life in LEGO form – complete with alt mode. The new LEGO Transformers Optimus Prime set is a tribute to the heroic Autobot leader with over 1,500 detailed LEGO pieces. Once assembled, the figure features 19 points of articulation that allow fans to convert from robot to truck alt mode and back again. This is one of the first times a LEGO set has been able to convert between two models, without the need to rebuild."
While Wanda Maximoff is the daughter of Magneto in the comics, that has never been addressed by her appearances in the MCU. Magneto actor Sir Ian McKellen weighed in, saying he'd love to have a daughter like Elizabeth Olsen.
"Famously, Magneto has kids—two, in fact. Their names are Pietro and Wanda Maximoff. So, when we barely knew anything about Wanda in the Marvel Cinematic Universe, many of us hoped that, eventually, her inclusion would lead to the reveal that her father was Magneto. And maybe that could still happen and we could find out that her parents in Sokovia weren't actually her parents from WandaVision. Who knows?"
Judd Apatow wanted to make a sequel to Superbad with the main characters in college, but the idea never came to fruition.
"The fifteenth anniversary of Superbad is this year, and discussions about the film have been on a rise. Back in January, Jonah Hill jokingly pitched his idea for a sequel, which would involve a geriatric Hill and his Superbad co-star Michael Cera getting their flirt on in a retirement community. And in a new interview, Superbad producer Judd Apatow, reveals he had his own idea for a sequel that never even got the good ol' college try."
With Guardians of the Galaxy Vol. 3 officially wrapping production, Drax actor Dave Bautista is formally saying goodbye to the character.
"The decade-long journey had the production and cast feeling emotional as it would be both James Gunn's last film ever and Dave Bautista's last time playing Drax the Destroyer. 'Haven't found the words yet,' Dave Bautista wrote on social media. 'It ended so suddenly and I was on to my next film before I could process it all. End of a journey that changed my life.'"
Do you remember playing Wii sports with your family about 15 years ago? If so, you can now recreate that memory with a new Nintendo sports game, this time on the Switch.
"Everyone had a Wii with Wii Sports back in the day, and it was wonderful. No matter what your favorite sport was in the game, it was an excellent way to show off the console and have fun with friends and family, so it's no surprise that we've gotten a Switch follow-up after all of these years. Nintendo Switch Sports currently feature six sports including football (it's not soccer), volleyball, chambara, and bowling, but will be gaining more via updates in the future. The game even makes use of the leg strap from Ring Fit Adventure, but if you don't have one don't worry, the physical version of the game comes with one to use."
The next installment in the Scream franchise is bringing back a familiar face.
"Hayden Panettiere is returning to the world of Scream. Panettiere, who was one of the stars of 2011's Scream 4, has closed a deal to reprise her character in the latest installment of Spyglass Media and Paramount Pictures' horror franchise."