News
Link Tank: Upcoming Season of Star Trek: Discovery to Introduce Grudge the Cat
New Star Trek: Discovery addition, Rey from Star Wars, a review of Netflix's Away, and more in today's Link Tank!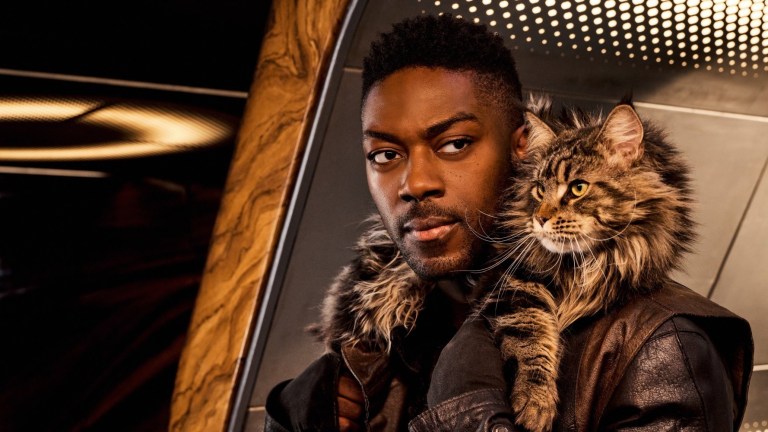 The upcoming season of Star Trek: Discovery will feature a new feline addition: Grudge the Cat.
"The upcoming season of Star Trek: Discovery is going to be the best one ever. We know this, for a fact, because it'll be the first with Grudge the cat. Grudge, played by a floofy feline named Leeu (which means "lion" in Afrikaans), was introduced Tuesday as part of the big Star Trek Day event. He's the best friend of the mysterious new character Book, played by David Ajala."
Fall 2020 is just around the corner. Mark your calendar with these meteor showers happening in the next three months.
"Temperatures are dropping and days are getting shorter in many parts of the U.S., but there are still plenty of reasons to get outside this fall—not the least of which are the three meteor showers that will be active in the coming weeks. Here's what you need to know to catch the Draconid, Orionid, and Taurid meteor showers in October and November."
Rey Palpatine could've been Rey Kenobi, according to a recent Daisy Ridley interview for Jimmy Kimmel Live!
"You'd think that you'd start a film (let alone an entire series of films) with some sort of plan in mind, right? Well, in a truly Star Wars move, the sequel trilogy's back-and-forth on Rey's lineage really was indicative of the same thing happening behind the scenes. (You know, how everyone tells cohesive stories, right?) Apparently, we could've even gotten Rey Kenobi, which sounds pretty good after what we did get."
Looking to purchase a personal computer for work? Here are the best business laptops in 2020.
"Got work to do? Laptops built for business are thinner and more powerful than ever. Our buying advice and product recommendations will help you find your next mobile work companion. Check out our favorites, along with our deep-dive reviews."
This Star Wars fan theory about a forgotten Jedi may explain the origin of The Mandalorian's Baby Yoda.
"The Child — as Disney would like you to call it — was introduced in Episode 1 as the show's primary mystery, and eight episodes later we still had no idea where Baby Yoda is from or what the Empire wants with it. However, with Mandalorian Season 2 less than two months away, fans are hopeful that we'll finally get some answers, and one new theory argues that a huge clue has been staring us in the face for over a week."
Netflix's Away is an imaginative and emotional story about a future of humans on Mars.
"There is a scene about midway through Netflix's new series Away, which follows a multinational crew of astronauts on the first-ever manned mission to Mars, where one of the astronauts, his body deteriorating from months in space, slowly peels a chunk of dead skin off of his foot. Not a layer, not a flake, a chunk."