News
Link Tank: Spooky Season Events Schedule 2022
Check out what events we have in store for you this year's spooky season!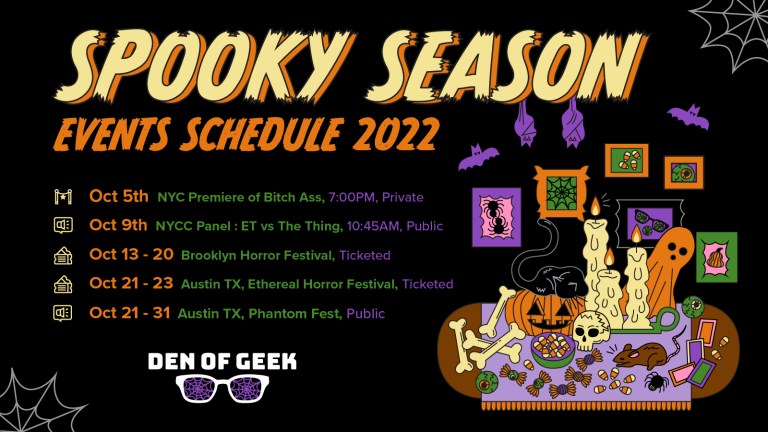 Spooky Season is here!
In honor of the scariest time of the year, we're honored to partner with some fantastic (and frightening) events throughout the month of October! Events include the New York City premiere of Bitch Ass, Ethereal Horror Fest in Austin, Texas, and more! Check out the schedule below!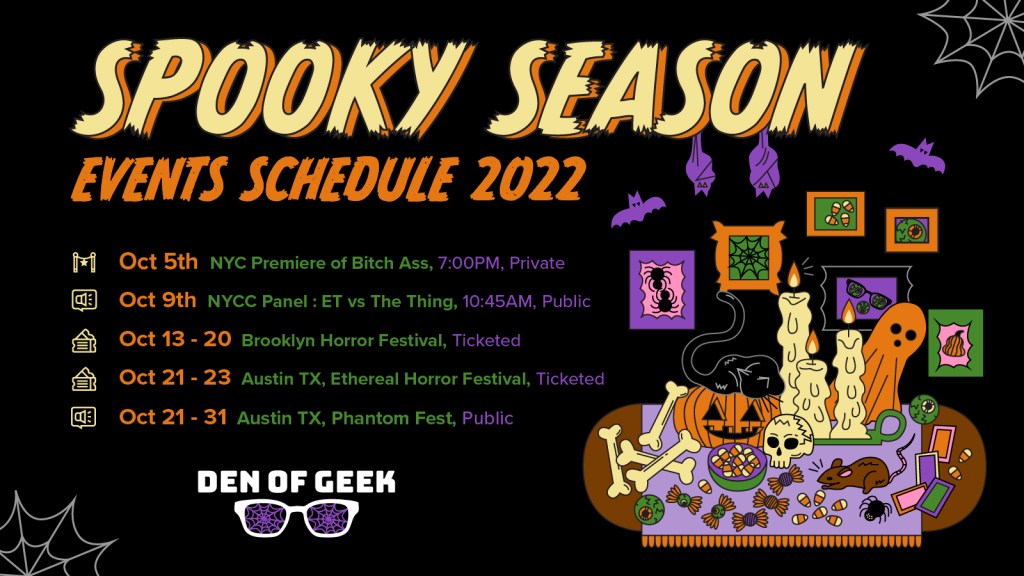 In case she hasn't won you over already, Florence Pugh is here to continue her reign over Hollywood in her latest film The Wonder.
"Florence Pugh constantly reminds us that she's a force to be reckoned with. After her outstanding turn as Alice in Don't Worry Darling (truly why you should see the film), Pugh has shown us yet again just how brilliant she is. She's constantly bringing to life women who are being challenged by the men around them, and it seems like her latest film The Wonder from Netflix is falling into that category."
Despite being one of the key characters in Phase 4 of the MCU, Scarlet Witch actor Elizabeth Olsen has no idea what's going on with Marvel movies during production.
"It's well established that Marvel's anti-spoiler antics have led to a lot of confusion for its actors. They'll be given partial scripts or even fake-out scenes, with layers and layers of secrecy and obfuscation. These security measures are so intense that MCU mainstay Elizabeth Olsen didn't even know her character got 'blipped' in Avengers: Infinity War. In a new interview with Variety, she shares that they were only allowed to read the script 'in an office, with a security guard, on one specific iPad,' so instead, she opted for someone to just give her the bullet points of the plot."
The Dune spinoff series focusing on the Bene Gesserit has found its leads in Emily Watson and Shirley Henderson.
"The universe of Denis Villeneuve's Dune is getting bigger with official casting announced for the prequel spin-off series Sisterhood of Dune. Variety announced that Emily Watson (Chernobyl) will play Valya Harkonnen and Shirley Henderson (Star Wars: The Rise Of Skywalker) will play Tula Harkonnen."
The first poster for the The Super Mario Bros. Movie has been revealed ahead of the trailer drop tomorrow.
"Nintendo and Universal Pictures' forthcoming The Super Mario Bros. Movie has been in the works since 2017, and now its rollout is beginning in full: Nintendo has revealed the movie's first poster and also announced a special Nintendo Direct live stream to unveil its trailer. The live stream will be going down in person at New York Comic-Con and broadcast across the Internet, but Nintendo has not yet revealed if the special segment will simply consist of the trailer or include more information. However, they have announced that no new gaming news will be arriving during the session."
Marilyn Monroe is one of the most famous movie stars of all time. Here are 10 other actors who have portrayed the icon.
"Just months after Austin Butler portrayed the 20th century's most famous man in Elvis, Ana de Armas is now portraying the most famous woman. Yes, Netflix's adaptation of Joyce Carol Oates's fictionalized biographical novel Blonde sees the Cuba-born actress get to live her wildest silver screen fantasy as Marilyn Monroe. But De Armas isn't just stepping into the shoes of the Hollywood heroine."